'The Johnson Tories voted for was Boris not Carrie'
Your digest of analysis from the British and international press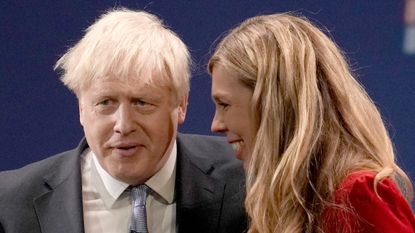 (Image credit: Boris Johnson with his wife Carrie at the 2021 Conservative Party conference)
1. Will anyone be backing the Tories this week?
Allison Pearson in The Telegraph
on voting ABC
The polls predict that "the Government is going to get a kicking" in the local elections tomorrow, writes Allison Pearson in The Telegraph. But while the media will put this down to Partygate, Pearson thinks "people have bigger things to worry about". She says "they are fed up of trying to follow who did or didn't enjoy a slice of Victoria sandwich in the Cabinet Room, like some never-ending game of Cluedo". If "tribal Tories" fail to vote on Thursday it will be "because of this niggling worry: why would you bother voting Conservative if you won't get Conservatism?" After all, the Johnson Conservatives voted for "was Boris not Carrie". And although the PM's wife may have "kept a low profile of late" it is "telling how many Conservatives still claim they are voting ABC (Anyone But Carrie)". "This Green Woke party with its rich person's breeziness about National Insurance rises and electric bills is anathema to those who were once its most ardent supporters," says Pearson.
Subscribe to The Week
Escape your echo chamber. Get the facts behind the news, plus analysis from multiple perspectives.
SUBSCRIBE & SAVE
Sign up for The Week's Free Newsletters
From our morning news briefing to a weekly Good News Newsletter, get the best of The Week delivered directly to your inbox.
From our morning news briefing to a weekly Good News Newsletter, get the best of The Week delivered directly to your inbox.
2. Through the Trumpian looking glass, forcing women to die from illegal abortions is 'pro-life'
Marina Hyde in The Guardian
on reproductive rights
"An American girl born this week will have fewer rights than an American girl born in 1973," writes Marina Hyde in The Guardian. "This is the likely import of the leaked US supreme court draft opinion on abortion rights – and cause for a huge thank-you-very-much to all those guys who suggested that women marching on Washington in January 2017 were 'overreacting' to the election of Donald Trump," she continues. We know that "abortions will still happen, whether they are outlawed or not – by some accounts, pretty much the same number of abortions," wries Hyde. "But illegal abortions will mean that many more women will die from the procedure, which is a funny way of being 'pro-life'". And should this "seismic ruling come to pass, it will only be the start of it, with a number of other rights now under threat again," she warns. "Marriage rights, contraception, racial freedom – you'd need to be a gullible fool or highly paid star news commentator to think assaults on these aren't all on the table again."
3. The unbearable memeification of the Johnny Depp vs. Amber Heard trial
Clemence Michallon in The Independent
on trial by TikTok
"It's a messed-up world out there. We're all aware of course, but every once in a while we receive a reminder of the messed-upness of things so spectacular it cannot be shrugged off," writes Clemence Michallon for The Independent. "A recent example is the memeification of the Johnny Depp v Amber Heard trial," she writes. "Call it naïveté, but I didn't think one of the most high-profile domestic violence trials of our era would be chronicled by way of TikTok videos, cut up into soundbites and layered with songs. I didn't think people would laugh about any of it," Michallon continues. "The process through which we digest other people's torment and cough it back up in the form of memes is a complete void of empathy. This is a trial, not the Super Bowl or the Met Gala," she concludes.
4. What Labour still needs to learn from Tony Blair, 25 years on
Robert Shrimsley in the Financial Times
on old lessons from New Labour
"May is a good month for political anniversaries," writes Robert Shrimsley in the Financial Times. "This week, in 1979 and 1997, saw the first election victories of Margaret Thatcher and Tony Blair," he writes. "But while Thatcher is idolised and evoked by Tories, much of Labour still disdains its only successful leader born in the last 100 years", seemingly for the crime of "building success on the values of voters rather than the concerns of activists". "Yet from the outset, this was Blair's secret sauce," writes Shrimsley. And while Starmer is enjoying some poll leads, "there is little of the enthusiasm the electorate had for Blair." Boris Johnson's government "is beatable," writes Shrimsley. "But the biggest lesson from Blair is that voters want a leader whose core instincts they trust", the very "foundation" of many Blairite policies. Starmer's efforts will "count for little until voters are convinced that their ambitions are his ambitions; their concerns his concerns, their aspirations his aspirations".
5. This hysteria about HRT is demeaning to older women
Libby Purves in The Times
on menopause alarmism
"Useful scientific work has been done on the menopause, and useful journalism recorded it: books, and lately Davina McCall's TV documentary," writes Libby Purves in The Times. "It is good that GPs, gynaecologists and endocrinologists are being forcibly reminded that for some women the midlife change involves difficult physical, emotional and cognitive symptoms," she continues. However, "accepting all that, I am concerned at the alarmism, verging on gaslighting, being aimed at women of all ages," she writes. "Even menopause at a normal age in a healthy woman is being trailed like a horror movie." Worse still, it "suggests that until the 1960s, and more widely before the new treatments of the 1990s, most women over 50 were a write-off; useless and borderline crazy". Indeed, such frenzied reporting is "encouraging a time-honoured male view that we have been fighting for centuries: the conviction that all middle-aged and older women are irrational, neurotic, emotionally unstable crones, to be pitied or ignored," says Purves. "Bad symptoms need help, but, face it, not everyone gets them. Any more than every middle-aged twinge is cancer."

Continue reading for free
We hope you're enjoying The Week's refreshingly open-minded journalism.
Subscribed to The Week? Register your account with the same email as your subscription.