'Does Labour have a woman problem?'
Your digest of analysis from the British and international press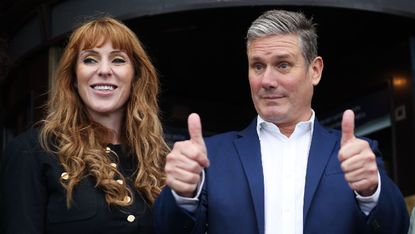 (Image credit: Dan Kitwood/Getty Images)
1. Why can't Labour get behind a woman leader?
Alona Ferber in The New Statesman
On an elephant in the room
Recent speculation over who could succeed Keir Starmer if he is forced to step down as Labour leader has drawn attention to a "giant elephant in the room", says Alona Ferber in The New Statesman. Why can the party not "get behind a woman leader"? "The Conservatives have done it twice. The Liberal Democrats have done it. The Greens have done it." In addition, the "SNP, Sinn Fein and the DUP have done it", meaning that "Labour is the only major party in the UK not to have chosen a woman as leader – and it's high time it asked itself why". Does Labour have a "woman problem"? she asks. The party is "more comfortable, perhaps, with women having slightly diminished power, as in the deputy leader position". But Labour "can, and should, do better than deputy leadership for women".
Subscribe to The Week
Escape your echo chamber. Get the facts behind the news, plus analysis from multiple perspectives.
SUBSCRIBE & SAVE
Sign up for The Week's Free Newsletters
From our morning news briefing to a weekly Good News Newsletter, get the best of The Week delivered directly to your inbox.
From our morning news briefing to a weekly Good News Newsletter, get the best of The Week delivered directly to your inbox.
2. We need optimism – but Disneyfied climate predictions are just dangerous
George Monbiot in The Guardian
On environmental fairytales
Oded Galor's "much-praised" new book, The Journey of Humanity, contains "handwaving and magical thinking" on climate change, says George Monbiot in The Guardian. Galor's is the latest in a line of books by "professional optimists", including Bill Gates, Steven Pinker and Matt Ridley, "who have failed to grasp the nature of either Earth systems or the political economy that bears upon them. These men are not climate deniers". Rather, "they are politics deniers" who tell a "simple story with a happy ending". This is "the Disney version of environmental science". "We need optimism, and there could be some grounds for it, but it must be rooted in political and environmental reality," he says. "Fairytales are a threat to life on Earth."
3. The rest of us have to go to work – so what makes civil servants any different?
Judith Woods in The Telegraph
On penpushers
Judith Woods is not buying the "existential office aphorism" that "work is no longer a place". The Telegraph columnist says working from home means work is now "more slapdashy and may even involve a cheeky afternoon nap, Zoom schedule permitting". She writes that "work is still a place if you are a chef or a paramedic" or "if you are employed in the retail sector, drive a train or teach". But work is "no longer a place if you're a civil servant", she says, before dismissing "penpushers" and their call for a "flexible working future". As far as Woods is concerned, it is "blindingly, bleedingly obvious" that "work is where you go to do what you have to do for the taxpayers who employ you. End of. See you all Monday."
4. My solution to unfair traffic fines
Rory Sutherland in The Spectator
On subtle signage
"I have worked in advertising for 30 years," says Rory Sutherland in The Spectator. "Believe me, while it is quite difficult to display information in a form where everyone pays attention to it, conversely it is very easy indeed to convey information in a form which attracts no attention at all." He believes the latter strategy is at work in car parks at Heathrow airport, where signs about charges are kept discreet, to encourage more people to inadvertently flout rules and become liable for penalties. "Since the DVLA is happy to reveal my address to parking operators to allow them to fine me, it is only fair that they should reveal the home address of the CEO of the parking company to anyone who is fined," he writes. "For good measure, they could helpfully add the names of any children, which schools they attend and what the family dog looks like. It won't be long before the signage miraculously gets better."
5. Public dissemination of Peter Andre's private parts is downright hypocritical
Dan Wootton in the Daily Mail
On double standards
"Oh, how easy it has been to laugh." says Dan Wootton in the Daily Mail, of reports about Peter Andre's "chipolata" manhood that has become part of the "Wagatha Christie" trial. But "just imagine in this woke world, if Peter had dared to make the same comments about a woman's body. Not only would he be immediately cancelled by the social media mob, the jibes would not be allowed to ricochet far and wide across the internet." Wootton feels there is a "wider point" about "how straight men are expected to shrug off comments about their body, while being told at the same time they're being sexist Neanderthals if they dare to compliment a woman on how they look". "Can't we all make a solemn promise to never speculate on his penis in public ever again?"

Continue reading for free
We hope you're enjoying The Week's refreshingly open-minded journalism.
Subscribed to The Week? Register your account with the same email as your subscription.