'Was a new statue of Thatcher really a wise idea?'
Your digest of analysis from the British and international press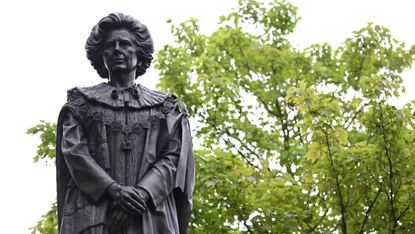 (Image credit: Paul Ellis / AFP / Getty Images)
1. Should Thatcher fall?
Steven Fielding in The Spectator
on plinths and politics
Hours after a statue of Margaret Thatcher was erected in Grantham it was egged in "the first of what is likely to be many attacks", says Steven Fielding in The Spectator. It "was hardly a surprise", given that plans to place the statue outside Parliament were "kiboshed" over vandalism concerns. "Presumably it was hoped that by being plonked in the unassuming, out of the way Lincolnshire town the statue would avoid such lèse-majesté," the professor of political history continues. Other monuments have become "prominent flashpoints" in the culture wars. "So was pushing ahead with a statue of Thatcher really a wise idea?" Hers will "only be a catalyst for existing strongly held sentiments and emotions". If anything good can come out of this vandalism, perhaps it is that the Iron Lady's "admirers and her critics might be able to agree that it's time to stop erecting statues".
Subscribe to The Week
Escape your echo chamber. Get the facts behind the news, plus analysis from multiple perspectives.
SUBSCRIBE & SAVE
Sign up for The Week's Free Newsletters
From our morning news briefing to a weekly Good News Newsletter, get the best of The Week delivered directly to your inbox.
From our morning news briefing to a weekly Good News Newsletter, get the best of The Week delivered directly to your inbox.
2. What's wrong with being straight?
Gareth Roberts at UnHerd
on heteronormativity
"As a gay man, I have always found heterosexuality quite fascinating," writes screenwriter and novelist Gareth Roberts at UnHerd. At parties as a teenager, Roberts "felt like David Attenborough lurking in the undergrowth or a birdwatcher", making "copious notes" as people paired off "to the mating call of Spandau Ballet". Today, heterosexuals are "an endangered species". Roberts points to "frankly incredible" survey findings that the number of people identifying as non-heterosexuals in America has doubled since 2012 to 7.1%. He reckons it is down to heterosexuality now seeming "more fraught than being bisexual did a decade ago". "The powerful organs of the LGBTQ+ movement" have been at work, and "who would want to be 'normative', when you can catch a little of the glamour previously hoarded by the gays?" But as the "great motor of humanity", Roberts says "heterosexuality is of major importance". So "let us have more heteronormativity and end the stigma".
3. Wayne Rooney's behaviour has tested Coleen to the limit, now he's repaying the debt in court
Clemmie Moodie at The Sun
on 'stoic' support
It's been said that the winners in the Wagatha Christie trial are the lawyers. "But no," says Clemmie Moodie in The Sun. "Trundling up on the rails is one Wayne Rooney," she writes. "After 19 years of patchy form", the former footballer turned manager "is finally stepping, nay galloping, up to the front". Rebekah Vardy's husband, Jamie, "is conspicuous by his absence", but Rooney is "glued to Coleen's side", "dutifully lugging" her "wheelbarrow-sized Fendi bags" into London's High Court. His performance has "been little short of stoical". As "under-attack Becky" has "walked into court each day", the Rooneys "have strutted in", says Moodie, "the metaphor clear: 'we have nothing to hide'". Rooney is "a sportsman not famed for his loquacity", but today "his solid presence must be of huge comfort to his unwaveringly loyal wife". He has "tested his childhood sweetheart to the limit of all reasonable patience" during their almost 20 years of marriage, but now he's taking "his chance to pay it all back, with interest".
4. This is no time to go wobbly on Russia
Garry Kasparov at The Wall Street Journal
on the next phase of war
Russia has "scaled back" its attack on Ukraine in the face of "courageous" resistance and international support against Moscow, "Mr. Putin and his oligarch mafia", says Garry Kasparov at The Wall Street Journal. "As pleased" as the chairman of the Renew Democracy Initiative is by this, "it's hard not to be wistful about what might have been – and how many lives would have been saved – had such actions been taken to deter Mr. Putin years ago". Kasparov believes Putin "is a Russian problem and must be removed by Russians. But the West needs to stop helping him." Every call from a Western leader and every barrel of imported oil "is a lifeline to a dictatorship that is shaking for the first time". As the war moves into a "new phase in which defence is not enough", "we will see how committed Ukraine's allies really are". As Ukrainians fight for their lives "and for the free world", Kasparov says, "let it not be as a proxy, but as a partner".
5. When people use foodbanks, it's not because they've lost their copy of Nigella
Frances Ryan at The Guardian
on unsavoury comments
Conservative MP Lee Anderson has "spent the past few days single-handedly trying to solve Britain's cost of living crisis with very little thanks", says Frances Ryan in The Guardian. It started when he told the Commons that "a lack of cooking and budgetary skills" are causing food poverty in the UK. "Not one to see a hole and stop digging, Anderson has launched an ill-advised media round" as he faces a "backlash". The MP for Ashfield is "hardly the first Conservative MP to make such comments", which are "grossly insulting at the best of times, but land particularly badly with the public in a time of mounting food and energy costs". Such observations "attempt to shift responsibility from the government and place it firmly on the individual". Ryan says that Tory MPs are "playing their get-out-of-jail cards, taken from the old deck that if only the poor tried hard enough, they wouldn't be in poverty". But "the dots are only going to get easier for the public to join".

Continue reading for free
We hope you're enjoying The Week's refreshingly open-minded journalism.
Subscribed to The Week? Register your account with the same email as your subscription.