iOS 9: should I upgrade? Bugs remain despite iOS 9.0.1 update
Lock screen flaw allows unauthorised entry to iPhones and iPads without a password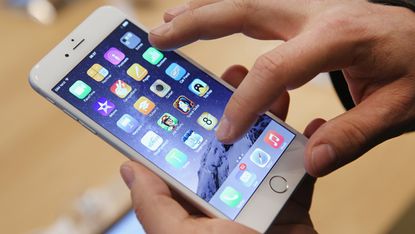 (Image credit: 2014 Getty Images)
Just a week after unveiling its new iPhone and iPad operating system, Apple released an update that aims to address several serious bugs that affect users of the new mobile software.
The update, iOS 9.0.1 fixes problems including a major fault with the "Slide to upgrade" feature that prohibited some users from being able to switch from iOS 8 to iOS 9. Critics say the update doesn't go far enough and some major security flaws remain.
As well as correcting the "Slide to upgrade" fault, the update corrects a problem that stops some alarms and timers from going off, a problem with video playback in Safari and the Photos app and a problem with mobile data network settings.
Subscribe to The Week
Escape your echo chamber. Get the facts behind the news, plus analysis from multiple perspectives.
SUBSCRIBE & SAVE
Sign up for The Week's Free Newsletters
From our morning news briefing to a weekly Good News Newsletter, get the best of The Week delivered directly to your inbox.
From our morning news briefing to a weekly Good News Newsletter, get the best of The Week delivered directly to your inbox.
How bad is this for Apple?
Offering a bug fix a week after launch, "isn't a bad thing" says Cnet's Lance Whitney. "It shows that Apple is trying to keep on top of nagging glitches, which are inevitable in any new software, especially after millions of users get their hands on it."
Nevertheless, Apple will be keen to avoid the problems it experienced with iOS 8, Whitney says. "In its initial release at this time last year, iOS 8 earned a reputation for being unstable and unreliable."
The California-based tech company may have stamped out a few of the smaller bugs, but according to Appleinsider, one significant problem that hasn't been solved is with the operating system's security.
According to the site, the lock screen on iOS 9 that's designed to prevent unauthorised access to iPhones and iPads can be bypassed through a series of actions that include entering incorrect passcodes and interacting with the device's Siri voice assistant. Appleinsider says that anyone who has set their device up with a password of between four and six characters is vulnerable to the flaw.
How can you protect yourself
Cnet says that the only way to protect yourself from this security defect is to disable Siri when the phone is locked. To do this, go to Settings, then to Touch ID and Passcode, then turn off the option for Siri under the section titled "Allow Access when Locked".
Are there any other niggles?
One thing early-adopters to iOS 9 should be wary of is a little-known feature called 'WiFi assist' in the phone's settings. The idea behind the new feature is to help boost your WiFi connection when it drops or you move further away from a router. However, the feature – which is turned on by default – switches automatically to mobile data to boost the connection without notifying you, meaning it can quietly eat through your data package.
Of course, those with an – increasingly rare – unlimited data package can rest easy in the knowledge that with 'WiFi Assist', they will never be at the mercy of the physical restrictions of home broadband.
Should you want the best of both worlds, without forking out for the unlimited data package, you can leave the feature on and regularly check the 'Mobile data usage' option on your phone's 'Mobile data' settings menu. In this menu, you can see how much mobile data you have used so far, along with the option to reset it at the beginning of each month.
What do critics think of the new software?
iOS releases can be "just as exciting as peeling the plastic screen cover off a new iPhone, breathing new life into old devices and offering at least one or two must-have apps and features", says Techradar. But after eight years of upgrades and interactions, Apple is slowing things down a bit. There are lots of new things to try out with iOS 9, says the site, but the focus is on improving the foundation rather than revolutionary changes – akin to an iOS 8.5.
The Wall Street Journal says it is these efficiency tweaks that make the latest upgrade worthy. After last year's "disastrous" iOS 8 launch, which left some without mobile connectivity, iOS 9 is all about stability—with "fewer hair-pulling bugs, slowdowns and battery problems", says the newspaper. It requires 1.3GB of free space, less than a third of iOS 8's 4.58GB, and Apple promises an extra hour of battery life after the update. While "far from a giant innovation leap", an upgrade means more useful tricks without sacrificing battery life or performance, says the WSJ.
Despite the "lack of newness", says The Guardian, it is probably worth upgrading for the keyboard and multitasking alone. The introduction of "true multitasking" split screens for iPads marks a "big change", says the newspaper, although it adds that this has been "common to TVs since the 1990s". The keyboard is also much easier to use, finally showing lower-case font on the keys unless you press the shift key to switch to capitals – something that other smartphone keyboards have done for years. The Financial Times says this "small but satisfying change" to the keyboard is illustrative of iOS 9 as a whole: "incremental yet worthwhile, if overdue".
14 new features for Apple's iOS 9
Apple Pay and Wallet in iOS 9
iOS 9 will introduce a number of new features to Apple's mobile payment system, including loyalty card support so that purchases you make with your phone can help get freebies or discounts. The Passbook app will also be renamed "Wallet", which according to Know Your Mobile, reflects the fact that "Apple wants to kill the traditional physical wallet and replace it with an all-digital one".
iOS 9 Wi-fi Assist
Wi-Fi Assist will prevent your phone from attempting to connect to a wireless network when using your phone's mobile data connection would be a better option. According to PC Advisor, this should put an end to the problem many users experience where they are trying to watch a video or download an email, but find themselves prevented from doing so because their phone has switched away from its 3G or 4G signal and attempted to connect to a hotspot that is barely in range.
Wi-fi phone calls
Apple already allows iPhone users to send text messages to one another via wi-fi rather than traditional mobile networks, potentially saving users money by avoiding mobile operators' transmission costs. Now Apple's updated operating system will allow users to make phone calls via their wireless network as well, which could offer several benefits, PC Advisor notes, including "better call quality, less drain on your phone's battery and a more reliable connection".
iOS 9's redesigned keyboard
Apple users have long been frustrated by the shift key on iPhone and iPad keyboards, which, when pressed, simply changes from black to white. Users complained that the change is too subtle, so iOS 9 introduces a large tweak (by Apple standards) to make the all the letters on the keyboard change from upper case to lower case when the shift key is pressed.
Better battery life
The bane of the iPhone addicts' life – the battery that expires too quickly – should become a rarer experience with iOS 9. The new operating system will add another hour of typical usage to your device, while a new low-power mode will help you squeeze an extra three hours out of your battery.
iOS 9 ad-blocking
Users will be able to download an extension to block advertising, cookies and pop-ups on most sites in Safari. The new Content Blocking Safari Extensions will reportedly work throughout the browser so users don't have to reset it on every new web page. PC World says the feature could mean "trouble for advertisers".
Notes upgraded for iOS 9
The Notes app is being given an upgrade, with a new ability to check off lists and include images and on-screen doodles on its pages.
Apple News
Newsstand is on its way out, with iOS 9 introducing "News", a Flipboard-style app that offers users personalised news stories based on their interests and reading habits. New York Times and BuzzFeed are said to have teamed up with Apple to provide content.
A makeover for Siri
Apple's opinion-dividing digital assistant will become more "proactive", says the company. It will be able to use emails to recognise mystery phone numbers not in your contact book, suggest music from an iPhone's lock screen if it detects you are exercising, and highlight apps it knows you typically use at specific times of the day.
iOS 9 frees up space
The new update will require just 1.3 GB of space, compared to iOS 8's ravenous 4.6 GB.
Mapped out
To the joy of many iPhone users, Apple confirmed that the next version of its Maps app would provide information about public transport in London and several other cities – a feature Google Maps has offered for years.
Enhanced privacy
Responding to the growing concerns over digital privacy, the new update will mean your data and usage stats will not be tied to your Apple ID or other Apple services. Passcodes will also increase from four digits to six in a bid to up security.
iPad multi-tasking
Users will be able to multitask on their iPads. Introducing split-screen capabilities, iOS 9 will allow users to keep two apps open at the same time, such as web browser Safari and Apple Maps. Its "picture-in-picture" feature means you will be able to watch a video and open an email at the same time, reports TechCrunch.
Smarter searches
The Search function will become smarter by incorporating context-sensitive tools, says Wired. For instance, the time and location of your search will be taken into account when the results appear. Similarly, the new Proactive Assistant feature will suggest apps, contacts and media based on your location, the time of day and your activity.

Continue reading for free
We hope you're enjoying The Week's refreshingly open-minded journalism.
Subscribed to The Week? Register your account with the same email as your subscription.