Resignations plunge Labour back into turmoil
Conor McGinn and Holly Lynch quit in protest at sacking of chief whip Dame Rosie Winterton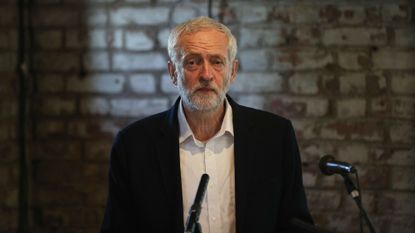 (Image credit: Dan Kitwood/Getty Images)
Labour leadership election polls and odds: Can Smith win?
19 July
The Labour parliamentary party might be "self-destructing" under the leadership of Jeremy Corbyn, but his popularity among grassroots members is growing, according to the latest YouGov poll.
A survey of 1,019 Labour members, commissioned by The Times, says Corbyn is still favourite to win the party's leadership contest by a margin of more than 20 points.
Subscribe to The Week
Escape your echo chamber. Get the facts behind the news, plus analysis from multiple perspectives.
SUBSCRIBE & SAVE
Sign up for The Week's Free Newsletters
From our morning news briefing to a weekly Good News Newsletter, get the best of The Week delivered directly to your inbox.
From our morning news briefing to a weekly Good News Newsletter, get the best of The Week delivered directly to your inbox.
His rivals, Owen Smith and Angela Eagle, are under pressure to choose a "unity candidate" to help oust him. One of them is expected to give way later today, depending on who can gather the most support from fellow MPs.
The poll, which was carried out between Friday and Monday, predicted Corbyn would beat Eagle 58-34 in a two-person race and he would beat Smith 56-34.
Of those surveyed, 44 per cent said they would "definitely" vote for Corbyn in September, 13 per cent said they would "probably" vote for him and 40 per cent said they would not.
Corbyn is also the bookmakers' favourite to win the Labour leadership election, with odds of 2/5. Smith comes in second, at 2/1, followed by Eagle, whose chances have narrowed greatly over the past fortnight, with odds as long as 25/1.
In a further sign of discontent, Labour MPs heckled Corbyn in the Commons last night after he failed to back his own party's position of supporting the renewal of the Trident UK's nuclear weapons system. In the final vote, 140 of Labour's 230 MPs voted for the motion.
"Just when you think the Labour party couldn't get any more divided, it finds ways to subdivide still further," says The Guardian's John Crace, adding that the party is in "urgent need" of a deterrent of its own to stop it from "self-destructing".
Infographic by www.statista.com for TheWeek.co.uk.
Can Jeremy Corbyn win the Labour leadership election?
15 July
Former shadow work and pension secretary Owen Smith has delayed the formal launch of his Labour leadership bid following last night's attack in Nice, which left more than 80 people dead.
Smith had been due to make an address in his constituency of Pontypridd today, pitching himself as the only one of a "new generation of Labour MPs" who could secure the party's future.
However, he announced that the speech would be postponed after the "heartbreaking" news from Nice, where a man drove a lorry into crowds of people celebrating Bastille Day on the city's beachfront.
While not yet officially a candidate, the MP is already winning supporters. Cardiff Central MP Jo Stevens dealt a "blow" to Jeremy Corbyn by switching her allegiances, reports Wales Online.
After refusing to back a no-confidence motion in the Labour leader two weeks ago, Stevens emailed party members to say she would be supporting Smith.
"During the past two weeks it has become painfully obvious that we have been unable to fulfil the very basic day to day operation as the official opposition in parliament," she said.
With odds of 5/6, Corbyn is still the bookmakers' favourite to win the leadership contest, which is expected to be decided in September. However, Smith is not far behind, with odds of 6/5. Angela Eagle is firmly in third place, after her odds lengthened from 3/1 to 12/1 this week.
What do the latest polls say?
An Ipsos Mori poll found 66 per cent of the British public think Labour should change its leader before the next general election in 2020, up from 42 per cent last October. Fifty-four per cent of Labour voters wanted a new leader and 41 per cent did not.
Of all respondents, 23 per cent thought Corbyn has "what it takes to be a good prime minister", two per cent more than Eagle. The survey was published yesterday but carried out before Smith confirmed he would stand, so he was not included.
Gideon Skinner, Ipsos Mori's head of political research, says Corbyn faces an "uphill battle" to persuade the public he has what it takes to be a good PM.
A YouGov survey of Labour Party members, carried out between 27 and 30 June, found 50 per cent would "definitely" vote for Corbyn in another Labour leadership election, 14 per cent would "probably" vote for him and 33 per cent would "definitely" or "probably" not vote for him.
Labour leadership election polls and odds amid membership 'warfare'
14 July
As the Conservatives complete a swift, if brutal, transfer of power, Labour is descending into "self-destructive warfare", says The Independent.
The party's National Executive Committee (NEC) will today lay out the timetable for its leadership contest, with the result expected to be announced on 24 September.
Former shadow business secretary Angela Eagle and former work and pensions secretary Owen Smith are both challenging Jeremy Corbyn.
On Tuesday, the NEC ruled Corbyn would automatically be included in the contest, without needing the support of 51 MPs and MEPs.
However, it also banned anyone who has been a full-time member for less than six months – including the 130,000 who joined after the EU referendum – from voting unless they pay £25 to become a "registered supporter" in a 48-hour window next week.
Rebel Labour MPs believe a "shrunken selectorate works in their favour", says George Eaton in the New Statesman. Only a minority of full members voted for Corbyn last year, compared to an overwhelming majority of £3 registered supporters.
But the decision has sparked anger among Corbynistas, with many turning to loopholes to vote, such as joining a trade union.
What do the polls say?
The latest political poll from Ipsos Mori, carried out over the weekend, before Theresa May became Prime Minister and the NEC secured Corbyn's name on the ballot, gave the current leader a satisfaction rate of 24 per cent, down eight per cent since June. Among Labour supporters only, the rate was almost even, with 45 per cent satisfied and 48 per cent not.
What do the odds say?
Corbyn is the bookmakers' favourite to win the leadership election, with odds of around 10/11. Smith comes in second at 6/5, pushing Eagle into third place. Her odds have lengthened from 2/1 at the beginning of the week to 10/1 today.
Labour leadership election polls and odds: Will it be Eagle, Smith or Corbyn?
13 July
Jeremy Corbyn is automatically to be included on the ballot for the Labour leadership, the party's governing body has ruled.
After a meeting lasting nearly six hours, the National Executive Committee (NEC) last night voted 18 to 14 to allow the party leader to stand without requiring nominations from MPs or MEPs.
This is a massive victory for Corbyn and his wing of the party, says The Spectator: "He is now favourite to win this leadership election and if he does, the 172 Labour MPs who voted no confidence in him will either have to shut up or split off and form their own party."
John McTernan, director of political operations under Tony Blair, said the decision was a "vote to kill the Labour Party".
Rebel MPs are reportedly preparing for a "brutal" fight, with some privately threatening to trigger multiple by-elections if Corbyn survives. Moderates fear the party now faces an "all-out civil war" that will eclipse anything seen in the 1980s and "could split the party for good", says The Times.
Yesterday, Corbyn called for "calm" and "dignity" from members after a brick was thrown through the window of leadership contender Angela Eagle's constituency office on Monday.
He said he had also received death threats and urged members and supporters to "treat each other with respect and dignity".
Pontypridd MP Owen Smith, the former shadow work and pensions secretary, is also due to announce his intention to stand for the Labour leadership later today.
What are Eagle's odds?
Bookmakers are taking bets on who might replace Corbyn, but not on whether he will remain as leader. Coral has named Owen Smith as the even-money favourite, with others offering odds of 2/1. Eagle's odds have lengthened from around 3/1 to 5/1. John McDonnell, Dan Jarvis and even David Miliband, who is no longer an MP, are also seen as contenders.
What do the polls say?
A YouGov poll of 777 Unite members, carried out between 30 June and 1 July, found 65 per cent of them felt Corbyn was doing badly as Labour leader and 79 per cent thought it unlikely he would ever become prime minister. Thirty-five per cent believed he should remain leader into the next general election. Asked who they thought should replace Corbyn, a third were unsure. Eagle was the most popular choice, with 15 per cent of the votes, followed by Andy Burnham, Hilary Benn and David Miliband.
Meanwhile, a YouGov poll of 1,203 Labour members, carried out between 27 and 30 June, said 48 per cent believed he was doing badly as leader and 44 per cent thought he should step down. Jarvis was the most popular choice as a replacement, with 13 per cent of votes, followed by Eagle, Burnham and former leadership contender Yvette Cooper.
An online poll by ICM, carried out between 8 and 10 July, gave the Tories an eight-point lead over Labour, meaning the party would risk finishing with fewer seats than in 2015 if a general election were held imminently.

Continue reading for free
We hope you're enjoying The Week's refreshingly open-minded journalism.
Subscribed to The Week? Register your account with the same email as your subscription.