Is Minnesota a progressive 'laboratory' or an exceptional exception?
Can Minnesota Democrats' progressive policy wins be replicated elsewhere?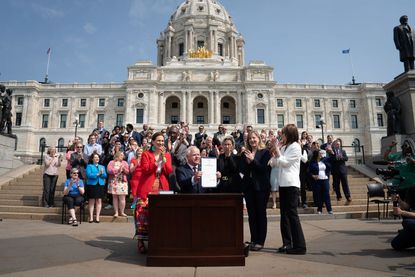 (Image credit: Photo by Glen Stubbe/Star Tribune via Getty Images)
Sign up to our 10 Things You Need to Know Today newsletter
A free daily digest of the biggest news stories of the day - and the best features from our website
Thank you for signing up to TheWeek. You will receive a verification email shortly.
There was a problem. Please refresh the page and try again.
Fifty years ago this August, Time magazine ran the cover story "The Good Life in Minnesota," proclaiming it "a state that works" where "a residual American secret still seems to operate." The article, complete with a full-page splash of then-Governor Wendell Anderson holding an impressive looking (if relatively small) northern pike, presented the state as an antidote, or at least an antithesis, to the civic malaise of the early 1970s. Owing to a combination of political and cultural tradition, geography and sheer luck," Time concluded, "Minnesota nurtures an extraordinarily successful society."
Nearly half a century later, Minnesota has once again captured the attention of the country, no longer as the embodiment of temperate get-along-ism but now as a national model for everything from data privacy protection to transgender rights, ultimately becoming "a laboratory in pushing progressive policy," according to NBC. This renewed focus comes at the tail end of a marathon legislative session in which Minnesota Democrats (officially the Democratic-Farm-Labor party, or DFL) seized upon their first capitol trifecta in more than a decade, holding both the state House and governor's mansion in 2022, while gaining a one-seat majority in the Senate. Over four months, lawmakers passed bills legalizing recreational cannabis, allowing undocumented immigrants to receive state driver's licenses, codifying reproductive health care access and transgender rights into state law, establishing state-wide free school lunches, and protecting state workers with a massive bill touching on multiple labor sectors, from teachers to meat-packers. Given the speed at which state Democrats worked and the breadth of their efforts, political observers around the country are asking once again whether Minnesota's decisive leftward trajectory could be replicated elsewhere.
"When you're looking at what's possible with a trifecta, look at Minnesota"
While many of the high-profile laws passed over the past legislative session are not, in and of themselves, wholly unique to Minnesota (it's the 23rd state to legalize cannabis, the fourth to provide free universal student lunches, and the 20th to allow undocumented immigrants to obtain driver's licenses), the sheer volume and speed of so many notable policy achievements have attracted the attention of activists and organizers hoping to import lessons from this past term into their communities. As former President Barack Obama suggested, the public ought to "check out what's happening in Minnesota" as proof that "elections have consequences."
Subscribe to The Week
Escape your echo chamber. Get the facts behind the news, plus analysis from multiple perspectives.
SUBSCRIBE & SAVE
Sign up for The Week's Free Newsletters
From our morning news briefing to a weekly Good News Newsletter, get the best of The Week delivered directly to your inbox.
From our morning news briefing to a weekly Good News Newsletter, get the best of The Week delivered directly to your inbox.
Lawmakers exploring "what's possible with a trifecta" are examining Minnesota's legislative session, Democratic strategist Daniel Squadron told NBC, adding that just months into the new year, Minnesota Democrats have "done more things than just a quote allows me to list to improve people's lives."
"States really are these places where policy can happen, be copied by other states and then ultimately go national," St. Paul Democratic activist Jeff Blodgett agreed, adding that "right now, Minnesota is the model for that."
In part, that eye toward nationwide emulation seems to have been baked into some of the DFL's work over the year so far. Asked in March by PBS about similar Democratic trifectas in Maryland, Massachusetts and Michigan and how lawmakers on the federal level should respond to, and work with, local initiatives, Minnesota Gov. Tim Walz made clear that the achievements in his state were emulatable elsewhere. Citing the "Inflation Reduction Act, the CHIPS Act, the bipartisan infrastructure bill," Walz credited them as providing "the tools to move on clean energy" and other in-state priorities. "Even Republicans are saying states need to take the lead" when it comes to abortion access.
To a degree, Minnesota's leftward pitch is the result of a similar phenomenon that's played out in multiple other states, where "Republicans increasingly take more extreme positions, especially on social issues," MSNBC's Michael Cohen wrote regarding Michigan. This, in turn, leaves "fewer third rails for Democrats" in which "legislation that once might have seemed 'too liberal' now looks practically centrist in comparison." It's a distinction Walz himself seemed to acknowledge, quipping that "it's not up to me how folks in places like Florida go about their business," during his recent State of the State address, during which he bragged about governing "our way and not their way."
"There are policy areas that are coming up on the horizon — ones where we're going to have to be champions for people," Walz told NBC. "I say that not just to Minnesotans. We're gonna have to be champions for the nation."
But if Minnesota's rapid-fire progressive legislation was done with an eye toward, and reciprocated with eyes from, other states, does that guarantee similarly significant sessions in other Democratic-held governments elsewhere? Not necessarily.
"Germinating for years"
While the pace and volume of progressive-priority bills passed in Minnesota over the past few months may lend the impression that this legislative session is a sudden, unexpected phenomenon, the "historic legislative session" is one that "we've been building toward for a decade," JaNae' Bates of the progressive faith-based coalition ISAIAH told the Minnesota Reformer, citing the 5,000 grassroots volunteers it organized to visit the capitol this year alone. "Organizing has been the heartbeat" of the group's policy gains.
Indeed, organizing seems to have played a unique role in not only pushing the agendas throughout the legislative chambers but also in shaping the makeup of Minnesota's current legislature itself, the most diverse class of lawmakers in state history based on age, race, and sexual and gender identity, with "many of the new members [coming] out of the world of organizing," the Reformer noted. The cumulative effect is such that a younger, more diverse majority with extensive roots in and contact with organizing culture was able to overcome internal disagreements, of which there were plenty, and ultimately avoided getting "bogged down in internecine conflict and dysfunction" similar to other Democatic-majority legislatures like that in New York State. This isn't to say Minnesota has dodged that bullet entirely. Walz's first veto of his political career was made against a broadly popular DFL-backed worker protection measure for ride-share drivers, which Walz described as "not the right bill to achieve these goals."
There's also a risk that the sweeping progressive dominance in Minnesota could ultimately backfire both locally and as a model to be emulated nationwide. Economic policy overreach enacted by Kansas Republicans a decade earlier left an impact that "still linger[s] in Kansas" and has ultimately "armed Democrats — who won the governorship in 2018 and kept it last year even though Republican voters outnumbered them nearly 2 to 1 — with years of resonant criticism and messaging," NBC noted. With the flurry of laws passed, the challenge now becomes one of implementation, and "lawmakers must be involved in that part of all of this as well," Jeff Blodgett said. At risk is not only the new legislation itself but also the model of progressive governance it embodies, and the effects of that outcome will ultimately be felt in the state and any place else looking to Minnesota for lessons on how to wield a political trifecta.
Continue reading for free
We hope you're enjoying The Week's refreshingly open-minded journalism.
Subscribed to The Week? Register your account with the same email as your subscription.
Sign up to our 10 Things You Need to Know Today newsletter
A free daily digest of the biggest news stories of the day - and the best features from our website
Rafi Schwartz is a Politics Writer with The Week, where he focuses on elections, Congress, and the White House. He was previously a contributing writer with Mic, a senior writer with Splinter News, and the managing editor of Heeb Magazine. His work has appeared in Rolling Stone, GOOD, The Forward, and elsewhere.
Rafi currently lives in the Twin Cities, where he does not bike, run, or take part in any team sports. He does, however, have a variety of interests, hobbies, and passions.