How a trade deal is negotiated
Clear priorities and realism are essential to avoid 'sausage trade war' scenarios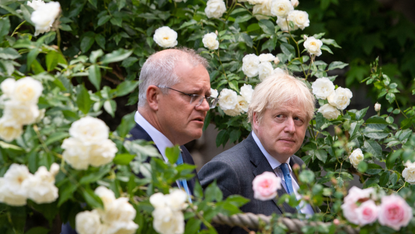 (Image credit: Dominic Lipinski/AFP/Getty Images)
From special relationships to sausage wars, Westminster has faced both opportunity and obstacles as post-Brexit Britain establishes itself as an independent trading power.
Without access to the EU's single market and customs union, Britain's relationship with the world's largest trade bloc is now reliant on "free trade and friendly cooperation", with full customs checks due to come into force in January 2022.
Now Boris Johnson is focusing on sealing deals with partners beyond the UK's closest geographic neighbours. Last week, the UK began negotiations with the Comprehensive and Progressive Agreement for Trans-Pacific Partnership (CPTPP), a free trade area involving 11 countries that Australian High Commissioner George Brandis told talkRADIO will "overtake the EU" in terms of growth.
Subscribe to The Week
Escape your echo chamber. Get the facts behind the news, plus analysis from multiple perspectives.
SUBSCRIBE & SAVE
Sign up for The Week's Free Newsletters
From our morning news briefing to a weekly Good News Newsletter, get the best of The Week delivered directly to your inbox.
From our morning news briefing to a weekly Good News Newsletter, get the best of The Week delivered directly to your inbox.
As the UK forges new trade ties, here's what you need to know about the technicalities of negotiating these arrangements.
Step 1: Select type
The benefits of different trade deals, as well as the stipulations for members, are nuanced.
Preferential trade arrangement: Members agree to reduce trade barriers between one another, such as import tariffs, but the level of commitment is relatively low.
Free trade agreement: All trade barriers are removed between members of the trade bloc, but each member upholds its independent policies on trade with non-members. The United States-Mexico-Canada Agreement, previously the North American Free Trade Agreement, is the world's largest deal of this type.
Customs union: No trade barriers exist between members of a customs union, such as the EU, and a common external trade barrier is agreed.
Common market: Similar to a customs union, a common market allows free trade between members and the free movement of resources, including people. Members also agree to uphold common policies on trade with non-members. The Economic Community of West African States (ECOWAS) is an example of this type of deal.
Economic union: Group members share one currency and adopt common economic policies. Members benefit from the free movement of products, services and labour across the group's internal borders.
Full integration: All policies, rates and economic trade rules are shared in a fully integrated trade agreement, which is underpinned by a common currency and fiscal policy.
Step 2: Get it together
In a 2017 academic paper examining the process of the UK-EU negotiations post-Brexit, the authors from the London School of Economics (LSE) described trade agreements as, essentially, a "bargain between countries with competing objectives". Leaders should therefore be "absolutely crystal clear" on their priorities before negotiations begin, global economic expert Emily Jones told the BBC.
All members of a potential agreement are required to make "equivalent concessions" in the negotiation process under the World Trade Organization's 'principle of reciprocity', the LSE authors note, and so negotiators should also anticipate what concessions they are likely to be asked to make, and decide how much they are willing to give up, in order to reach a "landing zone".
How long a trade deal takes to negotiate therefore depends significantly on "the political will of the parties", Professor Robert Volterra writes on PoliticsHome. "Like residential mortgage contracts", he notes, "templates" including "standard and accepted terms" do already exist; the "determining" factor often simply comes down to how quickly both parties want a deal done.
To avoid lengthy delays, an important ingredient in successful trade negotiation is "realism", says the BBC's Reality Check correspondent Chris Morris.
That is something former chief Brexit negotiator David Frost called for more of when the UK struggled to reach a trade agreement with the EU last year, and appears to have been less of an issue in formulating the Japan-UK free trade agreement, which took only around three months to be settled.
"Recent history suggests too much secrecy in trade negotiations can prompt a hostile reaction", the BBC's Morris adds. As such, a degree of transparency is recommended during the negotiations. In 2016, for example, thousands of protesters took to European streets to demonstrate against a proposed free trade deal between the EU and the US.
Step 3: Seal the deal
As a member of the EU, the UK automatically had trade arrangements with more than 70 countries. And since leaving the union, Westminster has struck continuity agreements with 66 of these trading partners, including Canada, Switzerland and South Korea.
The EU-UK relationship itself remains a "work in progress", Euronews reports. Recent rows over fishing rights and the Ireland-Northern Ireland border have led to unexpected scenes, with gunboats sent to Jersey and surreal newspaper stories on "sausage trade wars".
But Johnson is already making good on his hope, as Reuters terms it, to "carve out a niche" for the UK in the global trade of "premium consumer goods and professional services".
On 4 June, the UK secured an agreement in kind with Norway, Iceland and Liechtenstein that promises to "slash tariffs" on food exports, support jobs "in every corner" of the UK and "boost critical British sectors" – primarily digital.
However, not everyone is delighted with the newly struck UK-Australia trade deal, the first to be negotiated from scratch post-Brexit.
Professor Michael Gasiorek from the University of Sussex said the "historic" agreement is economically-speaking a "poor substitute for the trade lost with European markets", The Independent reports. The free trade agreement will, however, see the elimination of tariffs on "iconic British products" including Scotch whisky and biscuits.
British exports to CPTPP countries "will increase by 65% to £37bn by 2030, according to government estimates", The Guardian reports. It remains to be seen whether the deal will make the cut and join Johnson's fast-growing trade partner portfolio.

Continue reading for free
We hope you're enjoying The Week's refreshingly open-minded journalism.
Subscribed to The Week? Register your account with the same email as your subscription.