Pros and cons of stop and search
The home secretary has called for police to increase the use of controversial tactic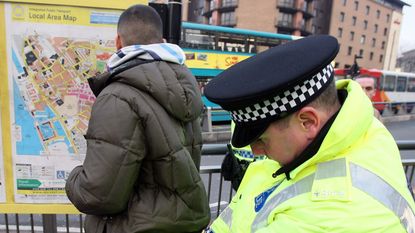 (Image credit: Christopher Furlong/Getty Images)
Home Secretary Suella Braverman has called on police chiefs to "ramp up" the use of stop and search to clamp down on knife crime and "save more lives".
In a message to all 43 police forces in England and Wales, Braverman said that officers who use the controversial powers have her "full support" and called for the "dangerous culture" of carrying weapons to be "brought to a stop".
Stop and search has long been a controversial police power. Its critics say there is little evidence it prevents violent crime; the Home Office, however, argues it is a "common sense policing tactic".
Subscribe to The Week
Escape your echo chamber. Get the facts behind the news, plus analysis from multiple perspectives.
SUBSCRIBE & SAVE
Sign up for The Week's Free Newsletters
From our morning news briefing to a weekly Good News Newsletter, get the best of The Week delivered directly to your inbox.
From our morning news briefing to a weekly Good News Newsletter, get the best of The Week delivered directly to your inbox.
There are two categories of stop and search the public can be stopped under. Suspicion-based stop and search is used when an officer believes they have reasonable grounds to suspect that someone is carrying stolen goods, drugs, weapons, a tool that could be used to commit crimes or illegal fireworks.
Suspicionless stop and search, often referred to as a section 60 stop and search, requires police officers to only "reasonably believe" that a serious crime "may" be carried out. In 2022, as home secretary, Priti Patel permanently lifted restrictions put in place in 2014 by Theresa May on section 60 orders, lowering the rank of police officers who can authorise such an order, as well as extending the amount of time an order can be in place.
Additionally, Patel removed the need for police to publicly announce that a section 60 order is in place. But the Home Office said it has updated its guidance and that police should communicate when a section 60 is in place, "unless this would hinder a sensitive operation".
1. Pro: fights knife crime
The Home Office has argued that the use of stop and search is necessary to "seize dangerous weapons and prevent knife crime".
According to government data, more than 100,000 weapons have been removed from UK streets since 2019 through a range of tactics, and "almost half" of these were seized through stop and search, leading to a further 220,000 arrests.
It said the drive to increase the use of stop and search was to ensure police officers are "prepared to use the full powers at their disposal" so that they can be "more proactive in preventing violence before it occurs".
2. Con: little effect on violent crime
Critics of stop and search say the causal link between bringing down violent crime and stop and search is "shaky". That's because stop and search "doesn't technically serve to reduce crime, but to investigate it", said the i news site, which means it is difficult to measure its role in crime reduction.
The government's own research has found there is "little evidence" to suggest that stop and search "provides an effective deterrent to offending", according to a House of Commons Library report from 2022.
Based on a study from the Centre for Crime and Justice, which analysed 10 years of data, it found that stop and search "has only a very weak and inconsistent association with crime" and that its deterrent effect is "likely to be small, at best".
3. Pro: shows police visibility
In a major policing report published this month, His Majesty's Chief Inspector of Constabulary, Andy Cooke, acknowledged that stop and search is a polarising issue for the public, but argued that it remains an "essential policing tool" that needs to be "better understood" by the public.
At a time when confidence in the police force is low, stop and search can provide a "visible representation" of police officers "taking action" on the streets, which in turn "improves confidence throughout the wider community" in policing, he said.
4. Con: Black people targeted
Critics of stop and search argue it is a tactic that disproportionately targets people from Black and ethnic minority backgrounds.
Recent data on stop and search activity in London, provided by the Mayor's Office for Policing and Crime (MOPAC), revealed that Black people in London, regardless of age, were three times more likely to be stopped than their white counterparts from April to June 2022.
When these stop and searches specifically targeted weapons, points or blades, Black Londoners of all age groups were seven times more likely to be stopped compared to white Londoners. This was a marked increase on the previous period, January to March, when Black Londoners were five times more likely to be stopped than white Londoners.
The study found that only 44% of Black Londoners believed that the police used stop and search powers fairly.
5. Pro: effective investigative tool
Stop and search, as an investigative tool, has shown some good results when it comes to unearthing crimes, particularly drug offences.
According to Metropolitan Police data, approximately 30% of stop and searches conducted across England and Wales during the 2017/18 period led to what experts term a "positive outcome". This means action was taken against those who were searched including arrests, warnings and penalty notices.
In London, 60% of positive outcomes were related to drug offences, 11% to theft, fraud and counterfeit offences, and 9% were for "weapons, points and blades", according to Full Fact.
6. Con: legality concerns
There has been concern from two police watchdogs – Her Majesty's Chief Inspector of Constabulary, Fire and Rescue Services and the Independent Office for Police Conduct – that some searches are not being carried out lawfully.
A 2021 report by Wendy Williams, HM inspector of constabulary, found that 14% of stop and searches were conducted without reasonable cause, while a further 22% were carried out with "weak" recorded grounds.

Continue reading for free
We hope you're enjoying The Week's refreshingly open-minded journalism.
Subscribed to The Week? Register your account with the same email as your subscription.