'Being in the crony-demic gang seems to mean that you can ignore all of the rules all of the time'
Your digest of analysis and commentary from the British and international press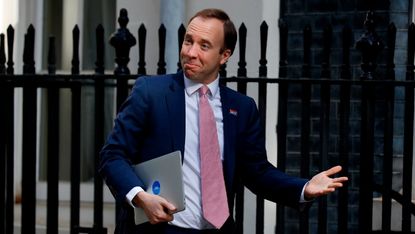 (Image credit: Tolga Akmen/AFP via Getty Images)
Sign up to our 10 Things You Need to Know Today newsletter
A free daily digest of the biggest news stories of the day - and the best features from our website
Thank you for signing up to TheWeek. You will receive a verification email shortly.
There was a problem. Please refresh the page and try again.
1. All in this together... apart from the entitled and smug crony-demic gang
Jan Moir in the Daily Mail
on political pandemic behaviour
Being "all in it together" has been the "official refrain since the early days of the pandemic", writes Jan Moir in the Daily Mail. "And we are still all in it together" – except if you're a government minister or adviser, she adds. "Today, being a member of the crony-demic gang seems to mean that you can ignore all of the rules all of the time, even the ones you have devised yourself." The political elite are continuing "to do exactly as they please" – one case in point being Michael Gove's ability to dodge quarantine on his way back from watching a football match in Portugal "by taking part in a secret swabbing trial" which "no one has ever heard of". What "a simply lovely coincidence" that Downing Street was chosen as one of the workplaces to trial this new scheme, says Moir. "One might have hoped the Government had got the message about elitism by now, but no", she writes. "Matt Hancock puts Mrs Flirty on the public payroll" and "Dominic Cummings flees from London when he is not supposed to" – "how much more can we take?"
Subscribe to The Week
Escape your echo chamber. Get the facts behind the news, plus analysis from multiple perspectives.
SUBSCRIBE & SAVE
Sign up for The Week's Free Newsletters
From our morning news briefing to a weekly Good News Newsletter, get the best of The Week delivered directly to your inbox.
From our morning news briefing to a weekly Good News Newsletter, get the best of The Week delivered directly to your inbox.
2. Get used to devastating and deadly floods, Europe – climate change is here
Sean O'Grady in The Independent
on a Plan B
"Freakish weather" in Germany, Belgium and the Netherlands is "not only strange and disturbing, but deadly", writes Sean O'Grady in The Independent. We need to stop "quibbling" about the reality of climate change. The message from experts and "vocal modern-day prophets" like David Attenborough and Greta Thunberg might be that it's not too late to save the planet – but what if it is? "What if we can't hit our climate targets? What if this last chance is actually squandered?" O'Grady asks. "What if we, this generation, fail?" We need to consider the possibility of this and come up with a Plan B. Given how rarely politicians are held to account for missing climate change targets and society's lack of enthusiasm for "collective sacrifice", maybe some of the workshops at COP26 should be "quietly thinking about mitigations". "It's pathetic", concludes O'Grady, "but it may be the only thing left."
3. Sign me up for shorter school holidays – the data shows us working women will suffer this summer
Susie Mesure in The i
on cutting holidays
"Desperation at the looming childcare void, also known as the summer holidays" has persuaded journalist Susie Mesure to book her three children on to a week-long Nintendo Switch camp. Finding ways to keep the kids occupied when working "feels harder than ever this year" after months of "school closures and self-isolation on repeat", she writes in the i. A new poll by the TUC and the campaign group Mother Pukka has found that nearly two-thirds of working mothers lack enough childcare for the duration of the summer and nearly one in five mothers have already used all their annual leave allowance on homeschooling during lockdowns. Summer holidays are "great for anyone with a second home, grandparents by the sea, or a sympathetic employer", writes Mesure. But "less good for those stuck in tower blocks, on zero-hours contracts, or strapped for funds for weeks of football camp". In some ways, Mesure feels "lucky" for being freelance and able to "tap away when – and where – I like". But if she doesn't work, she doesn't get paid – and "after juggling children and work for eight of the past 17 months" she's unsurprisingly "hit a wall". What can be done? Shorten the summer to "a four-week stretch", she suggests.
4. We'll soon know more about our bodies than ever before – but are we ready?
Daniel M Davis in The Guardian
on biological progress
Soon, issues like social distancing, mask-wearing and travel will be "down to personal judgement" - but "how well equipped are we to make these decisions?" asks author and professor of immunology Daniel M Davis in The Guardian. Graphs and data can help, but "what's also needed is a deep understanding of how science works". Having to make complicated decisions about our bodies is only going to become a more regular occurrence, Davis writes. "This is because progress in human biology is accelerating at an unprecedented rate, and there's no sign of it slowing down." In our future, we'll have "entirely new ways of defining, screening and manipulating health, completely new insights about diet, and any number of ideas for how babies can be born". But as a result of "ever more detailed analysis of our bodies", we'll "increasingly need to think about [cancer] and any number of other diseases: in terms of the probability of their occurrence". We may all be individuals, but there is a "finite set of recurring patterns that can be used to analyse our health", an example being the body-mass index. To prepare ourselves for this shift, Davis adds, "we need to reach a new level of public understanding about health, disease, risk and probability".
5. Fossil fuel lobbyists keep stoking the West's wildfires
Tom Steyer in the Los Angeles Times
on 'greenwashing'
"The Western United States is burning," says Tom Steyer in the Los Angeles Times. Last month temperatures in Oregon and Washington hit "an all-time high for the region"; simultaneously, California is experiencing its worst fires in history. "This isn't a fluke," writes Steyer. "This is a data point in our new normal: hot days and short rainy seasons turn our lush greenery and vibrant woods into kindling." The reasons for this "new normal" aren't a mystery: "we are still powering our country with the fuels that brought us to the brink of disaster". According to Steyer, "fossil fuel apologists" are "funding disinformation campaigns" and lobbying against clean energy proposals that will make the United States' grid "more reliable, more equitable and sustainable". Their goal? "To trick us into thinking that fossil fuels are some sort of climate solution that will grow the economy. They aren't, and they won't." We need to stop listening to Big Oil's "lies", concludes Steyer. If we choose to believe them then we will "miss the opportunity to lead, to reap the benefits of climate technologies and innovations, and to save the planet".
Continue reading for free
We hope you're enjoying The Week's refreshingly open-minded journalism.
Subscribed to The Week? Register your account with the same email as your subscription.