What herd immunity means - and why it is back in the spotlight
Government insider suggests current Covid-19 strategy is 'tantamount' to a policy of herd immunity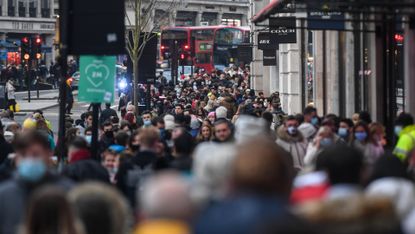 (Image credit: Peter Summers/Getty Images)
The health secretary's warning that Covid-19 cases could double to 100,000 a day has reignited rumours that the government is effectively pursuing a strategy of herd immunity by infection.
Sajid Javid yesterday "refused to bow to pressure" to activate the government's so-called Plan B, which includes mandatory face coverings and vaccine passports, and instead urged everyone eligible to book their booster jabs, said the Financial Times.
As Covid-19 cases hit more than 49,000 a day again on Wednesday, government insiders told Politico's Playbook that they hoped the country would reach a peak level of immunity in the coming weeks through a combination of vaccination, boosters and infection.
Subscribe to The Week
Escape your echo chamber. Get the facts behind the news, plus analysis from multiple perspectives.
SUBSCRIBE & SAVE
Sign up for The Week's Free Newsletters
From our morning news briefing to a weekly Good News Newsletter, get the best of The Week delivered directly to your inbox.
From our morning news briefing to a weekly Good News Newsletter, get the best of The Week delivered directly to your inbox.
Playbook said one person who worked for the government had even said "that if ministers have been fine with more than 30,000 people being infected with the virus each day for the past three months, potentially rising to 100,000 per day in the coming weeks, with no serious vaccine rollout in schools and the virus spreading like wildfire among children, then that is tantamount to a policy of herd immunity".
What does herd immunity mean?
Also known as "population immunity", herd immunity is the indirect protection from a disease acquired when a population is mostly immune to it through vaccination or from previous infection, explained the World Health Organization (WHO). The aim is to break the chains of transmission and also protect those who are unable to get vaccinated, because of an allergic reaction or age, for example.
How is herd immunity normally achieved?
Immunity can be achieved through natural infection as well as through vaccination. However, WHO's chief scientist, Dr Soumya Swaminathan, warned that if you allow it to happen naturally "it will take a long time" and "more importantly, it's going to do a lot of collateral damage".
Did the UK pursue natural herd immunity?
Since leaving Downing Street, Boris Johnson's former top aide Dominic Cummings has claimed that building a natural immunity to the virus was "literally the official plan in all docs/graphs/meetings until it was ditched" in March 2020 when No. 10 was made aware that it would "lead to catastrophe".
In a series of tweets, published in May, he said the government was warned that the strategy would result in hundreds of thousands of people "choking to death". The policy then shifted to the pursuit of suppression, effective drugs and vaccination, and test and trace, he said.
Indeed, in the early stages of the pandemic last year, the government's chief scientific adviser Sir Patrick Vallance told Sky News: "Communities will become immune to it and that's going to be an important part of controlling this longer term. About 60% is the sort of figure you need to get herd immunity."
The broadcaster noted that, at that point, "there was no vaccine available for coronavirus".
A report by the parliamentary science and health committees, published earlier this month, concluded that it would be an "overstatement" to say the government was promoting the spread of Covid-19 to accelerate herd immunity in spring 2020, but "given that no alternative strategy was being implemented, that was the effective consequence".
The decisions to delay lockdowns and social distancing in those early weeks of the pandemic "rank as one of the most important public health failures the United Kingdom has ever experienced", said the report, titled Coronavirus: lessons learned to date.
Could it be achieved through vaccination?
The UK vaccination rollout has since led to 45.4 million people receiving two vaccines against Covid-19, according to government data up to 19 October. Oxford University tracking suggests that this amounts to around 67% of the total population being fully vaccinated. But the point at which a country achieves herd immunity - if at all - is not so simple.
The percentage of a population needed for herd immunity varies depending on the disease; for instance, measles requires about 95% of a population to be vaccinated, said WHO. The proportion for Covid-19 has not been pinpointed to an exact percentage, but most early estimates placed the threshold at 60% to 70%, reported Nature in March.
Even then, Gypsyamber D'Souza and David Dowdy, epidemiologists at Johns Hopkins Bloomberg School of Public Health, have said the percentage is not a "magic threshold", as both viral evolution and changes in human interaction can affect the number.
The increased transmissibility of the Delta variant, for example, has raised the threshold to the "high 80s", Edinburgh University's Mark Woolhouse told Times Radio in August. It is "not an all-or-nothing thing", he said.
And the "chief concern" now, said Playbook, is that the "longevity of protection offered by two doses of the vaccine is not as strong as previously hoped". Downing Street is waiting for data on how quickly the vaccines might wane, while ministers continue to push the booster campaign.
The longevity of natural protection after having the virus is also imprecise. Analysis by bioinformatician Jeffrey Townsend and his colleagues at the Yale School of Public Health in New Haven, Connecticut, showed that "immunity is relatively short-lived".
According to their predictions, "people who have been infected with SARS-CoV-2 can expect to become reinfected within one or two years, unless they take precautions such as getting vaccinated and wearing masks", reported Nature this week. If unvaccinated, people could be reinfected in just a few months.
Some scientists are saying this waning immunity is driving UK infections and suggests herd immunity is "unreachable", said the i news site.
Professor Paul Hunter, of the University of East Anglia's Norwich Medical School, said this apparent decline in protection is why "zero Covid and herd immunity were always delusions", while Professor Tim Spector, lead scientist on the ZOE Covid Study app, said it was clear "herd immunity isn't happening".
"Our data shows that vaccine protection wanes over time and a natural infection alone only gives 64 per cent protection," said Spector, "so we need to be doing all we can to get everyone double-vaccinated and stop waiting for herd immunity to happen through natural infection."

Continue reading for free
We hope you're enjoying The Week's refreshingly open-minded journalism.
Subscribed to The Week? Register your account with the same email as your subscription.