What does hot weather do to your brain?
Cognitive function, mental health and even crime are all linked to high temperatures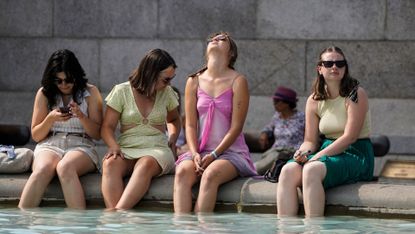 (Image credit: Niklas Halle'n/AFP/Getty Images)
If the current record heatwave is making you more irritable and you are finding it harder to concentrate on even basic tasks, you are not alone.
Numerous studies have linked hot weather to reduced cognitive function leading to decreased productivity, errors of judgement, harmful effects on mental health, increased risk of workplace injury and even rising crime.
Reduced cognitive function
A 2006 study titled the Effect of Temperature on Task Performance in Office Environment looked at how well participants carried out common work tasks amid rising temperatures, concluding there is a consistent decrease in performance as participants get hotter.
Subscribe to The Week
Escape your echo chamber. Get the facts behind the news, plus analysis from multiple perspectives.
SUBSCRIBE & SAVE
Sign up for The Week's Free Newsletters
From our morning news briefing to a weekly Good News Newsletter, get the best of The Week delivered directly to your inbox.
From our morning news briefing to a weekly Good News Newsletter, get the best of The Week delivered directly to your inbox.
"This decline in mental function isn't limited to office workers or adults, and it has been observed in high school students as well," said Discover, citing a 2018 Harvard study that found how an especially hot day can reduce educational performance in exams.
Another study reported by The Telegraph in the Scientific Reports journal found the brain function of eight healthy men, aged between 27 and 41, scored lower on a series of maths and logic tasks when heat lamps were directed at their heads.
"While the study was fairly small, the idea that prolonged exposure to the sun might diminish brain function is one that has been gaining traction among scientists for some time," said the paper.
Interestingly, extreme heat does not appear to impact brain function evenly. One study in the Internatinoal Journal of Hyperthermia concluded that complex tasks are impaired more than simple tasks.
Why does this happen?
"Working in high temperatures has long been known to cause hyperthermia, a rise in internal body temperature, which can trigger physical exhaustion," said The Telegraph. "But now some researchers are coming around to the idea that hot weather might also affect your intellectual faculties in a far more subtle way – one that you might not even notice happening – by slowing your brain's processing speed and making it harder to make good decisions."
The reason for this is that "at extremely high temperatures, the blood-brain barrier begins to break down", said The Guardian, meaning proteins and ions accumulate in the brain, causing inflammation. In some cases the build up of proteins can even cause brain cells to die.
"Warmer temperatures are even more of a problem for people with neurological conditions," said Discover, "because they might be unable to regulate body temperature and tolerate heat as easily as others."
The impact on mental health
Beyond anecdotal evidence of people feeling irritable on hot days, studies do suggest that extreme heat negatively affects mental health.
Laurence Wainwright, from the University of Oxford, and Eileen Neumann, from the University of Zurich, at The Conversation reported that "heatwaves – as well as other weather events such as floods and fires – have been linked to a rise in depressive symptoms in people with depression, and a rise in anxiety symptoms in those with generalised anxiety disorder", while high temperatures have also been causally linked to a rise in manic episodes in people with bipolar disorder.
There is also a link between daily high temperatures and suicide and suicide attempts. "Roughly speaking, for every 1℃ increase in monthly average temperature, mental health-related deaths increase by 2.2%. Spikes in relative humidity also result in a higher occurrence of suicide," said Wainwright and Neumann.
Occupational injury
"The stakes can be high," said Cambridge Brain Sciences, as hot weather has been linked to increase cases of occupational injury.
"Studies have found that increased temperatures contribute to reduced workplace safety," said the site. "Nearly any job has a cognitive component, so workers that spend time outdoors, or in offices without air conditioning, will be hit with a splash of reduced productivity and danger along with any heat wave."
Increases in crime
There is also evidence linking extreme heat with rises in violent assaults. One US study from 2014 estimated that, by 2090, higher average temperatures due to global warming could increase the total number of crimes in the States by as much as 5.5%.
"The reasons for these increases involve a complex interaction of psychological, social and biological factors," said Wainwright and Neumann, citing the brain chemical serotonin, which keeps levels of aggression in check, being affected by high temperatures.
What can be done?
Luckily, most of the impacts of heat stress are temporary, and various cooling methods can help mitigate the negative effects.
Chief among these is keeping hydrated by drinking water regularly and eating foods with high water content. "Even aside from the stress of the temperature, not drinking enough water has its own detrimental effects on cognitive performance," said Cambridge Brain Sciences.
It is also important to keep air circulating in your home or place of work, either with air conditioning or using fans, and importantly keep out of direct sunlight wherever possible.
For those working or travelling outside, wearing a hat will help protect your brain from the most intense of the sun's rays.

Continue reading for free
We hope you're enjoying The Week's refreshingly open-minded journalism.
Subscribed to The Week? Register your account with the same email as your subscription.