Is social media bad for your mental health?
Facebook faces damaging claims that it was aware of harm Instagram caused to children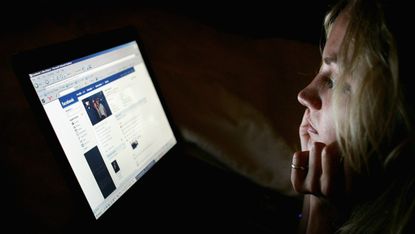 Internal documents obtained by The Wall Street Journal have revealed that Facebook Inc. has known about the harm its platform Instagram appears to have caused some users.
Research shared with the tech giant's employees on an internal message board included findings that "32% of teen girls said that when they felt bad about their bodies, Instagram made them feel worse", according to the reports.
Social media has often been cited as contributing to feelings of anxiety and depression, particularly in younger users. Facebook, which owns Instagram and Whatsapp, has publicly "played down" the photo-sharing platform's negative health effects on young people, the newspaper continued. And Facebook's vice president of global affairs and former deputy prime minister Nick Clegg has said the WSJ's allegations are "just plain false".
Subscribe to The Week
Escape your echo chamber. Get the facts behind the news, plus analysis from multiple perspectives.
SUBSCRIBE & SAVE
Sign up for The Week's Free Newsletters
From our morning news briefing to a weekly Good News Newsletter, get the best of The Week delivered directly to your inbox.
From our morning news briefing to a weekly Good News Newsletter, get the best of The Week delivered directly to your inbox.
"We fundamentally reject this mischaracterization of our work and impugning of the company's motives," said Clegg. The purpose of Facebook's internal research "is to hold up a mirror to ourselves and ask the difficult questions". Such complex problems often do not come with easy answers, he continued.
However, the company did acknowledge in a 2017 blogpost that its platforms can have a detrimental effect on a user's wellbeing depending on how it is used.
The negative effects
Research by the Education Policy Institute (EPI) and The Prince's Trust published earlier this year found that wellbeing and self-esteem were similar in all children of primary school age. However, their mental health begins to drop at the age of 14, after which girls experience a steeper decline.According to the study, one girl in three was unhappy with her personal appearance by the age of 14, compared with just one in seven at the end of primary school. A "significant relationship" was found "between heavy social media use at age 14 and worse self-esteem and higher psychological distress at age 17".
Drawing on data from 5,000 young people in England, the EPI researchers also found that the number of young people with probable mental illness has risen to one in six, up from one in nine in 2017. Boys in the bottom set at primary school had lower self-esteem at 14 than their peers.
"Heavy social media use was linked to negative well being and self-esteem," the BBC reported, "with more girls experiencing feelings of depression and hopelessness."
According to the WSJ, Facebook shared with its staff similar conclusions from its own researchers in March 2020. "Comparisons on Instagram can change how young women view and describe themselves", a presentation slide allegedly stated. A slide from 2019 also reportedly said "we make body image issues worse for one in three teen girls".
A number of studies have found an association between social media use and depression, anxiety, sleep problems, eating issues, and increased suicide risk, researchers from the University of Melbourne's National Centre of Excellence in Youth Mental Health warned in an article on The Conversation.
A 2015 study by the University of Missouri found that regularly using Facebook could lead to symptoms of depression if the site triggered feelings of envy in the user.
If social media is used "to see how well an acquaintance is doing financially or how happy an old friend is in his relationship - things that cause envy among users - use of the site can lead to feelings of depression", said Professor Margaret Duffy, who co-authored the report.
However, care needs to be taken when making a direct link between mental health and social media use, warned the University of Melbourne researchers.
Most studies examining social media and mental health "aren't able to determine whether spending more time on social media leads to depression or anxiety, or if depressed or anxious young people spend more time on social media", they said.
"The pathways to mental illness are many and varied, and to suggest mental health problems can be attributed to social media alone would be an oversimplification."
The positive effects
Zuckerberg has said repeatedly that his social media platforms should be used to build connections. Time spent on Facebook, he hopes, can "encourage meaningful social interactions".
The same University of Missouri study that found a link between Facebook use and depression also found that people who use the platform primarily to connect with others do not experience the negative effects. "In fact, when not triggering feelings of envy, the study shows, Facebook could be a good resource and have positive effects on well-being," Psychology Today reported.
Similarly, researchers at Harvard University found that when social media usage is part of a person's social routine, it can have a positive impact on wellbeing and mental health. Being emotionally invested in social media was by comparison found to have negative mental health implications, and such investment was found to be stronger in high school age students, compared to university students.
There is also compelling evidence that social media can benefit people already dealing with mental health issues by helping them build online communities that provide a source of emotional support. The UK Mental Health Foundation states it is "undeniable" that online technologies can be used to reach the most vulnerable in society, as well as helping to reduce the stigma attached to seeking treatment.
Social media is "invaluable for people with health conditions to know that they are not alone, that there are other people who have gone through this and got better", said Professor John Powell, a public health researcher at Oxford University, who has researched how social media can be used to support people with chronic illnesses.
Matthew Oransky, an assistant professor of adolescent psychiatry at New York's Mount Sinai Hospital, also says many patients make social connections online that they could not find elsewhere, reported USA Today. This is particularly true of marginalised teens, such as kids in foster homes and LGBT adolescents, Oransky says.
Are children more affected than adults?
For young people, who spend on average far more time than over-25s on social media, the effects appear to be more acute.
A study by the UK's media regulator Ofcom found that by the age of 15, 95% of children use social media. Of all the 12-15-year-olds surveyed who said they had been bullied on or offline, 53% had experienced bullying on social media. Respondents between the ages of eight and 11 reported less instances of bullying via social media overall, but 48% who had experienced bullying said they had done so through online gaming.
A study by the UK's media regulator has found bullying of young people online has grown significantly worse in recent years. The Ofcom report revealed the proportion of 12 to 15-year-olds who reported having been bullied on social media has nearly doubled from 6% to 11% since 2016.
Children are also using multiple social media profiles to project a "picture-perfect self" to different social groups.
Ofcom's research also found that nine in ten 12-to-15 year-olds who use social media, or chat and messaging apps like Whatsapp, said they feel "pressure to be popular" on the platforms.
There is also concern at the failure of social media firms to protect young people from disturbing content online, specifically related to self-harm, given the fact that suicide is a leading cause of death among under-20s in the UK.
Ofcom noted that safety tools, such as TikTok's Family Safety Mode can help parents to control their children's social media content exposure. And though safety technology is "an evolving area", the media regulator concluded it is unlikely to ever "be fully effective in protecting children from harm online". Education, or "media literacy", would also need to play a role, it concluded.
Acknowledging the need to tackle the problems associated with increased social media use and "internet addiction" among young people, new forms of treatments have emerged.
In 2019, one 28-day inpatient programme in the US called Reboot began specifically targeting 11 to 17-year-olds.
It used diagnostic therapy and psychotherapy to help those who have addictions that include online gaming, online gambling, social media, pornography, and sexting, "to escape the symptoms of mental illnesses such as depression", said Tech Times.
Children's mental health charity the Anna Freud Centre also recommended young people use tools such as in-app time management to limit their exposure to social media content, as well as "self-care strategies" to help develop a positive relationship with the platforms.
However many say that the responsibility to protect social media users lies with the companies that run them, rather than the individuals who use them.
Anyone in need of immediate mental health support can call the Samaritans free on 116 123

Continue reading for free
We hope you're enjoying The Week's refreshingly open-minded journalism.
Subscribed to The Week? Register your account with the same email as your subscription.