Pros and cons of marriage
Fewer opposite-sex couples are getting wed than ever before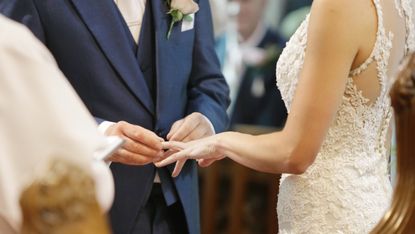 (Image credit: Peter Cade/Getty Images)
The majority of babies were born out of wedlock last year in England and Wales, for the first time since records began in 1845.
According to latest Office for National Statistics (ONS) data, of 624,828 live births registered, 320,713 were to women who were not married or in a civil partnership at the time – 51.3% of the total. The historic shift "follows the long-term trend of declining marriage rates and increasing numbers of cohabiting couples seen in recent decades", said head of health analysis Dr James Tucker.
But he warned that "caution should be taken" when interpreting the latest data, "as we don't yet know the full impact of the pandemic on marriage and civil partnership statistics". Sky News pointed out that the births shift "coincided with the Covid-19 lockdown, when weddings and civil partnership ceremonies were not allowed".
Subscribe to The Week
Escape your echo chamber. Get the facts behind the news, plus analysis from multiple perspectives.
SUBSCRIBE & SAVE
Sign up for The Week's Free Newsletters
From our morning news briefing to a weekly Good News Newsletter, get the best of The Week delivered directly to your inbox.
From our morning news briefing to a weekly Good News Newsletter, get the best of The Week delivered directly to your inbox.
Official statistics published earlier this year showed that a total of 213,122 heterosexual couples tied the knot in 2019 – down 50% from the peak in 1972 and the lowest on record since 1862. The rate of same-sex marriages remained unchanged in 2019 from the previous year, however.
So why might fewer heterosexual couples be choosing to put a ring on it – and what are the advantages and downsides of officially tying the knot?
1. Pro: 'formalising' relationship
For many people, formalising a relationship in the eyes of the law – or God – is a way of taking a partnership to the next level. "There is something to be said about a true union," Barbie Adler, founder of matchmaking company Selective Search, told Brides magazine. "Marriage is the ultimate commitment."
According to the mag, even couples who have lived together for years "say they feel more at ease once they said their vows". And "for many, marriage brings a sense of security, a grounding they can't get any other way".
2. Con: old-fashioned institution
Critics have argued that marriage is an old-fashioned, outdated institution. "Back in the 1400s when people were getting married, it was 'until death do you part' because people would get married as teenagers and somebody would die in their 20s or early 30s," wrote relationship coach and author David Wygant in an article for HuffPost. But most people live "a lot longer", and many "grow" and "evolve" in ways that mean they and their partner "no longer work well together".
Critics also point to the inherent sexism in some wedding traditions, such as a bride wearing a white dress to symbolise virginity, a groom asking a father's "permission" to marry his daughter, and women taking their husband's surname. Marriage is "deeply rooted in sexist customs and laws", said feminist writer Maureen Shaw in Teen Vogue. "Love and fairy tales are nice, but marriage is technically a contract, and it's worth reading the fine-print before signing your name."
Changes in attitudes towards living together and having children out of wedlock offer greater freedom when deciding whether to sign up for this "contract". Peter Saddington, a relationship counsellor with the charity Relate, told the BBC that "my clients can choose whether or not they want to get married, unlike their parents or their grandparents who felt an obligation to do so".
3. Pro: financial security
Married couples can pass money and assets to each other tax-free, which can save a "significant amount of money if you want to sell assets that would incur capital gains tax (CGT)", because "splitting or co-owning an asset with your partner would double the tax-free portion", said Investors' Chronicle.
Other financial benefits include the marriage tax allowance, a tax perk that allows a spouse to use up to £1,260 of their partner's personal allowance (currently £12,570) "if they earn less than the value of the personal allowance and you are a basic-rate income tax payer", the magazine explained.
People who are married or in civil partnerships also have more financial protection if they separate than unwed couples who split.
In the event that "your marriage or civil partnership ends, you can ask for financial support – known as 'spousal maintenance' – from your ex-partner as soon as you separate", in addition to any child maintenance, said Citizens Advice. By contrast, unwed couples don't have to support each other financially after splitting.
4. Con: divorce statistics
High divorce rates may be putting some people off marriage. "Increasingly, more children are growing up in relationships where parents have separated," relationship counsellor Saddington told the BBC. "This is one of the biggest influences on whether or not they [themselves] want to get married."
Latest ONS data shows that 103,592 divorces were granted in England and Wales in 2020. That total represented a decrease of 4.5% compared with 2019, but many family court activities were delayed or suspended in 2020 as a result of the pandemic.
Even without Covid, getting a divorce can be a long and expensive process. A 2018 analysis by Aviva found that 68% of couples who divorce or separate had "financial issues to resolve, with the process taking on average 14-and-a-half months". The costs involved are also steep. According to the insurance company, couples typically spent "£14,561 on legal and lifestyle costs when they divorce or separate, an increase of 17% since 2014" – and those costs are likely to be even higher now.
5. Pro: excuse for a party
Weddings are a rare chance to bring a couple's nearest and dearest together and celebrate.
"My wedding day was, without a doubt, the best day of my life," PopSugar's then senior editor Caitlin Gallagher wrote in 2019. "I'm originally from Chicago and my husband is from a very small town in Ireland, so when our two families from different parts of the world finally came together, my heart had never felt so full."
6. Con: weddings costs
A survey by hitched.com of 2,060 couples who married in 2021 found that the average wedding cost £17,300.
With the cost-of-living crisis hitting households nationwide, a growing number of couples planning to wed may be unwilling or unable to splash out on their big day. And those who do may later wish they hadn't.
"I had a big, expensive wedding," wrote Insider contributor Cheyenne Lentz. "Looking back, I regret spending so much money on one day that could've been put toward our future."
7. Pro: more support after death
Marriage or civil partnerships can provide a degree of financial security for a spouse whose partner dies.
Unwed couples do not automatically inherit anything when their partner dies if there is no will in place, unlike their married peers.
Being married also allows assets to be passed on to spouses free from inheritance tax (IHT). And "you can transfer unused portions of your IHT allowance, which is currently £325,000, to your spouse", said Investors' Chronicle.
Marrying can also "help to ensure that your partner can continue to live in your house after you die, with the house passing to your children after your spouse's death", the magazine added. But "if you are not married or in a civil partnership when you die, your partner may have to pay tax on the property as it would form part of your estate".
Surviving spouses may also be entitled to their partner's state pension after they die, depending on their level of National Insurance contributions.
8. Con: changing priorities
"For my parents' generation, the milestones for your early 20s were getting married, buying a home and having children," dating and relationship coach Ané Auret told the BBC. "Today, having the freedom to focus on what you want to do as an individual is more important to people in their twenties than it was several decades ago."
According to a recent YouGov survey of almost 4,000 Britons who were single or in a relationship or civil partnership but not married, 48% "don't see the point in doing so", while 34% "don't think marriage is right for them". A further 34% said the "idea of marriage is outdated, and no longer relevant".

Continue reading for free
We hope you're enjoying The Week's refreshingly open-minded journalism.
Subscribed to The Week? Register your account with the same email as your subscription.