Quiz of The Week: 1 - 6 April
Have you been paying attention to The Week's news?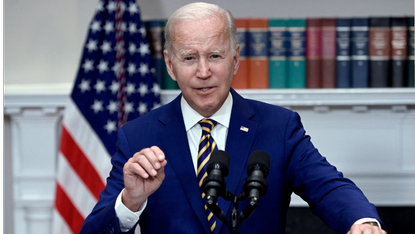 (Image credit: Olivier Douliery/AFP via Getty Images)
This Easter weekend marks the 25th anniversary of the Good Friday Agreement with US President Joe Biden paying a five-day visit to both sides of the Ireland-Northern Ireland border to mark the occasion.
Fresh from a row with Russia over the detention of Wall Street Journal reporter Evan Gershkovich, Biden will throw himself into another geopolitical crisis when he visits Northern Ireland, a country that has been without a functioning executive for over 400 days.
Biden's isn't the only intervention from a US president on the subject, though. Bill Clinton gave an interview to the Irish broadcaster RTE this week, saying it is a "miracle" the Good Friday Agreement survived Brexit. Clinton took part in last-minute talks before the landmark deal was signed in 1998 and called it an act of "bravery from all sides".
Subscribe to The Week
Escape your echo chamber. Get the facts behind the news, plus analysis from multiple perspectives.
SUBSCRIBE & SAVE
Sign up for The Week's Free Newsletters
From our morning news briefing to a weekly Good News Newsletter, get the best of The Week delivered directly to your inbox.
From our morning news briefing to a weekly Good News Newsletter, get the best of The Week delivered directly to your inbox.
Clinton also took the opportunity to urge the Democratic Unionists, who are yet to return to power-sharing at Stormont amid a stalemate over Brexit, to engage with the institutions in the wake of Rishi Sunak's Windsor framework with the EU.
"I think we should say, 'look, there's something to work with here'," said Clinton. "[Sinn Fein] doesn't want to jam you, they want to work with you to resolve these things. How can we live together? How can we work together? How can we all put our heads on the pillow at night and feel at peace about what our children are going to face?"
While Biden is known to share the same views as Clinton on the Stormont stalemate it is understood he will not be visiting the site of the executive itself on his trip, in the hope perhaps of keeping a lower profile than his immediate predecessor in the White House managed this week.
To find out how closely you've been paying attention to the latest developments in the news and other global events, put your knowledge to the test with our Quiz of The Week
1. The citizens of Paris have voted to ban which mode of transport in the French capital?
Bicycles
E-scooters
Electric cars
Buses
2. In her final speech as New Zealand's prime minister, who did Jacinda Ardern assure that "they too could one day lead"?
3. How many slogans has the Labour Party unveiled in the three years since Keir Starmer became leader?
4. Twitter's famous blue bird logo has been replaced by what image in what is thought to be a late April Fool's Day prank by billionaire owner Elon Musk?
A llama
A tree frog
A gorilla
A Shiba Inu dog
5. Why did an angry shopper complain to Sainsbury's over its rump steak this week?
It wasn't organic beef
It was too expensive
It had a misogynistic name
It wasn't British beef
6. What percentage of the world's population is affected by infertility, according to research from the World Health Organization (WHO)?
7. A French minister sparked a political row after she appeared on the cover of which magazine?
Vogue
Elle
Cosmopolitan
Playboy
8. Which animal is facing extinction in Wales due to a deadly virus?
Ospreys
Red squirrels
Puffins
Grey seals
9. Former president Donald Trump pleaded not guilty to how many felony counts of falsifying business records when he appeared in a New York court this week?
10. Which unusual flavour of Easter egg will be launched by Deliveroo, the food delivery app, in time for Easter weekend?
Southern fried chicken
Fish and chips
Hot cross bun
Pizza
1. E-scooters
Rental e-scooters are to be outlawed in the French capital after a referendum was held last week. Around 89% of votes cast were in support of a ban, but with no online voting, turnout was only about 8%. Nevertheless, the result means Paris will become the first major European capital to outlaw the scooters.
2. Nerds
As she bowed out of New Zealand's parliament, Ardern gave a rousing speech calling for politics to be opened up to atypical leaders. She said: "You can be anxious, sensitive, kind and wear your heart on your sleeve. You can be a mother, or not, an ex-Mormon, or not, a nerd, a crier, a hugger – you can be all of these things, and not only can you be here – you can lead." Ardern announced her shock resignation in January, saying she had "no more left in the tank".
3. 12
The party's current slogan, "Build a better Britain", was introduced in March. Recent YouGov polling found that almost half of Britons think Starmer has failed to set out a clear vision for the party in his three years as leader.
4. A Shiba Inu dog
On Monday, Twitter users noted that the blue bird logo usually found on Twitter's homepage and loading screen has now been replaced with an image of Doge, the Shiba Inu dog used as a popular internet meme.
5. It had a misogynistic name
Shopper Rose Robinson complained to Sainsbury's for giving its product a "sexist" name, according to the Daily Star. Robinson is calling on the supermarket chain to rename its "Big Daddy" rump steak, which she feels is a "misogynistic" label. "I was shocked and just a bit disappointed that in this day and age, it was possible for it to make it through whatever channel it had to have made it through to get onto the shelves," she added. Sainsbury's said: "We strive to be a truly inclusive retailer."
6. 17.5%
In the WHO's first estimates of infertility prevalence in more than a decade, it was found that about 17.5% of the global adult population will experience infertility. Based on more than 100 studies between 1990 and 2021, the results show limited variation between regions and between high, middle and low-income countries. "For millions around the world, the path to parenthood can be difficult to access, if not impossible," said Dr Tedros Adhanom Ghebreyesus, the WHO director general.
7. Playboy
Marlène Schiappa, minister for the social economy and associations, gave an interview on gender equality and LGBTQ+ rights to the French-language edition of Playboy magazine. She appeared on the cover wearing a white dress. But the cover was described by the French prime minister, Élisabeth Borne, as "not at all appropriate, especially in the current period".
8. Red squirrels
A killer pox has killed up to 80% of red squirrels in one winter at the few sites they are still found in Wales. Nearly 11,000 people have signed a petition calling for the Welsh government to fund vaccine research in order to protect Wales' small population of red squirrels – there are only about 1,000 left in North Wales. Invasive, non-native grey squirrels carry squirrel pox virus, but are not affected by it.
9. 34
The indictment makes Trump the first ex-president in US history to face criminal charges. The case against him centres on an alleged $130,000 (£105,000) payment made to adult film star Stormy Daniels during the final days of the 2016 presidential campaign.
10. Southern fried chicken
According to the Daily Star, the "somewhat baffling treat" is available in cities across the UK over the weekend via the Deliveroo app. "Love fried chicken? Love chocolate? Then put your hands together," said Aisha Jefferson from Deliveroo.

Continue reading for free
We hope you're enjoying The Week's refreshingly open-minded journalism.
Subscribed to The Week? Register your account with the same email as your subscription.