French election: what would a Marine Le Pen presidency look like?
Far-right candidate hoping to beat Emmanuel Macron with pledge to stem cost-of-living crisis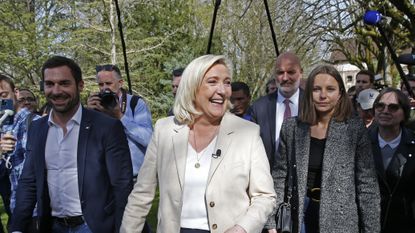 (Image credit: Chesnot/Getty Images)
Marine Le Pen is hoping that it's third time lucky after sneaking through the first round of France's presidential election.
The far-right National Rally leader came second in the first round, winning 23.1% of the vote. She edged out hard-left firebrand Jean-Luc Mélenchon (22%), setting up a rerun of the 2017 vote in which Macron stormed to his first term in the Élysée Palace.
Le Pen has run a campaign offering voters a "traditional hard line on immigration and French identity", France 24 reported, while wooing "struggling households" with support including a cut in taxes on petrol and rises in pension payouts.
Subscribe to The Week
Escape your echo chamber. Get the facts behind the news, plus analysis from multiple perspectives.
SUBSCRIBE & SAVE
Sign up for The Week's Free Newsletters
From our morning news briefing to a weekly Good News Newsletter, get the best of The Week delivered directly to your inbox.
From our morning news briefing to a weekly Good News Newsletter, get the best of The Week delivered directly to your inbox.
Often dismissed by mainstream voters as an extremist, Le Pen has worked hard to detoxify her image, telling a rally in Perpignan, southern France, this week: "Our programme is a social one because it completely takes into account the questions of daily life, above all the cost of living." So what would a Le Pen presidency look like?
Home front
Le Pen has pledged to "restore France's sovereignty", the i news site reported, promising "a referendum on restricting immigration" and a ban on women "wearing the Muslim hijab in public areas". In an effort to avoid "constitutional challenges" to her manifesto, she has said she will "use referendums on many of her proposed laws".
A longstanding Eurosceptic, Le Pen has pledged to "cut contributions to the EU", the news site said, while arguing that "French law should prevail over EU rules". This has allowed Macron to present the vote as a "referendum on Europe", The Telegraph reported.
Addressing a crowd in Strasbourg, the French seat of the European parliament, the incumbent on Tuesday said: "Europe is what protects us from crises and war. The far-right's project is a project to leave the Council of Europe."
Le Pen "has abandoned earlier plans to leave the euro and pay France's debt in newly created francs", Reuters reported. But on the economic front, she has refashioned her previously "free-market, small-government party" into a "big-spending" and "protectionist" force.
She has advocated for a "Buy French" policy for public tenders, backed "scrapping income tax" for under-30s and promised to "cut VAT on energy to 5.5% from 20%", the news agency said. Her party will also spend "two billion euros (£1.68bn) over five years raising hospital workers' salaries". Teachers' pay would also be boosted.
In an effort to keep her traditional conservative voters onside with her big spending plans, Le Pen is also offering "more tax cuts for companies", France 24 reported.
Looking abroad
Macron winning the majority of the votes in the first round marked "a moment of relief for policymakers across the EU and Nato", said the Financial Times's (FT) European diplomatic correspondent Henry Foy.
The French president has accused Le Pen of having a secret plan for "Frexit", The Times reported, despite her tempering her public opposition to EU membership.
Le Pen has also threatened to "pull France out of transatlantic military alliance Nato's integrated command", Reuters said, a move that would present a major "challenge to the West's post-Cold War security architecture".
Meanwhile, said the FT's Foy, her "populist economic views on state aid and the lowering of domestic taxes on consumer goods would break EU free market regulations". And she would "likely derail the Franco-German relationship that has defined much of recent EU policymaking and steered the bloc's development".
Her opponents also "accuse her of being too close to Moscow", Reuters reported. National Rally "received a bank loan from a Russian bank in 2014", while Le Pen was hosted at the Kremlin by Vladimir Putin shortly before the 2017 election.
She has condemned Russia's unprovoked invasion of Ukraine and "broadly supports" targeted sanctions against Moscow, the BBC said. But she has stated on multiple occasions that she does not "want French people to suffer the consequences of sanctions" on oil and gas.
France "imports much of its natural gas through pipelines from Russia, using it for residential and commercial energy", the broadcaster reported, prompting Le Pen to argue that any economic levies that impact energy supplies will exacerbate the country's cost-of-living crisis.
Third time lucky?
Should Le Pen win, France will have replaced a "radical centrist" with an "a historic admirer of Putin who would flout EU rules by favouring French citizens for everything from housing to jobs", said The Economist.
For those who are horrified by the prospect of her presidency, her polling numbers are "alarmingly high", the paper added. And a buoyant Le Pen has told Le Parisien: "Those who did not vote for Macron are destined to join me. I can win this election."
In her third pitch for the presidency, Le Pen can almost certainly count on the support of Eric Zemmour's 2.4 million voters. The far-right former television pundit won 7% of the vote in the first round and has called on his supporters to back Le Pen in the run-off.
She also has the endorsement of nationalist Nicolas Dupont-Aignan, who won 725,305 votes in the first round. If all of Zemmour and Dupont-Aignan's voters back her, she can bank on winning around 33% of the vote in the run-off.
Macron's electoral arithmetic is a little more tricky. He won 27.8% of the vote in the first round and is widely expected to pick up the 5% of voters who backed Green candidate Yannick Jadot, as well as the 4.8% that voted for the conservative Valérie Pécresse.
The outcome of the election may come down to where Mélenchon voters turn, with their candidate out of the race. He has told his supporters not to back Le Pen, but has so far refused to directly endorse Macron.
Instead, he yesterday launched a consultation offering supporters the chance to choose between abstention, spoiling their ballots or backing Macron. His 7.7 million left-wing supporters may end up choosing France's next president.

Continue reading for free
We hope you're enjoying The Week's refreshingly open-minded journalism.
Subscribed to The Week? Register your account with the same email as your subscription.