'Facebook for Palestinians': inside Israel's facial recognition surveillance system
Tech tells soldiers whether a person should be 'detained, arrested or left alone'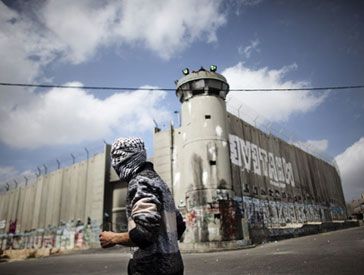 Israel has secretly rolled out a facial recognition system to monitor Palestinians in the West Bank, according to reports.
Serving and former Israeli soldiers told The Washington Post that the military has been conducting a "broad surveillance effort" using smartphone technology called Blue Wolf that "captures photos of Palestinians' faces and matches them to a database of images".
An app "flashes in different colours to alert soldiers if a person is to be detained, arrested or left alone", based on prior information about them, the paper said. The database is "so extensive" that one former Israel Defense Forces (IDF) member described it is as a hidden "Facebook for Palestinians".
Subscribe to The Week
Escape your echo chamber. Get the facts behind the news, plus analysis from multiple perspectives.
SUBSCRIBE & SAVE
Sign up for The Week's Free Newsletters
From our morning news briefing to a weekly Good News Newsletter, get the best of The Week delivered directly to your inbox.
From our morning news briefing to a weekly Good News Newsletter, get the best of The Week delivered directly to your inbox.
'Total violation of privacy'
The IDF members discussed the new surveillance technology with Breaking the Silence, an Israeli non-governmental organisation that allows veterans to confidentially recount their experiences, "on the condition of anonymity for fear of social and professional repercussions", The Washington Post said.
They said the Blue Wolf app has been "rolled out over the past two years", and that the database was compiled by soldiers competing to "photo Palestinians, including children and the elderly, with prizes for the most pictures collected by each unit".
The number of photographs taken "ran well into the thousands", prompting questions over "how surveillance technologies that are hotly debated in Western democracies are already being used behind the scenes in places where people have fewer freedoms".
"I wouldn't feel comfortable if they used it in the mall in [my hometown], let's put it that way," a recently discharged IDF soldier told the paper.
"People worry about fingerprinting, but this is that several times over," they added, describing the facial recognition system as "total violation of privacy of an entire people".
Israel's facial recognition system also includes "White Wolf", said Haaretz. The app has "been previously disclosed" and "is used by security officials in West Bank settlements to provide identification information about Palestinians before they enter settlements to work".
It was rolled out in 2019 when Israel was "upgrading its West Bank checkpoints with facial recognition technology to verify Palestinians' identities as they cross into Israel", NPR reported at the time.
The process "takes a few seconds" and sees "Palestinians place electronic ID cards on a sensor, stare at the aperture of a small black camera, then walk past panels fanning open to let them through".
However, it drew "criticism about the role the controversial technology plays in Israel's military control over Palestinians", the broadcaster added.
In response to questions from The Washington Post about the launch of Blue Wolf, the IDF said "routine security operations" were "part of the fight against terrorism and the efforts to improve the quality of life for the Palestinian population in Judea and Samaria". Judea and Samaria is the Israeli name for the West Bank.
"Naturally, we cannot comment on the IDF's operational capabilities in this context," the military added in a statement to the paper.
'Always filming us'
Israel is well known for its robust and extensive domestic security measures.
Shin Bet, the country's internal security service, ranks among one of the most secretive domestic intelligence agencies in the world, with six previous heads telling the BBC in 2013 that "torture and terrorism, arrests and assassinations" are all deployed by the service.
Jerusalem often exports its expertise, last week agreeing a deal with Cyprus to "build a surveillance system across the country's green line that separates the internationally recognised republic from the Turkish-occupied north", Middle East Eye said.
The new system, which is "set to cost €27.5m [£23.5m] and take three years to complete", will "aim to crack down on smuggling and informal immigration into the EU member state", the site added.
In April, it was revealed by Reuters that "a US hospital and oil company" had also purchased "facial recognition from Israeli startup AnyVision".
The Los Angeles hospital Cedars-Sinai was using the technology to "give staff a heads-up about individuals known for violence, drug fraud or using different names at the emergency room", three sources told the news agency.
Oil giant BP has also used the facial recognition "for at least two years at its Houston campus to help security staff detect people on a watchlist because they trespassed before or issued threats", two sources confirmed.
As Israel "continues to work towards significantly bolstering its air defences" following an 11-day exchange of hostilities with Palestine earlier this year, it has also launched "an advanced aerial surveillance balloon" that is "to provide additional early warning capabilities against aerial threats", The Jerusalem Post reported.
Alongside the "Iron Dome" anti-missile system, the balloon is "​​designed to detect incoming threats at long ranges when operating at high altitudes", the paper added.
Questions were also asked about the country's regard for privacy earlier this year when an investigation by Front Line Defenders, a Dublin-based human rights group, found that "the mobile phones of six Palestinian human rights defenders" had been "hacked by sophisticated spyware made by NSO Group", The Guardian said.
All six "work for organisations that were recently – and controversially – accused by Israel of being terrorist groups", the paper added, prompting scrutiny over "the use of anti-terrorism legislation by Israeli authorities".
Palestinians living in Hebron, an area that has "long been a flashpoint for violence", told The Washington Post that recent increases in Israeli surveillance had "been stripping people of the last vestiges of their privacy".
Yaser Abu Markhyah told the paper that he no longer allows his four children to play outside and that relatives from less-scrutinised areas have stopped visiting him, adding: "We no longer feel comfortable socialising because cameras are always filming us."

Continue reading for free
We hope you're enjoying The Week's refreshingly open-minded journalism.
Subscribed to The Week? Register your account with the same email as your subscription.