Will Vladimir Putin's 'anaconda plan' break Ukraine's resistance?
Russian troops encircling major cities raise fears of brutal blockades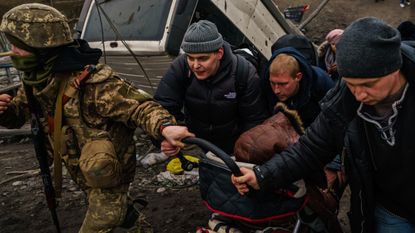 (Image credit: Marcus Yam/Los Angeles Times)
Sign up to our 10 Things You Need to Know Today newsletter
A free daily digest of the biggest news stories of the day - and the best features from our website
Thank you for signing up to TheWeek. You will receive a verification email shortly.
There was a problem. Please refresh the page and try again.
Vladimir Putin's invasion of Ukraine has been dogged by logistical failures and poor morale among conscripted troops. But experts have warned that the Russian president could be planning to enter a dangerous new phase.
With Russian troops encircling major Ukrainian cities, Dr Chris Tuck, an expert in conflict and security from King's College London, told Sky News that Putin could be pivoting to an "anaconda plan", in which key centres of resistance are blockaded.
"You continue to protract the conflict, you encircle more cities where you can, you put pressure on those cities, you take as much as you can," Tuck said. "Essentially you try to demonstrate to the Ukrainians that persevering in the war is going to get them a worse outcome and it would be better to settle sooner rather than later."
Subscribe to The Week
Escape your echo chamber. Get the facts behind the news, plus analysis from multiple perspectives.
SUBSCRIBE & SAVE
Sign up for The Week's Free Newsletters
From our morning news briefing to a weekly Good News Newsletter, get the best of The Week delivered directly to your inbox.
From our morning news briefing to a weekly Good News Newsletter, get the best of The Week delivered directly to your inbox.
Stalled invasion
Speaking to Sky News, Dr Tuck said that he agrees with the widely held view that the conflict Russia has entered "isn't the war they expected". The invasion is going "poorly", he continued, as it was supposed to have been "a very quick and decisive operation".
"They weren't set up in terms of logistics, command and control, arrangements for joint warfare, or for the scale of fighting they've had to engage in," he added. "Contrary to what Putin is arguing – he's saying it's all going to plan – manifestly it isn't."
According to retired lieutenant general Ben Hodges, the invasion has quickly become "a logistical nightmare" for Russia. Writing in The Telegraph, he said that the Kremlin's strategy was "based on flawed assumptions" and is "likely to degrade further".
"Russia's logistics capability may only have been readied for a lightning campaign", he continued, "in anticipation that Kyiv would be captured in a matter of days rather than weeks or months.
"That, of course, has not happened – and the more that flawed assumption is disproven, the more sluggish the entire operation will become," he added.
According to the Kyiv Independent, Russia has already lost approximately 12,000 troops since Putin gave the order for an invasion. The fierce Ukrainian resistance has also claimed 49 planes, 317 tanks, 81 helicopters, 120 artillery systems and 60 fuel tanks.
Concern is also mounting among Russia's troops due to incoming "Arctic winds" that "could make the invasion harder for the Russians, especially those stuck in a 40-mile column of stalled vehicles north of the Ukrainian capital", The Times reported.
A Ukrainian military source told the paper that temperatures as low as minus 10 degrees Celsius overnight around Kyiv will "affect those in the long-staying convoys; it means that Russian troops staying alongside the roads will be suffering".
Major Kevin Price, who served in the British Army for two decades, said the cold "will degrade the Russian force", adding: "It will improve cross-country mobility because there will be less mud but the Russians are not ready for Arctic conditions."
An urban assault like the one that will be required to topple Kyiv would be "unbelievably tough" without suitable clothing, he told the paper. "Imagine being sat in a 40-tonne iron freezer all night."
'Anaconda plan'
While many of the issues facing the Russian invasion are a result of poor military planning, Dr Tusk told Sky News that some stem directly from the Russian president.
"There's often a tendency in the West to see Putin as the consummate strategist – shrewd, intuitive, and very good at assessing the dynamic of crises and political situations," he said. But "his view of the dynamics of the Ukraine crisis is wholly spurious" and "the campaign has gone wrong because it is Putin's assumption that the Ukrainian population were likely to be easily cowed by demonstration of force".
With this in mind, the Russian president will be mulling over his options for ending hostilities. And this is where Tusk told the broadcaster an "anaconda plan" may come in.
The military strategy dates back to the American Civil War, when Union General-in-Chief Winfield Scott proposed a blockade of Southern ports to starve the Confederacy of imports and prevent lucrative cotton exports used to fund the war effort.
The plan was likened to an anaconda coiling around its prey and squeezing tight, hence its name.
A similar strategy was deployed by Bosnia Serb forces against the city of Sarajevo during the conflict in the 1990s. It turned into the longest siege of a capital city in the history of modern warfare, lasting almost four years and claiming the lives of 5,434 civilians.
This is "the route [Putin is] taking at the moment, Dr Tusk told Sky News, setting the scene for "this conflict continuing for a considerable period of time".
Will it work?
The mayor of Mariupol, a strategically important port town in Ukraine's southeast, has warned that Russian troops have blockaded the area after "cutting its electricity, food, water, heating and transportation in the depths of winter", France 24 reported.
The siege prompted "comparisons to the Nazi blockade of Leningrad in World War Two", the broadcaster added, with Mayor Vadim Boychenko stating: "We are looking for solutions to humanitarian problems and all possible ways to get Mariupol out of the blockade."
Kyiv Mayor Vitali Klitschko has also warned that Russian troops plan to "surround the capital to take it in a blockade" in an interview with broadcaster Current Time.
"At this moment, our guys are returning a proper response to them. Even the groups that reach Kyiv's outskirts are being kicked several kilometres back," he said, adding "we will do everything we can" to break any blockade.
Ukraine's response to Russia's aggression has been strong across the country, with videos circulating on social media of civilians doing their best to aid the efforts of the military and volunteer defence force.
According to Dr Tusk, the use of chemical or nuclear weapons "isn't on the cards" and a negotiated peace deal is unlikely "because Putin has tied himself so heavily, in political terms, to the success of this operation".
Anything less than victory would serve as "a major blow to his prestige", he added. The "anaconda plan" may be here to stay.
Continue reading for free
We hope you're enjoying The Week's refreshingly open-minded journalism.
Subscribed to The Week? Register your account with the same email as your subscription.
Sign up to our 10 Things You Need to Know Today newsletter
A free daily digest of the biggest news stories of the day - and the best features from our website