Will Russia's invasion of Ukraine usher in a new era of spying?
Moscow's global intelligence network has been devastated by the ongoing conflict, experts claim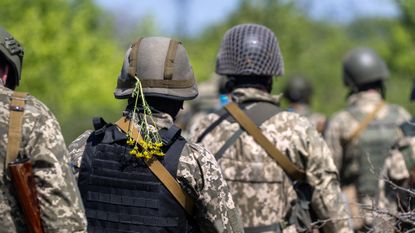 (Image credit: John Moore/Getty Images)
Vladimir Putin has handed control of Russia's intelligence operations in Ukraine to the spying unit that orchestrated the attempted assassination of Sergei and Yulia Skripal in Salisbury, it has emerged.
The GRU, Moscow's foreign military intelligence agency, is taking over from the FSB, the country's principal security organisation, amid reports that the latter is being "blamed for failings" that contributed to Russia's "humiliating retreat from Kyiv", The Telegraph said.
Putin's invasion has prompted an "unprecedented wave of expulsions of Russian diplomats" from Europe, The Guardian's diplomatic editor Patrick Wintour said, a move that is not only "symbolic" but may "mark the end of an era" for overseas espionage.
Subscribe to The Week
Escape your echo chamber. Get the facts behind the news, plus analysis from multiple perspectives.
SUBSCRIBE & SAVE
Sign up for The Week's Free Newsletters
From our morning news briefing to a weekly Good News Newsletter, get the best of The Week delivered directly to your inbox.
From our morning news briefing to a weekly Good News Newsletter, get the best of The Week delivered directly to your inbox.
Tinker, tailor, soldier, bye
The US and Europe have sought to "crack down on Russian spies" since Putin gave the green light for an invasion, Axios reported. This has led to the "expulsion of more than 400 Russian diplomats and embassy staff" as of early April.
Many of them were declared "persona non grata", meaning they were suspected of being "intelligence officers working under diplomatic cover". And their removal could "degrade Russia's ability to spy and carry out subversive activities on Western soil".
In what is thought to be an effort to reverse the damage, Moscow has "ordered tens of thousands of new diplomatic passports" as part of a "suspected scam to allow officials and spies – and their spouses – to bypass Western sanctions", the Daily Mail reported.
Citing a report by Russian opposition media outlet SOTA, the Mail said the foreign ministry has "suddenly demanded the rapid printing of almost 175,000 of the elite travel documents at a cost of £3.3million".
Boarding call
In what has developed into an "international game of spy vs. spy", The Washington Post said that the expulsions have "dealt Russia a potentially crippling blow".
The Kremlin and FSB depended on these operatives "to gather intelligence inside the countries where they serve", meaning the move "could dismantle large parts of Moscow's spy networks".
"The intelligence war with Russia is at full swing," Marc Polymeropoulos, a retired CIA officer who oversaw the agency's operations in Europe and Russia, told the paper. "This will prove to be a significant dent in Russian intelligence operations in Europe."
The individuals being expelled "will not be chosen at random", said The Guardian's Wintour. Instead, they will be handed a plane ticket home if "there is evidence they are in breach of the Vienna convention, the code that governs legitimate diplomacy".
Foreign ministries are "reluctant to expel" suspected spies "unless the evidence is overwhelming", he continued. This is because "diplomats naturally believe in their profession" and "regard experts in situ" as "vital to conveying accurate information about their host country back to their capital".
With that in mind, "few think" the wave of expulsions "can be reversed for decades to come", he added.
Close collaboration
While most experts consider the damage done to Russia's intelligence network to be immense, former US officials have warned that the Biden administration should "shut up" about their close collaboration with the government in Kyiv.
After senior officials told The New York Times that the US provided intelligence about Russian units that allowed Ukraine to target and kill Russian generals in the field, John Sipher, a former member of the CIA Clandestine Service, tweeted: "Shut up about it."
His warning that the briefings could further exacerbate tensions between the US and Russia was echoed by Professor Michael McFaul, a former US ambassador to Moscow, who added: "No one should be talking to [the] press about such things."
Collaboration between Western intelligence agencies and their allies in Ukraine has been extensive, GCHQ director Jeremy Fleming yesterday told a cyber security conference in Wales, explaining that the UK's spying agency is "seeing this conflict in near real time in information, cyber and technology spaces.
"It is a remarkable feature of this war just how much information about the behaviours and tactics of the Russian forces are out in the public domain – and how much intelligence has been released by Western allies to challenge and get ahead of Putin's actions.
"This is modern warfare influenced and shaped by the democratisation of information."
'Gung-ho forces'
With his international web of spies being dismantled by the minute, Putin has turned to the GRU to "strengthen its spy capabilities", The Telegraph reported.
The "new man in charge of Putin's intelligence gathering" is Lieutenant General Vladimir Alekseyev, who has already been "implicated in attacks and assassination attempts against the West".
In an article for the Washington-based Centre for European Policy Analysis, investigative journalists Irina Borogan and Andrei Soldatov said: "He [Alekseyev] is accused by the UK and the European Union of overseeing the chemical weapons attack in Salisbury in 2018.
"An experienced special forces officer, he is also sanctioned by the US for direct cyber interference in the US 2016 election."
Alekseyev also "saw military action in Syria, and he was involved in the conflict in Donbas", they wrote. His fellow troops viewed him as "brutal and self-confident to the point of recklessness".
Alekseyev's appointment suggests that "it is the gung-ho forces within Russia's spy community that are now charged with plucking victory from the morass of their country's worst military and intelligence failure since World War II", they added.

Continue reading for free
We hope you're enjoying The Week's refreshingly open-minded journalism.
Subscribed to The Week? Register your account with the same email as your subscription.