What could the British Army learn from Ukraine?
Kyiv troops' experience of fighting Russia offers important lessons for UK, defence minister says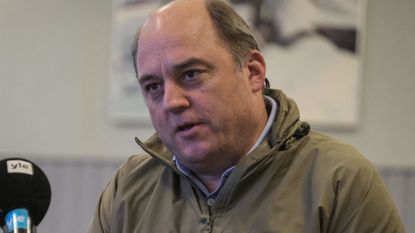 (Image credit: Alessandro Rampazzo/AFP via Getty Images)
British troops could soon be trained in how to exploit Russia's military weaknesses by troops currently defending Ukraine, the defence secretary has said.
Speaking to reporters while visiting British troops stationed in Finland, Ben Wallace said he believes "Ukrainians have a lot to teach us" and that "you could definitely foresee the Ukrainian experience being used to teach our forces".
"Every day is a learning day for us and the Ukrainians," he added, listing Ukraine's "use of how to fight in built-up areas", "their use of electronic warfare", and "how to deploy anti-air" defences as "important to learn" for the UK.
Subscribe to The Week
Escape your echo chamber. Get the facts behind the news, plus analysis from multiple perspectives.
SUBSCRIBE & SAVE
Sign up for The Week's Free Newsletters
From our morning news briefing to a weekly Good News Newsletter, get the best of The Week delivered directly to your inbox.
From our morning news briefing to a weekly Good News Newsletter, get the best of The Week delivered directly to your inbox.
Battle-hardened
In meeting Moscow's troops on the battlefield, Ukraine has become the first Western nation to fight Russia in conventional warfare since the Second World War. That means they are well placed to teach allies how to "exploit Russia's weaknesses", The Times said.
Wallace told reporters that the British Army is "learning from Russia's failures every day", the paper added, explaining that the war in Ukraine has given a specific insight into shortcomings with Moscow's "equipment and supply chains".
He also said that Operation Orbital, the British Army's training mission in Ukraine, has only been "paused", suggesting it could resume once hostilities are over. The "training task", put in place after Russia's 2014 invasion of Crimea, has previously "provided support to about 22,000 of Kyiv's troops", The Telegraph reported.
Wallace gave "no indication" of how training for British troops from Ukrainian soldiers would work or whether it would begin "before or after the war has ended", The Times said.
Case study
The defence secretary also gave no insight into what Britain could learn from Ukraine's experience. But "the image of a Russian military as one that other countries should fear, let alone emulate, has been shattered" by the invasion, The New York Times reported.
With each day that Ukrainian president Volodymyr Zelenskyy "holds out" against the invading force, European officials become more confident in stating that "they are not as intimidated by Russian ground forces as they were in the past".
General Mark A. Milley, chairman of the US Joint Chiefs of Staff, told the paper: "We've seen a large, combined-arms, multi-axis invasion of the second-largest country in Europe, Ukraine, by Russian air, ground, special forces, intelligence forces.
"It's a little bit early to draw any definitive lessons learned," he added. "But one of the lessons that's clearly evident is that the will of the people, the will of the Ukrainian people, and the importance of national leadership and the fighting skills of the Ukrainian army has come through loud and clear."
It is likely that Britain would want to learn how to best take advantage of what Paul Dibb, the former director of the Joint Intelligence Organisation of Australia, called Russia's "abysmally poor attitude to tactical coordination", as well as how "authoritarian countries like Russia run militaries where personal initiative is denied".
The conflict has provided the West with a case study in how "young, inexperienced conscripted soldiers who have not been empowered to make on-the-spot decisions" during Russia's invasion of its eastern European neighbour, The New York Times reported.
The "mediocre performance of many of Russia's tanks, armoured personnel carriers, artillery and missile brigades" is also an area of interest, Dibb said in an opinion piece for the Australian Strategic Policy Institute, describing how "critical components" have either never been installed or "stolen for sale on the black market".
Wallace's reference to "electronic warfare" may refer to Ukraine's success in disrupting Russian radio communication.
'Problem of corruption'
Journalist David Volodzko told NPR that the conflict has revealed Moscow's "somewhat surprising" reliance on "unencrypted high-frequency radio and even mobile phones", technology that he described as "somewhat dated".
"The communication situation is much like some of the other problems they've faced, which is simply a problem of corruption," he said, explaining that the conflict as a whole has shown how corruption has "left Putin and his army out in the open" and "exposed".
Western forces could also learn from the increasing number of examples in which "Russian forces have made tactical errors that the Ukrainians have been able to capitalise on", The New York Times reported.
"It looks like the Ukrainians have been most successful when ambushing Russian troops," Thomas Bullock, an analyst from Janes, a defence intelligence firm, said.
"The way the Russians have advanced, which is that they have stuck to main roads so that they can move quickly," he added. "But they are advancing on winding roads and their flanks and supply routes are overly exposed to Ukrainian attacks."

Continue reading for free
We hope you're enjoying The Week's refreshingly open-minded journalism.
Subscribed to The Week? Register your account with the same email as your subscription.