Ukraine death toll: how many lives have been lost in the war?
US officials say military casualties have soared in recent months and are now approaching 500,000 killed and wounded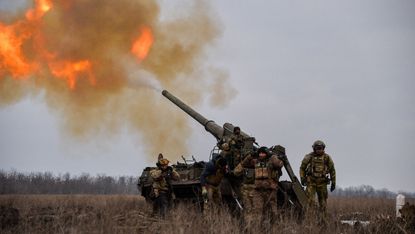 (Image credit: Shutterstock)
The number of people killed and injured in Ukraine has risen dramatically, according to revised figures by unnamed US officials.
Senior US officials who spoke to The New York Times (NYT) last week said the total number of Ukrainian and Russian troops killed or wounded since the war in Ukraine began 18 months ago is now approaching 500,000.
Russia's military casualties, the officials said, are approaching 300,000, including up to 120,000 deaths and between 170,000 and 180,000 injured troops. Ukraine's losses meanwhile, are closer to 70,000 killed and 100,000 to 120,000 wounded, according to the US estimate.
Subscribe to The Week
Escape your echo chamber. Get the facts behind the news, plus analysis from multiple perspectives.
SUBSCRIBE & SAVE
Sign up for The Week's Free Newsletters
From our morning news briefing to a weekly Good News Newsletter, get the best of The Week delivered directly to your inbox.
From our morning news briefing to a weekly Good News Newsletter, get the best of The Week delivered directly to your inbox.
The Biden administration's last public estimate of casualties came in November last year, when US army representatives said that more than 100,000 troops on each side had been killed, though officials said privately that the numbers were higher.
However, through the winter and spring that number "soared", said the NYT, "as the two countries turned the eastern city of Bakhmut into a killing field". Hundreds of troops are thought to have died every day for weeks. Both Russia and Ukraine took "heavy casualties" as they "tried to hold every inch of ground before losing the city in May".
Russian military casualties
The estimated Russian death toll of 120,000 (of 300,000 total casualties) is very hard to verify, according to Le Monde.
Indeed, reporting on it in Russia "is so sensitive that it has become an act of defiance", the French newspaper added. Information on military casualties "is being suppressed" and those who report on them within Russia "expose themselves to harassment and potential criminal charges".
Russian figures are especially hard to substantiate because "Moscow is believed to routinely undercount its war dead and injured", said the NYT. Russian journalists monitoring the conflict have confirmed the deaths of just 30,000 Russian soldiers.
Meanwhile, Ukraine's own figures of how many Russians have been "liquidated" are significantly higher than either the US or Russian estimates. The national news agency of Ukraine, Ukrinform, announced today that the country's defence forces have "eliminated 262,410 Russian invaders" to date.
In addition, the state information and news agency boasted that Ukrainian soldiers have destroyed 4,423 enemy tanks, 8,596 armoured combat vehicles, 5,476 artillery systems, 315 warplanes, 316 helicopters and 18 warships and boats.
Ukrainian military casualties
The Ukrainian armed forces have said several times that their war casualties remain a state secret, the BBC's Quentin Sommerville said, but if the real death toll is anywhere near the new US estimate of 70,000 killed and 120,000 wounded, it would be a "staggering figure, from an armed forces estimated at only half a million strong", Sommerville said.
Yet the US officials who made their recent estimate admitted that their figures "were speculative and varied widely within the government", said The Guardian. There is an element of uncertainty around the figures, the paper said, in part because they "would mark high killed-to-wounded ratios, with one Ukrainian killed for every two other soldiers wounded on the battlefield".
It is important to consider that both the Russian and the Ukrainian figures may be very far off the actual count, said Responsible Statecraft. Searching for clarity on Ukrainian and Russian casualty figures "will most certainly send the seeker tumbling down a rabbit hole much like Alice in Wonderland", the site said.
One thing even the most casual investigator might query, though, is why Russian fatalities and injuries are so high compared to those of Ukraine, the website said.
Attempting to answer this question, writer Branko Marcetic wrote in Responsible Statecraft in March that "coverage invariably foregrounds and heavily publicises Russian losses, while largely de-emphasising Ukraine's similar and arguably more devastating ones".
Civilian casualties
According to the Office of the UN High Commissioner for Human Rights (OHCHR) there have been 26,015 civilian casualties in Ukraine: 9,369 deaths and 16,646 injured.
Ukraine's own estimates are similar and break out a grim extra statistic: that 500 children are among the nearly 10,000 civilians that have been killed since the start of the war, the Financial Times reported.
The UN's Human Rights Monitoring Mission in Ukraine (HRMMU) said in a statement last month that it "deplored the horrendous civilian cost of the war in Ukraine". The mission also warned that the actual toll is likely to be far higher than the number of officially confirmed deaths.
How can we be sure of the figures?
Obtaining accurate information about military deaths is "notoriously difficult", said FullFact, with estimates relying on "a combination of intercepted communications on both sides, satellite imagery and 'contact reports' where troops in battle estimate how much damage they have inflicted on the other side".
All these sources and their calculations also involve "an element of guesswork". And it is important to note that both Russia and Ukraine have a "vested interest" in making the given figures "suit their needs", said the site.

Continue reading for free
We hope you're enjoying The Week's refreshingly open-minded journalism.
Subscribed to The Week? Register your account with the same email as your subscription.