Nigel Farage: I could lead Ukip again
The three-time leader of Ukip says a second EU referendum is back on the agenda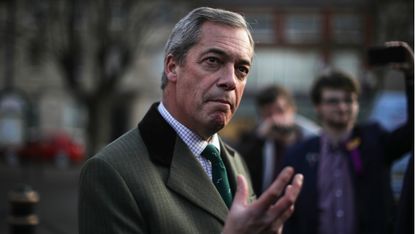 (Image credit: Christopher Furlong/Getty Images)
Sign up to our 10 Things You Need to Know Today newsletter
A free daily digest of the biggest news stories of the day - and the best features from our website
Thank you for signing up to TheWeek. You will receive a verification email shortly.
There was a problem. Please refresh the page and try again.
Nigel Farage in 'open war' with Ukip MP Douglas Carswell
28 February
Nigel Farage has called for MP Douglas Carswell to be thrown out of the party, as the pair's feud escalated
Carswell, who defected from the Conservatives in 2014, is Ukip's only member of parliament, but this has not prevented the development of an increasingly public animosity between him and the party's former leader.
Subscribe to The Week
Escape your echo chamber. Get the facts behind the news, plus analysis from multiple perspectives.
SUBSCRIBE & SAVE
Sign up for The Week's Free Newsletters
From our morning news briefing to a weekly Good News Newsletter, get the best of The Week delivered directly to your inbox.
From our morning news briefing to a weekly Good News Newsletter, get the best of The Week delivered directly to your inbox.
Now they have butted heads over Farage's prospects for the honours list.
Leaked emails seen by the Daily Telegraph reveal that Carswell had been drafted in to support former Ukip leader Malcolm Pearson's bid to secure a knighthood for Farage, but that he apparently did not take the job too seriously.
In one email, Carswell said he had spoken to the government chief whip "as promised", adding: "Perhaps we might try angling to get Nigel an OBE next time round? For services to headline writers? An MBE, maybe? Let's discuss."
Writing in the Telegraph, Farage said the emails clearly show Carswell was "consumed with jealousy and a desire to hurt me". He also called on current party leader Paul Nuttall to expel him.
Carswell seems unperturbed, however, saying the emails reflected that "quite clearly I tried my best to make sure he got an honour that reflects his contribution".
"If he wants to come and talk to the Ukip parliamentary party about any concerns he has, very happy to respond. It won't take long, it's just me," he added.
However, he sent out a tweet last night that appeared to actively bait his rival.
The pair have clashed previously over their differing visions for the future of Ukip, which is struggling to reformulate its identity following the success of the EU referendum vote. Carswell has acknowledged that Ukip has a problem with racism and xenophobia within the ranks, says Daily Mail, infuriating the Farage wing of the party.
Last September, Farage accused Carswell of doing "all that he can to split the party" and hinted that the MP for Clacton would do well to consider his future within Ukip.
Nigel Farage attacks 'hypocrite' Sadiq Khan over Trump travel ban
1 February
Former Ukip leader Nigel Farage says London Mayor Sadiq Khan is being hypocritical with his criticism of US visa restrictions.
Khan has been a vocal critic of Donald Trump's executive order banning citizens of seven majority-Muslim nations from travel to the US for at least the next three months, calling it "shameful and cruel".
At a summit at London's City Hall last night, representatives from more than 100 countries gathered to hear the first Muslim mayor of London urge world leaders to demonstrate "moral leadership" by opposing the order.
He said: "Join me in speaking out against this ban and condemning it for what it really is – discriminatory, self-defeating and completely un-American."
However, Farage – who has previously accused Khan of "normalising terrorism" – said he was a "hypocrite" for inviting ambassadors representing nations that ban Israeli citizens from entry.
Khan's audience included senior diplomats from Bangladesh, Brunei, Iran, Iraq, Kuwait, Lebanon, Libya, Pakistan, Sudan, United Arab Emirates and Yemen.
These 11 countries have no diplomatic ties with Israel and therefore Israeli passports are not recognised as valid, regardless of the religion of the holder.
Several commentators have said there is a discrepancy between the global backlash to President Trump's order and the lack of furore over similar restrictions against Israelis in many majority Muslim nations.
"As a British citizen who has visited Israel, and has evidence of it on my passport, I cannot visit Iran, Kuwait, Lebanon, Libya, Saudi Arabia, Sudan, Syria and Yemen," Angela Epstein wrote in the Daily Telegraph earlier this week. "So, why the splenetic indignation at Trump's Executive Order?
"After all, it is clearly not without precedent."
In total, 16 countries prohibit Israeli passport holders from entry, while eight of them also turn away visitors whose passports contain Israeli visas. In turn, their citizens are banned from entering Israel.
Israeli citizens are also prohibited from visiting Somalia, Afghanistan, Iran, Iraq, Pakistan, Lebanon, Libya, Sudan, Syria and Yemen by their own government, the Daily Telegraph reports.
Diane James: Leading Ukip 'like banging my head against a wall'
21 December
Former Ukip leader Diane James says she resigned after 18 days in charge of the party because the role was like "bang[ing] your head against a brick wall".
In her first broadcast interview since stepping down in October, less than three weeks after being elected, the MEP for South East England told BBC 5 live Daily she was frustrated over her inability to make headway with the party, which has struggled to unite behind a leader since Nigel Farage resigned.
"One can obviously continue to bang your head against a brick wall, going to bed at night hoping things might change and that you might be able to make a breakthrough," she said.
"But when it became clear I couldn't make that breakthrough, I felt it was the right decision for me and the credibility of the party that someone else assume the mantle."
Asked if she had found it hard to root out the party's "old guard", she said: "Yes, that's a very good description".
In her resignation statement, James had said: "It has become clear I do not have sufficient authority, nor the full support of MEP colleagues and party officers to implement the changes I believe are necessary and upon which I based my campaign."
Reports at the time said she had left because her husband was unwell, something James shot down in her interview. "My husband was not very ill and neither was he at death's door," she said.
She also revealed she has not talked to Farage since her decision, which he called "an act of irrational selfishness", the Daily Telegraph reports, and discussed the "awkward" kiss they had shared after her election as leader.
"We agreed which side the kiss was going to be. But anyway something happened... I went to him with the appointed cheek and he went the other way... That's why there was a little bit of awkwardness," she said.
Last month James quit Ukip altogether. The party is currently led by MEP Paul Nuttall.
Paul Nuttall replaces Nigel Farage as Ukip leader
28 November
Paul Nuttall has been announced as Ukip's new leader, replacing Nigel Farage.
The North West England MEP won 9,622 votes, 62.6 per cent of those cast, defeating former deputy chairwoman Suzanne Evans, who gained 2,973 votes (19.3 per cent), and ex-soldier John Rees-Evans, with 2,775 votes (18.1 per cent).
Nuttall, Ukip's deputy leader since November 2010, had been odds-on to win the contest.
In his acceptance speech, he said: "If Ukip is to be an electoral force, there will be an impetus on Theresa May and her government to give us a real Brexit."
In an interview with the Sunday Telegraph, the politician said one of his priorities was to get more women involved in the party.
In addition, as well as ensuring that the government "delivers" on Brexit, he wants Ukip to replace Labour as the party of Britain's working class.
He also said he was optimistic about the party's future, despite the fact some now consider it irrelevant after the UK voted to leave the European Union.
Nuttall is the party's third leader this year, with the post dogged by problems over the past 18 months.
Farage stepped down from the role on 8 May 2015, in the wake of the general election, when he failed to win the Thanet South seat. Three days later, however, it was announced he would continue to serve as leader.
He resigned again on 4 July this year after the EU referendum, saying he wanted his life back.
In the contest that followed, the favourite to succeed him, MEP Steven Woolfe, was disqualified from running because he submitted his leadership application 17 minutes late and Diane James was elected on 16 September.
However, she stood down on 4 October, saying she did not have sufficient authority nor the full support of her colleagues, and Farage stepped in as interim leader.
But once again, the contest was not without problems, with Woolfe withdrawing from the race following a row with fellow Ukip MEP Mike Hookem at the European Parliament in Strasbourg, after which he was rushed to hospital. He then left the party.
Continue reading for free
We hope you're enjoying The Week's refreshingly open-minded journalism.
Subscribed to The Week? Register your account with the same email as your subscription.
Sign up to our 10 Things You Need to Know Today newsletter
A free daily digest of the biggest news stories of the day - and the best features from our website