Nigel Farage: I could lead Ukip again
The three-time leader of Ukip says a second EU referendum is back on the agenda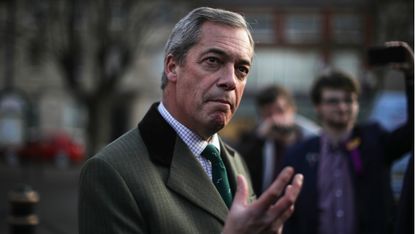 (Image credit: Christopher Furlong/Getty Images)
Sign up to our 10 Things You Need to Know Today newsletter
A free daily digest of the biggest news stories of the day - and the best features from our website
Thank you for signing up to TheWeek. You will receive a verification email shortly.
There was a problem. Please refresh the page and try again.
Brexit vote over: What next for Farage and Ukip?
15 July
Former Ukip leader Nigel Farage is to travel to the US next week to attend the Republican convention, where he will almost certainly see Donald Trump nominated for the presidency.
Meanwhile, Ukip's biggest financial backer, Arron Banks, says he sees a bright future for the party originally formed to fight for a single issue: the UK's withdrawal from the EU.
Subscribe to The Week
Escape your echo chamber. Get the facts behind the news, plus analysis from multiple perspectives.
SUBSCRIBE & SAVE
Sign up for The Week's Free Newsletters
From our morning news briefing to a weekly Good News Newsletter, get the best of The Week delivered directly to your inbox.
From our morning news briefing to a weekly Good News Newsletter, get the best of The Week delivered directly to your inbox.
What next for Ukip?
While Ukip accounts for 22 of the UK's 73 MEPs, it has only one MP in the Commons and there are just three Kippers in the Lords. There are seven Ukip Welsh Assembly members but no Ukip MSPs in Scotland.
With its European politicians expected to be out of a job within two years, the party might be assumed to be a spent force. Not according to Banks, who bankrolled its campaign to leave the EU.
Speaking on the BBC's Andrew Marr Show at the weekend, before the next Tory leader was known, Banks promised: "If Theresa May wins, Ukip will be back with a vengeance."
The insurance millionaire said he believes the party, probably under a new name, could win 30 or 40 seats at the next general election, taking many of them from Labour in the north-east of England.
Banks said he was willing to fund the new party and would seek to target the "15 million" people he said the Leave.EU campaign was able to reach on social media every week.
In the immediate future, the party needs a new leader. Farage's long-serving deputy, Paul Nuttall, ruled himself out last week, leaving the race clear for north-west MEP Steven Woolfe, says the Daily Telegraph.
Woolfe is "smart, passionate and Ukip to the core", adds the newspaper, which backed Brexit. He is working class – and also mixed race, which the Telegraph says makes him an "ideal candidate to confound Ukip critics who accuse the party of racism".
And Farage?
Stepping down as Ukip leader for the third time, Farage said he had never wanted to be a "career politician" and had come into politics from the business world purely to achieve Brexit.
However, he has not yet resigned as an MEP and continues to receive his €98,556 (£83,959) salary, says the New Statesman.
What's more, adds the magazine, the collapse of the pound after the referendum has secured him an effectual pay rise.
Could Farage have an unlikely future as an immigrant? On Tuesday, he told USA Today he is attending the Republican convention in Cleveland, Ohio, next week – although, presumably, he will be coming home again afterwards.
Farage would not reveal who had invited him to attend what is almost certain to be Donald Trump's coronation as the Republican's candidate for the presidency, but he did tell USA Today: "It was not Trump."
Saying he was attending as an observer to share lessons from Brexit, Farage added: "Having criticised President [Barack] Obama for getting involved in British politics, I am not about to endorse anybody.
"But I do know a lot of people in the Republican Party, and I'll be interested to hear what Donald Trump has to say in his big speech."
According to The Guardian's Adam Gabbatt, Trump and Farage are natural bedfellows, both building campaigns on "fear of immigration, anger over a perceived undemocratic bureaucracy and trust in a charismatic political outsider".
But Farage's future probably lies on this side of the Atlantic: the Telegraph says he is likely to stay very close to the party he used to lead. Woolfe has even spoken of a desire to retain Farage in a new Ukip role of "grand chairman".
Nigel Farage weighs in on Tory and Labour leadership turmoil
29 June
After his antagonistic appearance in the European Parliament yesterday, Ukip leader Nigel Farage has now offered his two pennies' worth on the Tory and Labour leadership turmoil.
Labour leader Jeremy Corbyn is facing growing calls to resign, with more than three-quarters of his party MPs yesterday supporting a vote of no confidence in him yesterday.
But Farage believes Corbyn's troubles could have been prevented if he had supported Brexit in the EU referendum.
"The irony is the people opposing Corbyn are the people who backed Remain last week," he said. "Had Corbyn backed the Leave campaign, the Labour Party would now be in a good place."
Indeed, a leaked internal Labour survey found that 27 per cent of the people who supported the party at the last general election were less likely to support it following the referendum campaign, reports The Guardian.
However, the poll also showed that 65 per cent had voted to Remain, suggesting they likely wanted better campaigning from the party leadership rather than an about-turn for the opposite side.
Meanwhile, David Cameron's post-Brexit decision to stand down as prime minister has triggered an early Conservative Party leadership race. Candidates have until noon tomorrow to declare their intention to stand, with former London mayor Boris Johnson and Home Secretary Theresa May frontrunners to replace him.
Asked by Bloomberg if he would be backing fellow Brexiter Johnson, Farage said it depends if he "stands up for the right thing".
He added: "I don't care which man or woman wins the Tory Party leadership and becomes our prime minister provided they have first and foremost in their minds 17.5 million voters who voted to get back the ability to make our own laws, have our own court judgments and control our own borders."
Will Nigel Farage resign after the EU referendum result?
23 June
Ukip leader Nigel Farage has long campaigned for a referendum on the UK's membership of the European Union. But now the vote has finally arrived, what does the future hold for him and his party?
It's been argued that if we remain in the bloc, Farage will have failed, while success and Brexit will mean he has little left to fight for.
"It is one of the great ironies of this referendum that a Leave vote will make Nigel Farage redundant while a Remain vote will put Farage on steroids," says Roland Smith, a fellow of the Adam Smith Institute.
Farage has said that winning the referendum matters to him "an awful lot more" than whether he stays on or not.
But Stephen Bush at the New Statesman warns that even if the politician wins, he "could be cast as the unwelcome guest at his own victory party".
Farage has fallen out with Ukip's two other high-profile figures - Douglas Carswell, the party's only MP, and Suzanne Evans, the preferred candidate for leader among many "anti-Faragistas", adds Bush.
Vote Leave, meanwhile, which won the official Brexit group designation from the Electoral Commission, has long feared he will repel undecided voters and protested when ITV chose him to represent their campaign.
What's more, says John Rentoul at The Independent, if the British people vote to leave the EU, "it would be a Conservative government and a Conservative prime minister – probably Boris Johnson – charged with putting into effect the central purpose of Ukip".
The journalist believes the 2014 European Parliament elections were "peak Ukip" and the referendum will be the "end of the road" for the party leader.
"He can claim credit for having secured the referendum," he says. "But on Friday, win or lose, his career in British politics is over."
There will also be little point of Ukip, adds Rentoul: "As the Dick Van Dyke of the one-man band, Farage has been one of the prominent characters campaigning for Leave, but his party has ceased to be visible in its own right."
Matthew Goodwin, a professor of politics and international relations at the University of Kent, disagrees, pointing to the success of the Scottish National Party despite its defeat at the 2014 independence referendum.
He suggests Ukip might undergo a rebranding of sorts with a new movement that has broader appeal, but "whether Nigel Farage, who has long held a tight grip over his party, would be content with such a set-up or even be involved is unclear".
EU referendum: Farage's anti-refugee poster reported to police
17 June
Nigel Farage has been accused of racism and exploiting the refugee crisis to try and win support for leaving the European Union after unveiling a new campaign poster yesterday.
The poster bears the slogan: "Breaking point: The EU has failed us all" alongside a long queue of refugees, including women and children, crossing the border between Croatia and Slovenia
It has been reported to the Metropolitan Police for inciting racial hatred. "This is scaremongering in its most extreme and vile form," said complainant Dave Prentis, of the Unison union.
"Leave campaigners have descended into the gutter with their latest attempt to frighten working people into voting to leave the EU," he told The Guardian.
Ukip leader Farage defended his poster, saying that "within a few years, all of these people will have EU passports".
But it has been widely condemned by MPs from across the political spectrum. "It's not my politics," said fellow Leave campaigner Boris Johnson.
Labour MP Yvette Cooper, who has spearheaded campaigns to help refugees, said Farage and his team were "exploiting the misery of the Syrian refugee crisis in the most dishonest and immoral way."
Fellow Labour politician Jess Phillips said she was not surprised by the move. "Farage is an establishment bully who will sell his soul to the highest bidder," she tweeted.
The Guardian's Jonathan Jones, meanwhile, described the poster as the "visual equivalent" of Enoch Powell's "rivers of blood" speech in 1968.
Many people have also drawn parallels between the poster and Nazi propaganda.
"I can't help thinking that Ukip, aside from being morally repugnant, is just pretty rubbish at its job," says the New Statesman's Media Mole.
"Fear tactics are supposed to be its forte, but it couldn't even find a 'scary' photo of desperate refugees; there's a crying child in the picture."
Flotilla face-off: Farage and Geldof battle it out on the Thames
15 June
The battle over the European Union referendum has taken to the water, with rival flotillas facing off on the River Thames.
Ukip leader Nigel Farage led a fleet of fishing boats filled with fellow Brexit campaigners, while the Remain camp was headed by rock star and political activist Bob Geldof on a luxury liner.
"[It will be] big, visual and dramatic," Farage said before setting sail. "The demand will be clear: we want our waters back." His campaign argues that the UK's fishing industry is hindered by EU quotas.
Geldof hit back, drowning out Brexit campaigners with a megaphone and calling Farage a "fraud" to loud cheers from his supporters.
"Here are the facts about fishing," he said. "Britain makes more money than any other country in Europe from fishing. Two, Britain has the second largest quota for fishing in Europe after Denmark. Three, Britain has the third largest landings. Fourth, you are no fisherman's friend."
The MEP dismissed the remarks and said it was "absolutely disgusting" that Geldof was "effectively laughing at working class communities".
"The battle between the rival fleets later intensified when fishermen claimed they boarded Geldof's boat 'to tell him the truth'," The Guardian reports. "Another vessel in the pro-Brexit fishing fleet also directed its hoses at Geldof's boat."
The stunt, which comes just eight days before voters head to the polls, was widely mocked by commentators and the public on social media.
EU referendum: Nigel Farage's sex attacks warning branded 'outrageous'
06 June
Nigel Farage has been accused of "outrageous, blatant scaremongering" after suggesting women in the UK could be at risk of sex attacks from migrants if Britain votes to remain in the EU on 23 June.
Speaking to the Sunday Telegraph, the Ukip leader said the possibility of mass sex attacks such as those seen on New Year's Eve in Germany would be "the nuclear bomb" of the UK's referendum campaign.
He added that women may be at a particular risk from the "cultural" differences between British society and migrants and that the possibility of such attacks taking place in Britain was dependent on the distribution of EU passports and whether the public voted for Brexit.
His comments came under fire from fellow Leave campaigners, with Treasury minister Andrea Leadsom calling them "outrageous" and wrong.
"I wouldn't support suggesting if you vote to remain you'd be raped," the Tory MP told BBC Radio 5 Live. "Obviously that is just an outrageous thing to say."
Vote Leave leader Michael Gove also refused to associate himself with Farage's remarks, telling ITV's Peston on Sunday that he would never make such comments.
Meanwhile, Labour's deputy leader Tom Watson told Sky News that Farage was "genuinely trying to frighten people" and that the British public deserved a higher level of debate.
This is not the first time Farage's comments on immigration have made headlines. During the general election campaign last year, he told a TV debate that the cost of drugs for HIV-positive immigrants should instead be spent on cancer drugs for deserving Britons.
Continue reading for free
We hope you're enjoying The Week's refreshingly open-minded journalism.
Subscribed to The Week? Register your account with the same email as your subscription.
Sign up to our 10 Things You Need to Know Today newsletter
A free daily digest of the biggest news stories of the day - and the best features from our website