Cologne attacks were coordinated, says German minister
Number of violent crimes reported from New Year's Eve has now climbed to more than 500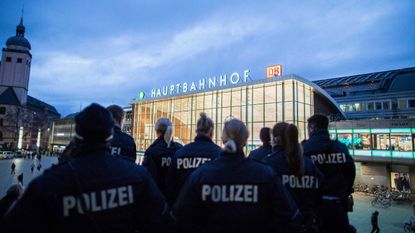 (Image credit: MAJA HITIJ/AFP/Getty Images)
Germany's justice minister Heiko Maas has fuelled speculation that the New Year's Eve attacks in Cologne and other cities were coordinated.
"For such a horde of people to meet and commit such crimes, it has to have been planned somehow," Maas told the country's Bild am Sonntag newspaper. "The suspicion is that a specific date and an expected crowd was picked."
He added: "Nobody can tell me that this was not coordinated or prepared."
Subscribe to The Week
Escape your echo chamber. Get the facts behind the news, plus analysis from multiple perspectives.
SUBSCRIBE & SAVE
Sign up for The Week's Free Newsletters
From our morning news briefing to a weekly Good News Newsletter, get the best of The Week delivered directly to your inbox.
From our morning news briefing to a weekly Good News Newsletter, get the best of The Week delivered directly to your inbox.
Police in Cologne say the number of violent crimes reported from the night is now more than 500, of which 40 per cent involve sexual assault.
The attacks - and what many see as a slow official response to them - have become a lightning rod for fear and anger over Chancellor Angela Merkel's "open-door" policy on refugees, which led to 1.1 million migrants arriving in Germany in 2015.
Anti-immigrant group Pegida held a rally in Cologne over the weekend, calling on the government to reverse its policies. Two people were injured in violent clashes before police used water cannon to disperse the 1,700-strong crowd.
Since the attacks, Merkel has proposed changes to German law that would make it easier to deport asylum seekers who commit crimes.
"We must speak again about the cultural fundamentals of our co-existence," she said.
Police investigations are focussing on suspects of North African origin. Similar attacks in Stuttgart, Hamburg and Bielefeld are also under investigation, while police in Finland and Sweden are looking into a string of incidents in their countries.
The attacks are likely to have a "profound impact on the rest of Europe", says Gavin Hewitt, chief correspondent for the BBC. The crime rate among asylum seekers does not appear to be higher than among similar groups in the native population, he adds, but it has fuelled a now "widely held suspicion" that the "German establishment is not telling the truth".
Cologne attacks: police were overwhelmed, says leaked report
08 January
A leaked report into the New Year's Eve sex attacks in Cologne says that German police were "overwhelmed" by the scale of the assaults and unable to cope with the escalating situation.
The confidential report, obtained by Der Spiegel, was written by a senior police official who called the response to the incident "chaotic and shameful". It describes how officers were unable to disperse a large crowd of men connected to a spate of attacks during the evening.
Around 100 women claim they were assaulted by up to 1,000 men of North African or Arab appearance. The incident, which happened during New Year's Eve celebrations in the city, has sparked outrage in Germany and given right-wing parties ammunition to attack Chancellor Angela Merkel's "open door" policy on refugees.
According to the report, "words cannot describe" the scene that greeted women arriving at the city's main train station, where the majority of the assaults were said to have taken place. Women were force to "run the gauntlet" of hundreds of men, many appearing intoxicated, to get to safety.
The Associated Press says that two rapes have now been reported alongside more than 100 sexual assaults and numerous instances of theft. It has been suggested that some of the sexual assaults were intended as a distraction for pickpocketing.
"There were simply too many [incidents] happening at the same time" for law enforcement to take charge, the report states.
Police officers claim that clusters of men obstructed them from helping people in distress within the crowd. Fireworks and glass bottles were thrown, further impeding their effort to control the hordes.
They also reported being taunted by the crowd, with one man allegedly saying: "I'm a Syrian. You have to treat me kindly. Mrs Merkel invited me."
Cologne mayor's 'arm's length' sex attack advice sparks anger
07 January
Cologne Mayor Henriette Reker has been ridiculed online after suggesting a "code of conduct" for women to prevent sexual assaults.
The advice, which includes women "keeping an arm's length" from men they do not know, comes amid widespread protest in Germany following a series of sexual assaults that occurred in the city on New Year's Eve.
Reker's proposals include staying with a group of trusted friends and informing a police officer. But it was her suggestion that women stay "an arm's length" from strangers that has triggered most outrage on social media.
The hashtag #EineArmeLaenge quickly began trending, with many Tweeters criticising the mayor for suggesting the onus was on the victim to prevent attacks.
Other users mocked the simplicity of the ideas, with one posting the now-famous photo of Angela Merkel and Barack Obama with the question: "How long is an arm's length?"
In response, Reker issued a statement saying media coverage had given the impression that her prevention initiatives were limited to behaviour tips for women, which was not the case, reports CNN.
The controversy comes as German politicians condemned the New Year's Eve attacks. Ralf Jaeger, interior minister for North Rhine-Westphalia, said police had to "adjust" to the fact that groups of men had attacked women en masse.
"Something like this must not happen again – not only in Cologne, but also in other big cities," he said. "The police have to conceptually adjust to the fact that there are apparently groups of perpetrators who assault women en masse. This must not happen in our society and the police as well as the city authorities have to react to it."
Jaeger also warned that anti-immigrant groups were trying to use the attacks to stir up hatred against refugees, reports the BBC.
"What happens on the right-wing platforms and in chat rooms is at least as awful as the acts of those assaulting the women," he said. "This is poisoning the climate of our society."
Cologne: protests after 90 women 'assaulted on New Year's Eve'
06 January
Hundreds of people protested in the German city of Cologne last night, angered by a perceived lack of action after at least 90 women reported they had been harassed on New Year's Eve by men said to be of North African and Arab appearance.
The assaults, including at least one alleged rape, have shocked the country and provided ammunition for anti-immigration groups. What do we know about the alleged attacks?
What happened on New Year's Eve?
The BBC says this morning that at least 90 criminal complaints have been made about harassment at Cologne's main rail station on Thursday night. Women arriving in the city for New Year celebrations say they were forced to run the gauntlet of a crowd of men to get out of the station, which is when the assaults reportedly took place.
How were the women assaulted?
At least one woman reported rape and many - including a volunteer policewoman - said they were groped. Police said some were left with large bruises on their buttocks and breasts while others were robbed. There were similar attacks on a smaller scale in Hamburg and Stuttgart, adds the BBC.
What did the victims say?
The Guardian says one victim, identified only as Katja L, told Germany's Kolner Express newspaper: "When we came out of the station, we were very surprised by the group we met, which was made up only of foreign men… We walked through the group of men, there was a tunnel through them, we walked through.
"I was groped everywhere. It was a nightmare. Although we shouted and hit them, the men didn't stop. I was horrified and I think I was touched around 100 times over the 200 metres."
Who was responsible?
Large gangs of "mostly drunk" North African and Arab men, according to most reports. The Daily Mail says there were around 1,000 attackers. The Guardian agrees there were between 500 and 1,000 involved and quotes police as saying the men, who were in their mid-20s, were from Morocco, Algeria and Tunisia.
What has been the political fall-out?
Police stressed that while some of the men involved may have been asylum seekers, they were not new arrivals to the country. But anti-immigration groups were quick to make political capital, with Frauke Petry, the leader of right-wing AfD party (Alternative for Germany), tweeting: " Mrs Merkel, is Germany 'colourful and cosmopolitan' enough for you after the wave of crimes and sexual attacks?"
What is different about these attacks?
Germany has been shocked by the scale of the attacks, says the BBC. Their co-ordinated nature is also a "completely new dimension of organised crime", according to one German minister quoted in The Guardian, which adds that police are working on the assumption "the men had organised their plan of attack". It is not clear yet if the men formed one large group or several smaller ones.
What was the protest?
Chancellor Angela Merkel, whose "open door" policy has welcomed migrants to Germany, said the alleged attackers must be punished "regardless of their origin or background". However, the 300-or-so women who protested near the scene of the attacks yesterday seemed to feel let down by the leader, with placards reading: "Mrs Merkel! Where are you? What do you say? We are afraid!"
Will the police catch the perpetrators?
The BBC quotes Cologne's chief of police, Wolfgang Abers, as saying no arrests have been made yet and they have little to go on. "We don't currently have any suspects so we don't know who the perpetrators were," he said.

Continue reading for free
We hope you're enjoying The Week's refreshingly open-minded journalism.
Subscribed to The Week? Register your account with the same email as your subscription.