Nigella Lawson returns, but where is the sauce?
BBC's Simply Nigella sees TV cook swap sex and seduction for 'light and breezy' cooking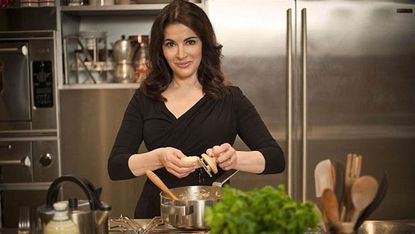 (Image credit: Getty Images)
After drugs confessions, a feud with her former husband and her humiliation in court, Nigella Lawson is returning to British TV with a back-to-basics cookery show called Simply Nigella.
The cook promises BBC viewers a "pared-down approach to cooking and eating" in the new series, which is due to air in the autumn.
Simply Nigella is Lawson's first solo cooking show since the public breakdown of her marriage to Charles Saatchi and a high-profile court case, reports The Times. She briefly appeared on US television as co-presenter of The Taste, but was prevented from flying to the country after confessing in court to having taking cocaine.
Subscribe to The Week
Escape your echo chamber. Get the facts behind the news, plus analysis from multiple perspectives.
SUBSCRIBE & SAVE
Sign up for The Week's Free Newsletters
From our morning news briefing to a weekly Good News Newsletter, get the best of The Week delivered directly to your inbox.
From our morning news briefing to a weekly Good News Newsletter, get the best of The Week delivered directly to your inbox.
Lawson, famous for her seductive presentation style and decadent dishes, said the new show would be about "food that makes our life easier, that makes us feel better, more alive and less stressed".
The BBC added that the show will be "as beautiful and inspiring as ever" and will "introduce viewers to a new pared-down approach to cooking and eating".
Media commentator at Forbes, Neil Midgley, said that it will take Nigella time to repair her public image.
"I do think she's got some rebuilding work to do," he writes. "Her popularity has been built over the years on her apparent flawlessness and mastery of being a domestic goddess and obviously the perception of that has been dented by this soap opera."
But Hannah Furness in Daily Telegraph said the new show, characterised by light dishes and breezy delivery, would "be hailed by fans" of the television chef after her difficult time in the limelight.
The Independent's Oliver Duff agrees, arguing that Lawson has ridden out the public shaming over her cocaine use "with strength and dignity."
"We like a survivor," he adds.
Nigella will appear alongside other new formats in BBC2's revamped line-up. The channel's controllers have also announced a show that will search for Britain's best amateur hair stylist, while Sara Cox will put aspiring potter's through their paces in The Great British Pottery Throw Down.
Nigella Lawson stopped from boarding flight to America
3 April 2014
CELEBRITY chef Nigella Lawson has been stopped from boarding a flight to the United States after confessing in court to taking drugs last year.
The 54-year-old was about to board a British Airways flight from Heathrow to Los Angeles on her own on Sunday when she was stopped, reports the Daily Mail.
According to eyewitnesses, she checked in and went through security before being told that she would not be allowed to board the aircraft. She was then forced to return to check-in to collect her luggage.
The incident comes three months after Lawson confessed under oath that she had snorted cocaine and smoked cannabis.
Lawson, who is a judge on America's talent show The Taste, insisted she was not an addict but had taken the drugs to deal with the terminal illness of her first husband, John Diamond, and the difficulties of living with her second husband, Charles Saatchi.
She was speaking as a witness in the trial of two former personal assistants, Elisabetta and Francesca Grillo, who were later acquitted of fraud charges made against them by Lawson and Saatchi.
Scotland Yard decided not to act over Lawson's confession but the US authorities appear to have taken a tougher stance.
The US Department of Homeland Security declined to comment, but a spokesman said foreigners who had admitted committing drugs offences were liable to be refused admission. Travellers can apply to have the ban lifted, but this can take months. A ban on travel to the US would place her television career in serious "peril", says the Mail.
Lawson filmed The Taste before making the confession, but has travelled to America since – on New Year's Day to promote the series. However, it would appear that American border protection officers appear to have hardened their position since January.
Roughly 100,000 people enter the US every day with around 366 deemed inadmissible and refused entry, according to US government statistics.
Nigella Lawson won't face prosecution over cocaine use
27 Jan
NIGELLA LAWSON will not be prosecuted over her drug use despite telling a court she had used cocaine on several occasions, the Daily Mail reports.
Police say they will not be taking any action against the 54-year-old cook, who made the admission during the fraud trial of her two former assistants, Elisabetta and Francesca Grillo.
A spokesman for the Met said a "specialist team" had examined all the evidence relating to Lawson's confessions, but had concluded there will be no further action. The Mail understands that police made the decision after consulting with the Crown Prosecution Service. It concluded that a prosecution was "disproportionate", was not in the public interest and might deter other "victims and witnesses" from being candid with police and in court.
"There are serious public interest concerns about the message any prosecution would send out to potential witnesses and victims in the future," the spokesman said. "Whilst witnesses clearly cannot simply admit to any offence under oath without consequences, this has to be balanced with the requirement for victims and witnesses to tell the truth."
Lawson told Isleworth Crown Court that she had first used cocaine when she discovered that her first husband, journalist John Diamond, had terminal cancer. She told the court she took it again in July, 2010 when she was being subjected to "intimate terrorism" by her then husband, Charles Saatchi.
Saatchi challenges Taki to cage fight over Nigella remarks
16 January
CHARLES SAATCHI has challenged the 77-year-old Spectator columnist Taki Theodoracopulos to a brutal cage fight over comments involving his ex-wife Nigella Lawson.
The 70-year-old multi-millionaire art collector was responding to a column written by Taki last week in the Spectator.
Describing Saatchi as "repellent", Taki wrote: "The art world is full of rogues and pirates, and in my book the heroic man who grabbed Nigella by the throat is both of these things, and he is most welcome to come and try to grab my little throat anytime."
This week Saatchi responded with a letter to the magazine, telling Taki that it was "very hapless" to spring to Nigella's defence as she always found him "toe-curlingly vile".
Saatchi, who inexplicably addresses his adversary as "Ms Taki", writes: "People tell me that in your unreadable column you also like to brag that you are a black belt at karate. Well, me too, old boy.
"But apparently your 'fights' are genteel affairs, against other soppy geriatrics rolling around the floor in crisp white outfits, in some bit of judokai nonsense."
Saatchi says his fights take place in "cages, 20ft square, unofficial little events with no gloves, no rules, and the loser being carried out, usually battered to bits". He concludes: "You will understand why I laughed out loud at your schoolyard boast that I should try throttling a real hard case like you."
Taki, a Greek millionaire, has replied in his column: "I am 77 years old, 5ft 9in and weigh 185lbs. I am willing to face him any time under cage-fighting non-rules, which will be a first for me. I need three days' notice."
Spectator editor Fraser Nelson has even offered to hold the match in the magazine's garden in Westminster.
But it seems that the two men will not be settling their differences in brutal unarmed combat any time soon – Saatchi has apparently called for dinner with Taki first, with Fraser Nelson as referee.

Continue reading for free
We hope you're enjoying The Week's refreshingly open-minded journalism.
Subscribed to The Week? Register your account with the same email as your subscription.