The week's best parenting advice: November 10, 2020
A rise in pediatric COVID cases, how to play outside all year round, and more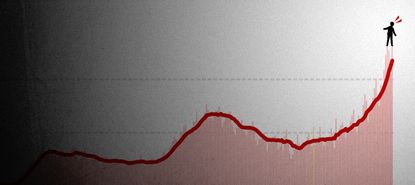 (Image credit: Illustrated | iStock, New York Times)
1. How the 3rd wave is hurting America's kids
The coronavirus pandemic is raging wildly in America, and it's hitting the nation's children hard. More than 61,000 U.S. kids were diagnosed with COVID-19 in the last week of October, according to the American Academy of Pediatrics and the Children's Hospital Association. That brings the total number of cases among kids in the country to nearly 854,000, or roughly 11 percent of all cases, and experts say the real number is likely higher. Many of these new pediatric cases are in Western and Midwestern states, like Idaho, Colorado, and Michigan. As numbers skyrocket, hospitals are seeing an increase in pediatric admissions. Still, it remains the case that young children often show only mild symptoms. A new study published in the journal Nature Immunology found kids produce weaker antibodies than adults, "suggesting they clear their infection much faster."
2. Are parents more likely to catch COVID?
While pediatric COVID cases are on the rise, there is a little bit of comforting news on the science front. A recent study from the University of Oxford and London's School of Hygiene and Tropical Medicine found that adults who live with children under the age of 11 were not at any greater risk of contracting the virus; those who live with kids age 12-18 had a small increased risk of infection. The researchers came to this conclusion after tracking nine million adults in the U.K. over six months. Interestingly, they found that living with kids under age 11 was actually "associated with reduced risk of COVID-19 death," and living with kids of any age "was associated with a lower risk of dying from non-COVID-19 causes." The researchers suspect this comes down to the fact that parents are less likely to engage in unhealthy behaviors in relation to drinking and smoking. Plus, hanging out with germy young kids might boost parents' immune systems overall.
Subscribe to The Week
Escape your echo chamber. Get the facts behind the news, plus analysis from multiple perspectives.
SUBSCRIBE & SAVE
Sign up for The Week's Free Newsletters
From our morning news briefing to a weekly Good News Newsletter, get the best of The Week delivered directly to your inbox.
From our morning news briefing to a weekly Good News Newsletter, get the best of The Week delivered directly to your inbox.
3. Embracing the great outdoors — even when it's cold
"In the age of COVID-19, getting outside has become even more essential as an antidote to lockdowns and as one of the safest ways to have play dates," writes Elisabeth Kwak-Hefferan at NYT Parenting. And good news: Your kids can play outside all through the winter months, no matter how snowy, cold, or wet the weather. The key? The right winter wardrobe. "Make sure the hands, head, heart and feet are covered; out of those, the feet are probably the most important thing," adventurer and ultrarunner Pete Ripmaster says. Find some waterproof boots, pack extra socks, and opt for mittens over gloves. Once the kids are outside, keep them moving to keep the blood pumping. "Go out prepped with a few games in mind, like Red Light Green Light, tag or a scavenger hunt," Kwak-Hefferan says. "And keep it simple: Kids aren't likely to listen to complicated instructions while standing around in the cold."
4. The rise of 'authoritative parenting'
Most parents have probably deployed the "because I said so!" line more than a few times when dealing with stubborn kids, but if you're over-relying on threats and punishments to keep children in line, you're in danger of being an "authoritarian parent," writes Kelly Burch at Insider. "Authoritarian parents are very strict," she says. "They don't nurture or engage with children, or give them the positive feedback that parenting experts say kids need to thrive." She offers "authoritative parenting" as a healthier alternative. "Both parenting styles involve high expectations for kids, boundaries, and discipline. But rather than relying on blame, shame, and fear, authoritative parents respond to their kids emotionally." Authoritative parents have an open dialogue with their children, and use logic and reason to help them understand the rules, which can boost confidence, according to the American Psychological Association. "Treat them as human beings and work on bonding through love and authentic communication," says Alisa Ruby Bash, a family therapist based in Malibu, California.
5. What's in a domain name?
Want to do your child a small favor today that could help them in a few years time? Register their domain name now, suggests Meghan Moravcik Walbert at Lifehacker. "Register their first-name-last-name-dot-com, and hand over the log-in information when they're old enough to promote themselves or their work," she says. Having your own domain name can help tremendously with self-promotion. "They may want an online portfolio of their graphic art or their amateur films or their best-selling novels," Moravcik Walbert says. But by the time they're old enough to make a website, their domain name of choice could be snatched up by someone else. Domain names cost about $15 a year, "which is cheap enough that you may want to register a couple of variations."

Continue reading for free
We hope you're enjoying The Week's refreshingly open-minded journalism.
Subscribed to The Week? Register your account with the same email as your subscription.