What were Geimer and Shields' mothers thinking?
Samantha Geimer and Brooke Shields satisfied their mothers' fantasies of seducing father and getting rid of mother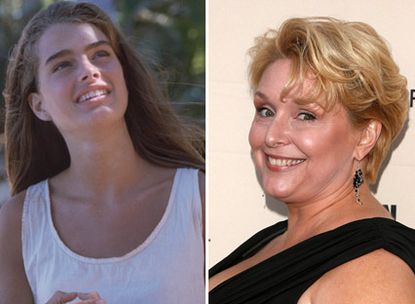 So I fucked a chick? So what?" This was Roman Polanski's response to Thomas Kiernan, author of The Roman Polanski Story, when questioned about his rape of Samantha Geimer in 1977. According to Kiernan, Polanski was notorious for his sexual interest in "very young girls" - making a public display of his spell over them. While this is something that Samantha Geimer's aspiring mother may not have been aware of - unlikely as that may seem - she was the one who introduced Samantha at the age of 13 to Polanski in order to further her daughter's modelling career. Polanski had been asked to guest edit an edition of French Vogue and wanted to feature Geimer. The bait was set.
Financial motivation seemed to be secondary to narcissistic gainPolanski wasted no time. During Geimer's first photoshoot - at her home - he asked her to remove her clothes as he photographed her. Only two weeks later, Geimer's mother allowed her to be taken to a private photoshoot with Polanski. Although Polanski had promised to bring one of Geimer's friends along as a chaperone, he failed to do so. Geimer went alone with Polanski. After several glasses of champagne, Polanski suggested that Geimer (pictured above, in 2008) once again remove her clothes so he could photograph her in the bath. When Geimer resisted his sexual approaches, he gave her a sedative and raped her while she was unconscious. Where was Geimer's mother throughout this time? It is strange that she was not present at the first photoshoot, that she allowed a second photoshoot to take place without her being there and, seemingly, did not check to see that her daughter was in fact accompanied by a chaperone.
Geimer's mother's failure to take protective measures towards her daughter suggests more than turning a blind eye, it suggests her complicity - even if it was unconscious. All of this in the guise of helping her daughter's career? Geimer later sued Polanski, winning an undisclosed settlement, and now wants the case to be put to rest. She pleads, "Every time this case is brought to the attention of the court, great focus is made of me, my family, my mother, and others. That attention is not pleasant to experience and is not worth maintaining over some irrelevant legal nicety, the continuation of the case."
Subscribe to The Week
Escape your echo chamber. Get the facts behind the news, plus analysis from multiple perspectives.
SUBSCRIBE & SAVE
Sign up for The Week's Free Newsletters
From our morning news briefing to a weekly Good News Newsletter, get the best of The Week delivered directly to your inbox.
From our morning news briefing to a weekly Good News Newsletter, get the best of The Week delivered directly to your inbox.
It is understandable that Geimer, now 45 and a mother of three, does not want to relive her trauma in the courts now. It must be difficult for her to avoid questioning her mother's role in what happened and to what extent her mother might have been to blame for her being sexually abused. While Hollywood is divided as to whether or not Polanski should be brought back to trial, in London the Tate Modern, following police orders, has had to withdraw a provocative photograph of Brooke Shields from its new show, Pop Life.
The photograph, by the American artist Richard Prince, is of another photograph, taken by a commercial photographer, Gary Gross, in 1975. The Prince photograph, ironically titled, Spiritual America, shows Brooke Shields, aged ten, standing naked in a bath, her face heavily made up and her torso gleamingly oiled. Children's campaigners fear that the photograph is a magnet for paedophiles. Of even greater concern is the fact that Shields, at the age of ten, could not have given informed consent. Shields's mother, like Geimer's, played an important part behind the scenes of the original photograph. She commissioned Gross to take it, intent on making her daughter into a film star. She then signed away the rights to the negatives and the photograph later featured in a Playboy Press publication.
In this case, Shields's mother, Teri, could not argue that she had no idea what was going on - she had set it up. And she did not stop there. The following year, when Brooke was still 11, she began filming Pretty Baby, Louis Malle's movie about a child prostitute.
By 1980, aged 15, she was in The Blue Lagoon (pictured above), controversial for its many nude scenes, and appearing in advertisements across America selling Calvin Klein jeans, with the provocative line: "You wanna know what comes between me and my Calvins? Nothing." Throughout this period, Teri Shields continued to be the driving force behind her daughter's rising stardom. Both mothers were driven to turn their daughters into stars at any cost. Financial motivation seemed to be secondary to narcissistic gain. Both mothers encouraged their daughters to be depicted as nymphettes who could seduce men with their pubescent and prepubescent sexuality.
The daughters could enact their fantasy of seducing father – with mum's permission
Both daughters played out parts in their mothers' fantasies that may well have fitted in with their own fantasies. There was also the perverse excitement of being put into the hands of an abusive father figure. As Lolitas, the daughters could vicariously satisfy their mothers' fantasies of seducing father and getting rid of mother. At the same time, the daughters could also enact their own fantasy of seducing father - with mother's permission.
What is evident in both scenarios is that the need for a protective mother is denied. The role played by the mother is virtually an empty one. There is no mindful mother present. In reality, both mothers did fail to think about their daughters' needs, suggesting in turn that they too had been failed by their mothers. Richard Prince commented that the image of Brooke Shields in Spiritual America represented an "abstract entity". This is a haunting description of what both daughters became for their mothers and, indeed, what their mothers also became - abstract entities, seemingly without human feeling and thought.

Continue reading for free
We hope you're enjoying The Week's refreshingly open-minded journalism.
Subscribed to The Week? Register your account with the same email as your subscription.