Weiner: was he acceptingan Oscar or resigning?
Charles Laurence in New York on Weiner's bravado as he addressed his constituents one last time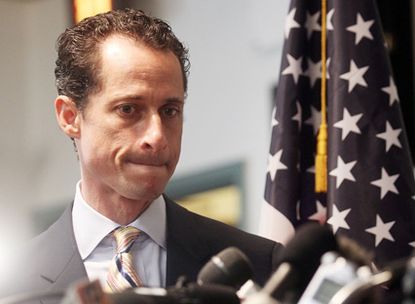 It will be Anthony Weiner the Lewd Tweeter's last show for some time, and you could see he was making the most of it. He stood between two American flags, a third patriotically pinned to the lapel of his best suit, his hair gelled and his gawky Adam's apple bobbing, and announced, finally, his resignation from the US Congress.
He has some nerve – those flags – and the hide of a rhino. No simple letter of resignation and disappearance down the rabbit hole of shame for Democratic Congressman Weiner. He would make a proud speech, boasting of his public service and offering humble thanks as if he was accepting an Oscar.
The audience didn't buy it. Rough-and-tumble Joes from Queens, Weiner's New York constituency, they heckled. "Get it out! Pull 'em down," echoed over Weiner's attempt at an apology to his wife, Huma Abedin, Hillary Clinton's bag-carrier and, at 35, newly pregnant with their child as he had been flashing his penis over the blogosphere.
Subscribe to The Week
Escape your echo chamber. Get the facts behind the news, plus analysis from multiple perspectives.
SUBSCRIBE & SAVE
Sign up for The Week's Free Newsletters
From our morning news briefing to a weekly Good News Newsletter, get the best of The Week delivered directly to your inbox.
From our morning news briefing to a weekly Good News Newsletter, get the best of The Week delivered directly to your inbox.
"Are you more than seven inches?" almost drowned his thanks to his parents, folks who of course had struggled nobly to fulfill their American Dream, for "instilling the values that I have".
What? Values. It was the hecklers who stayed "on message".
The whole two-and-a-half week drama of 'Weinergate', perhaps America's dumbest scandal ever, has been hilarious. At least it has been hilarious when it hasn't been depressing.
It began on a right-wing Republican blog that specialises in hitting below the belt, this time literally, with the broadcast of the first of Weiner's 'sexted' self-portraits, twittered to a female student. At least his underwear was covering the bulge.
Then came a week of lies and denials. It took two weeks to get the full frontal weiner erectus. That came after the glistening torso shots from the Capitol Hill's members' gym.
The Weiner action doll - 10 bucks extra for the "adult version" - was in such demand that its maker's website crashed. Twitter pal Ginger Lee, porn star turned stripper, teamed up with Gloria Aldred, ruthless ambulance-chasing lawyer, to stand before the cameras and accuse Weiner of telling her to lie. That was on Wednesday, before she flew down to Atlanta for a "fully nude" performance at the Pink Pony Club, getting paid triple rate for her new celebrity.
What more do we need to know about America? Sadly, there is more. Weiner, a hyper cyber-nerd, has dominated the news as America heads for train wrecks varying from Pakistan to sky-high unemployment. There has even been a suggestion that Weinergate is a Republican plot to distract the nation from their grave error of attempting to end state pensions and medical care for the retirees who vote for them.
That's convenient, but this is cock-up, not conspiracy. And the ultimate cock-up is that America has slipped into a culture in which rampant exhibitionist narcissists like Weiner – Sarah Palin, too – win votes while the media celebrates them for their entertainment value.
The true core of Weiner's resignation bleat was when he said that he was quitting so that he could "continue to heal from the damage I've caused".
And what might this exemplar of public life get up to when he has "healed"? This became the question even as the jabbering broadcasters waited anxiously for the drama of his resignation speech to begin.
The cable TV commentariat had no trouble agreeing on the answer: given a decent interval and some therapy, he would of course be joining them.
By the time the show was over, the rotting of the body politic seemed quite complete.

Continue reading for free
We hope you're enjoying The Week's refreshingly open-minded journalism.
Subscribed to The Week? Register your account with the same email as your subscription.