Israel and Hamas have boiled over into deadly war
The violence started with a surprise attack from the Hamas-held Gaza Strip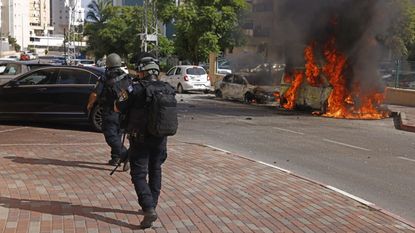 (Image credit: Kobi Wolf/Bloomberg via Getty Images)
The historic powder keg of the Middle East has ignited again, as Israel and Hamas are at war with each other following an unprecedented surprise attack from the Palestinian militants. Hundreds of people on both sides of the conflict have died, and the combatants appear primed to fight for the long haul if necessary.
How did the conflict start?
Hamas — Gaza's governing party and also, the U.S. Director of National Intelligence says, a Palestinian terrorist group that has "conducted many anti-Israel attacks in both Israel and the Palestinian territories" — launched a full-scale surprise attack from the Gaza Strip, a ribbon of land along Israel's western border and one of two Palestinian territories.
The attack began around 6:30 a.m. local time on Saturday, when Hamas launched a barrage of rockets toward Israel. Militants then began entering Israel and engaging soldiers from the Israel Defense Forces (IDF). Hamas fired at least 2,200 rockets into Israel over this single day, and "raids were carried out into the country from land, with paragliders and from the sea," according to an IDF press release. To put that in perspective, 4,000 total rockets were "fired from Gaza into Israel during the 50-day war between the two sides in 2014," CNN reported.
Subscribe to The Week
Escape your echo chamber. Get the facts behind the news, plus analysis from multiple perspectives.
SUBSCRIBE & SAVE
Sign up for The Week's Free Newsletters
From our morning news briefing to a weekly Good News Newsletter, get the best of The Week delivered directly to your inbox.
From our morning news briefing to a weekly Good News Newsletter, get the best of The Week delivered directly to your inbox.
Israel responded by launching "Operation Swords of Iron," a counterassault initiative "to defend Israeli civilians against the combined attack," the IDF said. Israel has fired hundreds of its own rockets back at the Gaza Strip, and dozens of Israeli fighter jets "struck a number of targets belonging to the Hamas terrorist organization," according to the IDF.
How much violence has occurred?
Hundreds of people have been killed both in Israel and the Gaza Strip. Israeli media has put the Israeli death toll at around 600 people with another 1,800 injured, NPR reported. This includes women and children.
Palestinian officials put their own death toll around 300, per NPR, and 2,000 injured, including women and children. The war has caused massive destruction on both sides of the border. Videos posted online showed Israeli counterstrikes destroying entire building blocks via a barrage of rockets, as well as open conflict between the IDF and Hamas in Israeli streets.
After the fighting began, Hamas reportedly began going town to town taking hostages; one video obtained by The New York Times "appears to show several Israelis being taken hostage by Hamas militants." By Sunday morning, IDF soldiers were still trying to clear Hamas fighters, and while The Times of Israel reported that all hostage situations in Israel itself "were resolved overnight," dozens of people, including American citizens, were brought to the Gaza Strip after being kidnapped.
Why didn't Israel see this coming?
Israel's intelligence agency, Mossad, is widely considered to be one of the best on the planet, with an annual budget of nearly $3 billion. However, the Hamas attack appeared to catch them off-guard, representing "one of the biggest failures by Israeli intelligence since the Yom Kippur war of 1973," Bloomberg reported. The wide-scale assault, with land, sea and air attacks, "involves the kind of planning and coordination that intelligence agencies are supposed to pick up on."
Israel had recently warned that Palestinian insurgents were prepping for violence — but nothing of this magnitude was on their radar. Marc Polymeropoulos, a former Middle East counterterrorism expert for the CIA, told NBC News that the attack was "Israel's 9/11," describing the event as a "catastrophic intelligence failure." Polymeropoulos added that it was "almost inconceivable how [Israel] missed this," and also raised questions as to why other intelligence services, particularly in the U.S., apparently didn't sound alarms.
The main intelligence failure, however, "falls squarely on the Israelis," Colin Clarke, a senior research fellow at The Soufan Center, told NBC.
What has the global response been?
Many Western countries are standing behind Israel. President Biden said in a statement that the U.S. "unequivocally condemns this appalling assault against Israel." He added that the U.S. was "ready to offer all appropriate means of support" to Israel and has spoken with Israeli Prime Minister Benjamin Netanyahu about rendering aid.
Similar sentiments were expressed by other Western leaders, including French President Emmanuel Macron, British Prime Minister Rishi Sunak, Canadian Prime Minister Justin Trudeau and others.
While the West has largely backed Israel, many Middle Eastern countries have expressed support for Hamas. This includes Iran, Oman, Pakistan, Saudi Arabia and Qatar. The latter two countries chastised Israeli aggression and released statements "blaming Israel for the Hamas invasion," Time reported.

Continue reading for free
We hope you're enjoying The Week's refreshingly open-minded journalism.
Subscribed to The Week? Register your account with the same email as your subscription.