Should cognitive testing be a presidential prerequisite?
A growing chorus of pundits and candidates are pushing mental fitness challenges as a campaign necessity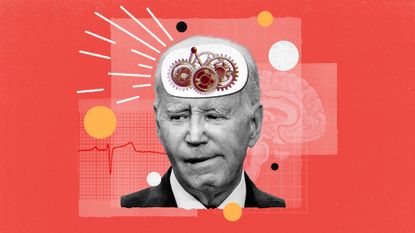 (Image credit: Illustrated / Getty Images)
It's little secret that former President Donald Trump is particularly proud of — in his own words — his "very, very large brain." Trump's aura of mental satisfaction is particularly noticeable when he is on the campaign trail — most recently at the Pray Vote Stand summit in Washington DC, where he derided President Biden as "cognitively impaired" before accusing the White House of risking "World War II."
Asked this past weekend by Meet The Press moderator Kristen Welker whether there should be an age limit on the presidency, Trump, 77, demurred, saying that while neither he nor Biden were themselves too old to hold office, "there should be a competency. I'm all for the test." But, he acknowledged, "a lot of people say that can't happen because of Constitution."
Trump's renewed embrace of cognitive testing comes as several of his Republican presidential nomination challengers level their own attacks on both the current and former president for their advanced age and — whether implied or explicitly stated — the mental decline that often follows.
Subscribe to The Week
Escape your echo chamber. Get the facts behind the news, plus analysis from multiple perspectives.
SUBSCRIBE & SAVE
Sign up for The Week's Free Newsletters
From our morning news briefing to a weekly Good News Newsletter, get the best of The Week delivered directly to your inbox.
From our morning news briefing to a weekly Good News Newsletter, get the best of The Week delivered directly to your inbox.
FIRST LOOK: @GovRonDeSantis tells @NorahODonnell, "The presidency isn't a job for someone that's 80 years old…I think there's going to be a lot of Americans that are going to want to see a generational passing of the torch."See the interview tonight on @CBSEveningNews at 6:30… pic.twitter.com/UibXUcXVchSeptember 12, 2023
See more
There should be a "mandatory mental competency tests for politicians over 75 years old" presidential aspirant Nikki Haley exclaimed during her campaign launch speech this past February. But as Trump noted in his interview with Welker, the constitutionality of such a proposal is deeply uncertain. Still, with both the incumbent and Republican front-runners well past the typical age of retirement, and to some degree each prone to uncomfortable public gaffes, the prospect of candidate mental competency testing has returned as election season begins to intensify.
What the commentators said
"This is not a qualification for office," Haley insisted in an essay published by Fox News this spring. Rather, without enforceable consequences, "It is about transparency." The Wall Street Journal's editorial board agreed, calling it an "attention-getting idea but fundamentally a political gimmick" in an op-ed this week. "There's no test for this except the voters."
Voters, however, are overwhelmingly in favor of such a test, with 74% of respondents to a recent Morning Consult poll affirming that "presidential candidates of any age should have to pass a mental competency test." While that support was bipartisan, pollsters also found that "Republican voters (56%) are more likely to say Trump would "definitely pass" a mental competency test than Democrats are regarding Biden (41%)." Limiting cognitive testing to candidates 75 and older as per Haley's proposal was seen as "disrespectful" by a bipartisan third of respondents, as well.
Questions of respectfulness aside, Trump is also correct about the potential illegality of mandating mental acuity testing for politicians. Presidents aren't "obliged to prove their cognitive fitness" based on the requirements for office put forth in the Constitution, Boston Globe columnist Jeff Jacoby said. Without a constitutionally compliant law passed by Congress, or a full constitutional amendment changing the requirements to run for the highest office in the land, "a mandatory mental competency test is a nonstarter." And making a constitutionally compliant law is no small lift, the Journal's editorial board noted, citing the two-month lifespan of a California measure barring candidates who didn't disclose their tax forms from running for office. That law would have "open[ed] the floodgates, for forcing politicians to reveal "confidential medical records, psychiatric and therapist records, academic records, family law records, or other privileged information," the federal judge who struck down the measure explained in his ruling.
What's next?
While mandating mental competency testing seems at least for the time being out of the question, Trump, Biden, and any other candidate who wants can submit for a voluntary exam — and use the threat of one as a political cudgel. After the WSJ published a recent poll on his age and acuity, Trump "hereby challenge[d] Rupert Murdoch & Sons, Biden, WSJ heads, to acuity tests!" in a post on his Truth Social network this month.
While Biden hasn't commented on the former president's latest provocation, he has addressed the question of mental competency in the past, telling Fox News' Doug McKelway in 2020 that he can "hardly wait to compare" his mental fitness with Trump's. First lady Jill Biden, however, has responded to the resurgence in calls for mental acuity testing for elderly candidates. Speaking with CNN this past March, she called the idea "ridiculous."

Continue reading for free
We hope you're enjoying The Week's refreshingly open-minded journalism.
Subscribed to The Week? Register your account with the same email as your subscription.