Quiz of The Week: 14 - 20 October
Have you been paying attention to The Week's news?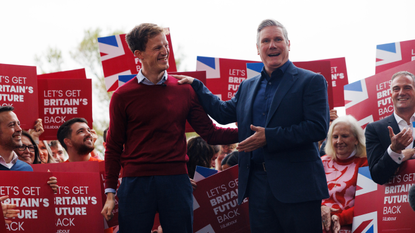 (Image credit: Dan Kitwood/Getty Images)
The Labour Party has reason to celebrate today after winning two decisive victories over the Conservatives in the Mid Bedfordshire and Tamworth by-elections last night.
There had been much "expectation management" from both the Tory and Labour camps earlier this week. Keir Starmer's party was seeking to overturn huge Conservative majorities in both constituencies. And the contests posed Rishi Sunak's first major test since attempting to pitch himself as the "change candidate" at the Conservative Party conference.
Subscribe to The Week
Escape your echo chamber. Get the facts behind the news, plus analysis from multiple perspectives.
SUBSCRIBE & SAVE
Sign up for The Week's Free Newsletters
From our morning news briefing to a weekly Good News Newsletter, get the best of The Week delivered directly to your inbox.
From our morning news briefing to a weekly Good News Newsletter, get the best of The Week delivered directly to your inbox.
The results were more than a little bruising for the prime minister. In Tamworth, Chris Pincher's former seat, there was a 23.9% swing to Labour, and Mid Bedfordshire, a seat vacated by Nadine Dorries in August, swung by 20.5%.
"These are phenomenal results that show Labour is back in the service of working people and redrawing the political map," said Starmer. The results beg the question: can the party repeat its by-election success to secure a majority at the next general election?
To find out how closely you've been paying attention to the latest news and global events, put your knowledge to the test with our Quiz of The Week.
1. People magazine published snippets of Britney Spears' memoir on Tuesday, ahead of its release next week. What is the book called?
"Piece of Me"
"Lucky"
"The Woman in Me"
"Everytime"
2. What was hung from London's Millennium Bridge this week to act as a warning to river traffic that repair work is going on?
A football
A straw bale
A traffic cone
A fluorescent banner
3. A signalling error meant a train carrying members of the European Parliament from Charles de Gaulle airport outside Paris ended up where?
Cannes
Brussels
Calais
Disneyland Paris
4. Donald Trump was attacked by what during a speech in Iowa this week?
A climate protester
Flies
A crow
Ants
5. The Mexican government is reviving a 100-year-old railway line in a bid to attract container traffic. Which bodies of water will the track connect?
The Gulf of Mexico and the Pacific Ocean
The Caribbean Sea and the Gulf of Mexico
The Pacific Ocean and the South Atlantic Ocean
The Caribbean Sea and the Atlantic Ocean
6. What percentage of Australian voters submitted "No" ballots in the country's Indigenous Voice referendum last Saturday?
7. Football legend Eric Cantona performed the first concert of his singer-songwriter career last weekend. In which French city did it take place?
Dijon
Auxerre
Reims
Poitiers
8. The president of which African country travelled to China this week to ask for a $1 billion loan?
Kenya
Nigeria
Ethiopia
South Africa
9. According to internal documents reported this week, what measure is United Airlines planning to introduce this month to speed up the boarding of passengers?
Stewards loading hand luggage in the cabin before passengers board
Asking passengers to complete safety briefings online before boarding
Only selling tickets for 95% of a plane's total passenger capacity
Allowing economy passengers with window seats to board first
10. Which city is home to the best drinking spot anywhere, according to the latest World's 50 Best Bars list?
Tokyo
New York
Mexico
Barcelona
1. "The Woman in Me"
The "bombshell" memoir will share previously undisclosed information about Spears' career and personal life. In one excerpt published this week, she revealed that she had an abortion while dating fellow pop star Justin Timberlake, describing the experience as "agonising".
2. A straw bale
A bale of straw has been hanging from the Millennium Bridge as repair work goes on, in accordance with the Port of London Thames Byelaws. The legislation calls for the suspension of straw by day and a white light at night to warn boats of reduced headroom.
3. Disneyland Paris
The special train chartered to take EU officials between the parliament's two seats in Brussels and Strasbourg took a wrong turn and ended up at Marne-la-Vallée, home of Disneyland Paris. The incident, said Politico, will do little to "deter those who deride the institution as a Mickey Mouse Parliament". Sign up to our Tall Tales newsletter for more odd news.

4. Flies
The former US president swatted away flies during his address in Clive as he "went off on a tangent" and claimed that fly paper is illegal. "I didn't know you had flies in Iowa. I hate flies!" he exclaimed.
5. The Gulf of Mexico and the Pacific Ocean
The $2.8bn revival of the Tehuantepec Interoceanic Corridor could divert cargo traffic from the Panama Canal and provide a new route by which international freight could travel.

6. 60%
Australians voted by a clear majority to reject plans to give Indigenous people more political rights. Groups on both sides of the debate have called for "a period of national unity and reflection while the dust settles" following the vote. For more international news, sign up to our free Global Digest newsletter.
7. Auxerre
The former Manchester United striker, who began his football career in the Burgundy town of Auxerre, performed a two-hour set that won the critics over, with Le Parisien newspaper comparing Cantona's music to Leonard Cohen and Nick Cave.
8. Kenya
President William Ruto requested the funds in order to complete "white elephant projects" in Kenya. He was also prepared to "beg for more time to settle more than $8 billion in existing loans from China", said The Times. To find out more, tune in to the latest episode of The Week Unwrapped podcast.
9. Allowing economy passengers with window seats to board first
United Airlines believes it could shave up to two minutes off the time it takes passengers to board a plane by asking those with aisle seats to wait until window-seat passengers have boarded.
10. Barcelona
For the second consecutive year, Barcelona has found itself home to the No.1 bar in the world, according to the latest rankings. Cocktail bar Sips took the title from last year's winner Paradiso, which slipped to fourth place. For more Food & Drink news, sign up to our newsletter.

Continue reading for free
We hope you're enjoying The Week's refreshingly open-minded journalism.
Subscribed to The Week? Register your account with the same email as your subscription.