Islamic State targets vulnerable refugee children for recruitment
Extremist groups are offering money and food in bid to radicalise youngsters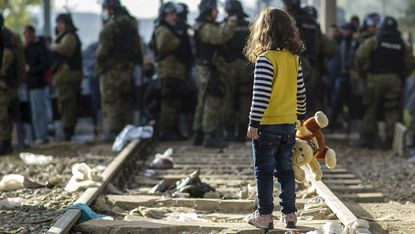 (Image credit: Robert Atanasovski/AFP/Getty Images )
Refugee crisis: thousands stranded as Europe divided
16 September
Thousands of refugees have been left stranded as Europe closes off its borders and remains bitterly divided on how to respond to the crisis.
Subscribe to The Week
Escape your echo chamber. Get the facts behind the news, plus analysis from multiple perspectives.
SUBSCRIBE & SAVE
Sign up for The Week's Free Newsletters
From our morning news briefing to a weekly Good News Newsletter, get the best of The Week delivered directly to your inbox.
From our morning news briefing to a weekly Good News Newsletter, get the best of The Week delivered directly to your inbox.
Huge crowds of refugees, many of them having made the dangerous journey from Syria, were stuck at the Hungarian border in Serbia overnight chanting: "No food, no water – let us cross the border."
Hungary's decision to close its southern border with Serbia has forced many to find alternative routes to Western Europe - through Croatia, Bosnia or Romania. "Fortress Europe [has] begun to pull up the few drawbridges still open," reports The Guardian's Patrick Kingsley.
The Hungarian government has also declared a state of emergency in two southern counties, begun arresting refugees who enter illegally and announced plans to close its border with Romania.
"We're Palestinian-Syrians, where else are we supposed to go now?" asked Radwan, a refugee from Yarmouk who was one of the first to be turned away at the Hungarian border.
"We're coming from destruction and killing," he said cradling his three-year-son Abdallah. "I shouldn't have to take five children all the way here for us to be shut out here."
Amnesty International has accused Hungary's President Victor Orban of "showing the ugly face of Europe's shambolic response to the growing refugee crisis".
Meanwhile, Austria introduced security checks along its border with Hungary and warned the measures could be extended to its frontiers with Italy, Slovenia and Slovakia if required.
"The collective display demonstrated European leaders' continued belief that the biggest mass migration since the Second World War is a possibility to be avoided, rather than a certainty to be better managed," says Kingsley.
The new border closures and refusals to sign up to planned quota schemes are deepening divisions in Europe as the continent struggles to respond to the overwhelming humanitarian crisis.
Germany has said it is time to consider imposing financial sanctions on countries like Hungary and the Czech Republic that are refusing to respond to the crisis and agree to resettlement quotas.
"We need to talk about ways of exerting pressure," said the country's interior minister Thomas de Maiziè. "These are often countries that receive a lot of structural funds from the EU."
Chancellor Angela Merkel has expressed her despair at the EU's failure to welcome refugees and called for a planned refugee summit to be brought forward, The Independent reports. "We cannot wait until mid-October," she said.
Refugee crisis: Europe tightens borders as talks end in failure
15 September
European nations have backtracked on the EU's open border policy as emergency talks on the growing refugee crisis ended in deadlock.
Hungary has implemented a "draconian" system which criminalises refugees who enter the country without permission, says Reuters. Hundreds of refugees, many of them fleeing Syria, were stopped by police at the Serbian border and could face deportation and even imprisonment.
The Hungarian government says refugees will still be allowed to claim asylum at two official border crossings, but warns that those who have entered through Serbia will be forced to return as Hungary considers it to be a "safe country". However, the United Nations refugee agency disputes this.
Austria and Slovakia have announced that they will be following Germany's lead by reinstating border controls to cope with the influx of refugees. Poland said it was considering taking similar action, while the Netherlands is increasing border patrols.
Germany's decision has set a "precedent" for other European nations to suspend the Schengen system, says Al Jazeera's Jacky Rowland. "Until now people have been able to travel without having to show any documents as long as they were coming from another EU country," she said.
Meanwhile, EU leaders meeting to discuss the crisis agreed to relocate 40,000 migrants from Greece and Italy to other member states, but failed to reach a decision on quotas and further relocation.
The European Commission has been hoping to move forward with plans for a compulsory quota scheme that would allow for the relocation of 120,000 refugees among member states, but was met with strong resistance from countries including Hungary, Slovakia and the Czech Republic.
"We did not have the agreement we wanted," the EU's migration commissioner Dimitris Avramopoulos said after the talks, adding that he hoped a deal would be reached in October.
The aunt of Alan Kurdi, the three-year-old boy who died crossing from Turkey to Greece, has urged the EU to do more to respond to the growing humanitarian crisis.
"Open your heart and take action and come up with a shared plan," Teema Kurdi told the Daily Telegraph. "It's too late for Alan and Ghalib and Rihana, but it's not too late for thousands of children and their families who risk everything trying to reach safe haven."
"Instead of putting up fences, I appeal to Europe and the world's politicians to open their doors."
Refugee crisis: Germany reinstates border controls
14 September
Germany has introduced temporary controls at its border with Austria after being overwhelmed by the surge in refugees arriving in the country.
Trains arriving from Austria were also suspended as Interior Minister Thomas de Maiziere called on other EU countries to do more to help. More than 13,000 asylum seekers arrived in Munich on Saturday, on top of the 450,000 who have come to Germany this year, according to Al Jazeera.
This is a "politically shrewd" move by the interior minister, says the BBC's Damien McGuinness. Coming just a day before he is due to travel to Brussels for talks on how to respond to the migrant crisis, the measure will help him put pressure on other European countries to do their bit, he says. "It highlights just how much Germany is struggling to cope."
Home Secretary Theresa May will be joining her European counterparts at the emergency meeting later today. The UK government has made it clear it will not be taking part in the planned mandatory quota scheme, which would see 160,000 refugees redistributed equally among member states.
Meanwhile, David Cameron has travelled to Lebanon to visit refugees who have fled the conflict in Syria. "I wanted to come here to see for myself and to hear for myself stories of refugees," he said during his visit to the camp in the Bekaa valley, less than a mile from the Syrian border.
His trip come less than a week after the government announced plans to welcome 20,000 Syrian refugees from camps in the Middle East over the next five years.
But former foreign secretary David Miliband has joined growing calls for the government to do more to respond to the humanitarian crisis. "Each country needs to shoulder the burden and agree to both relocate refugees who have reached the continent and resettle the most vulnerable from the Middle East," he said during a visit to Greek island of Lesbos, where thousands of refugees arrive every day.
The political wrangling comes as 34 refugees, almost half of them babies and children, drowned off the coast of the Greek island of Farmakonisi, The Guardian reports. "We should mourn but also act," the ruling Syriza party said in response to the tragedy. "Our country is, because of its geographic position, a gateway and it needs support, funds and infrastructure in order to help these desperate people, as it must do."
Refugee crisis: plans for compulsory EU quotas announced
9 September
The European Commission has outlined plans for a compulsory quota scheme that would allow for the relocation of 120,000 refugees among member states.
Jean-Claude Juncker, the president of the commission, said the plans would provide a "swift, determined and comprehensive" response to the refugee crisis engulfing Europe.
Speaking to the European Parliament, he reminded ministers of the continent's history. "Europe is a continent where almost everyone has been a refugee," said Juncker.
"We Europeans should know and should never forget why giving refuge and complying with the fundamental rights is so important."
The number of refugees sent to each country would depend on a number of factors, including population, GDP and the number of asylum applications already processed, the BBC reports.
Other proposals include increasing funding for the European border agency, reviewing the so-called Dublin system whereby people are required to claim asylum in the first EU state they arrive in and allowing asylum seekers to work while their claims are processed, the Financial Times reports.
The quota plans will be discussed by EU ministers at a meeting in Brussels next week and there is likely to be strong opposition from several Eastern European states, particularly Hungary.
Prime Minister Viktor Orban has said he doesn't want to change his country's ethnic make-up, the Independent reports. "If Hungarians decided, 'No, thank you,' nobody has the right tell us to change," he said.
Angela Merkel yesterday warned that there would be "consequences" for states that do not comply with the scheme. Those that refuse to adhere to the system are likely to face financial penalties.
Britain is exempt from EU asylum policy and David Cameron has made it clear that the government will not be taking part in any quota schemes.
Juncker was heckled during his speech by Britain's anti-EU MEP Nigel Farage, but he dismissed the Ukip leader's comments as "worthless rubbish".
Migrant crisis: more than 70 people found dead in Austria lorry
28 August 2015
More than 70 bodies have been discovered in the back of a lorry in Austria and hundreds of refugees are feared dead after two boats sunk in the Mediterranean, as Europe's migrant crisis deepens.
Austrian police discovered the badly decomposed bodies of 71 people in a lorry which had been abandoned on motorway near the Hungarian border.
The 59 men, eight women and four children are believed to be Syrian refugees and probably died after suffocating in the back of the vehicle, police told the BBC.
Three people, thought to be Bulgarian nationals who owned and drove the vehicle, have been arrested Hungary in connection with the deaths.
German Chancellor Angela Merkel said she was "shaken by the appalling news" during a summit on the European refugee crisis in Vienna.
"This is a warning for us to tackle the issue of migration quickly. We have more refugees in the world than at any time since the Second World War," she said. "The world's eyes are upon us."
Meanwhile, hundreds more refugees have reportedly drowned attempting to cross the Mediterranean from Libya. Two boats carrying about 500 people capsized shortly after leaving the country, with Libyan officials reporting that 200 of them were rescued.
Earlier this week, the bodies of 51 people were discovered in the hold of a stricken ship off the coast of Libya. They were discovered by a Swedish coastguard ship which also rescued more than 400 survivors – among at least 3,000 migrants saved that day, the BBC reports.
The UN estimates that nearly 2,500 migrants have died trying to make the perilous sea crossing this year alone. It says the vast majority are refugees fleeing war and persecution in countries in North Africa and the Middle East.
Amnesty International has called the current global refugee crisis one of the "defining challenges" of the 21st century and condemned the response from world leader as "a shameful failure."
"Millions of women, men and children [are] struggling to survive amidst brutal wars, networks of people traffickers and governments who pursue selfish political interests instead of showing basic human compassion," secretary general Salil Shetty said in a statement in June.

Continue reading for free
We hope you're enjoying The Week's refreshingly open-minded journalism.
Subscribed to The Week? Register your account with the same email as your subscription.