Royal Mail shares rebound after strong Christmas
Direct deals with retailers helped boost parcel volumes six per cent over the festive period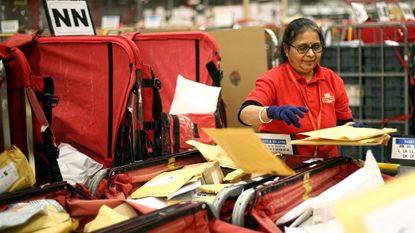 (Image credit: Carl Court/Getty Images)
Royal Mail has delivered a present to shareholders and posted a strong performance over the Christmas period, sending shares surging after an early new year slump.
The national service handled 130 million parcels - six per cent up on 2014 - over the final quarter including the festive period, as shoppers increasingly went online in search of gifts. The company pointed in particular to the success of direct deals with retailers, including John Lewis and House of Fraser, to deliver their orders, The Guardian notes.
Parcels are critical for Royal Mail's growth prospects as its letters business is being managed through what appears to be a slow, terminal decline. However, it has been seeking ways to diversify away from a reliance on online giant Amazon, which is bolstering its own in-house delivery capabilities.
Subscribe to The Week
Escape your echo chamber. Get the facts behind the news, plus analysis from multiple perspectives.
SUBSCRIBE & SAVE
Sign up for The Week's Free Newsletters
From our morning news briefing to a weekly Good News Newsletter, get the best of The Week delivered directly to your inbox.
From our morning news briefing to a weekly Good News Newsletter, get the best of The Week delivered directly to your inbox.
Overall for the first nine months of the financial year, the company's parcel volumes were up four per cent, while letters volumes fell three per cent. On a revenue basis, the Financial Times notes, parcels and letters saw an increase and decrease respectively of two per cent, with overall UK revenues down one per cent.
Group income rose one per cent as the company continued to see rapid growth of ten per cent in its European parcels business General Logistics Systems. This came after flat performance in the first two quarters of the year and has bolstered investor confidence, prompting shares to surge 3.5 per cent yesterday and a further 2.6 per cent today to 450p.
The stock had previously fallen by 12 per cent since the start of December.
Royal Mail: why are shares surging after profits fall?
19 November
Royal Mail shares surged to a three-month high this morning, rising by more than five per cent to 478p, despite its half-year profits falling sharply.
In its interim results announcement this morning, its first as a fully private company since the government sold the remainder of its stake earlier this year, Royal Mail revealed underlying pre-tax profits fell 16 per cent from £280m to £247m compared to the first half of 2014. Revenues remained broadly flat at £4.4bn.
But investors focused on resilience in earnings, which would have been roughly the same year on year were it not for £47m in costs related to Royal Mail's ongoing restructuring, the BBC reports. Operating profits fell by just two per cent to £342m, well ahead of analyst expectations. The half-year dividend was subsequently increased from 6.7p per share to 7p.
In terms of the underlying trend, the shift from addressed letters to a parcels market that Reuters says is being "buoyed by a boom in online shopping" is continuing. A four per cent fall in the former was offset by a similar rise in the latter – and the European parcels business grew by eight per cent. Royal Mail will hope to boost its parcels earnings following the purchase of London-focused same-day delivery service eCourier, announced yesterday.
Of arguably even greater significance was Royal Mail's revelation that it is accelerating its modernisation programme, which the Daily Telegraph says will result in the cutting of 3,000 more jobs. This is being welcomed as a positive by analysts who do not see potential for substantial revenue growth in the near future.
The fly in the ointment, barely mentioned in the report, is the ongoing Ofcom probe into the regulation of Royal Mail, which retains an obligation to conduct national deliveries and charges third parties to use its network.
After the company was accused of unfair treatment in the charges it set – and then abandoned – in 2014, there are fears the probe could change the way it prices services, which would affect its ability to offset declines in some areas of its business.
Royal Mail shares: is sale a 'disgrace' or a 'win all round'?
13 October
Royal Mail is now a completely private entity after the government sold the majority of its remaining interest to institutional investors and passed a small stake to employees.
Most of the 14 per cent stake that was still owned by the taxpayer was sold at a price of 455p per share, raising £591m, BBC News reports. The sell-off means a total of £3.3bn has been raised from the sale of the national postal carrier, which began with a hugely popular retail share placing two years ago.
A further one per cent stake was handed to employees, taking the total interest controlled by staff to 12 per cent.
Royal Mail's sell-off has always been controversial, not least because the original offer price of 330p was seen to significantly undervalue the business. Its shares doubled shortly after its initial listing and a review ordered by former business secretary Vince Cable found the government could have added 30p to the price and missed out on proceeds of £180m.
There has also been criticism of the sale of an asset that continues to be profitable and is regarded by many as a national treasure.
Sky News notes that Dave Ward, the general secretary of the Communication Workers Union that represents Royal Mail workers, branded the "fire sale" a "disgrace" and said the Tories have "made it abundantly clear that they are only interested in privatisation dogma and making the rich richer – even when their actions place public services at risk".
Royal Mail insisted it remained "committed" to the 'universal service obligation' and to "delivering for all 29 million homes and businesses in the UK".
It is also notable that while the postal service does remain profitable, its revenues have stagnated in recent times and it is fighting a major slowdown in the sending of letters as well as intense competition in its parcels business (see below). The government believes Royal Mail would be better able to respond to these challenges in private hands.
"This is a milestone moment in the long and proud history of the Royal Mail, when we secure its long-term future," said Chancellor George Osborne. "By fully leaving state ownership we have a win all round – for customers, the workforce and the taxpayer. And every penny will be used to pay down our national debt as we continue to bring our public finances under control."
Royal Mail shares fell after the placing by five per cent, to 444p.
Royal Mail shares dive as Ofcom alleges competition law breach
28 July
Royal Mail shares tumbled by more than three per cent in morning trading on Tuesday after communications regulator Ofcom published provisional findings alleging the company breached competition law when it introduced new prices for 'access' services last year.
The case dates back to a complaint in January 2014 from Royal Mail's now defunct rival Whistl, formerly TNT Post. In a statement published online, Ofcom says the firm had alleged that prices introduced at the beginning of 2014 for third parties to use Royal Mail for final sorting and delivery of business parcels were anti-competitive in that "higher access prices would be charged to… customers that competed with Royal Mail in delivery".
Royal Mail introduced the prices on 10 January 2014. Ofcom announced it was to investigate the complaint on 21 February and Royal Mail withdrew the charging structure on 4 March. Ofcom says its provisional findings are that the changes to the prices "included unlawful price discrimination" and would "act as a strong disincentive against entry into the delivery market".
It adds that the publication of its 'statement of objections' is only one stage in a process and that Royal Mail will now be able to make representations. Ofcom says "no assumption should be made at this stage that there has been a breach of competition law".
Investors are watchful for any sign regulators may crack down on pricing for Royal Mail, which would leave it less able to offset declines (in particular on its nationwide letter delivery business). Earlier this month it was revealed Ofcom had launched a broader probe into charges for postal services after Royal Mail's only national rival had left the market.
A spokesperson for Royal Mail is quoted in City AM saying it would launch a "robust defence" against the findings. The statement adds that Royal Mail's pricing changes "were fully compliant with competition law" and that in any case they were suspended following the announcement of Ofcom's investigation and were therefore "never implemented".
Sky News reported last week that the company had raised a "protest" about the handling of the Whistl complaint.
Ofcom confirmed a procedural issue had been raised and said it would publish a response in due course.
Royal Mail tracking forecast as parcel profits grow
21 July
Royal Mail has revealed that revenues were flat in the first three months of this year, as continuing growth in its parcels and international businesses was offset by steady declines in letter deliveries.
In a note to investors published online this morning, the group announced its UK Parcels, International and Letters unit, which is responsible for letter and parcel deliveries throughout the UK and Parcel Force around the world, saw a two per cent drop in revenue. This reflects a two per cent rise in income from parcel deliveries but a steeper four per cent decline from addressed letters, with declining sales of higher margin products cancelling out the increases in the cost of stamps earlier this year.
Royal Mail's General Logistic Systems arm, which delivers parcels across Europe, saw a nine per cent surge in volumes and an eight per cent revenue rise, primarily driven by increases in Italy and Germany.
The figures did come with some notes of caution. The parcels' figures may have been inflated due to a comparison with an especially weak first quarter of 2014 and parcel revenue growth is still failing to keep pace with actual delivery increases due to tougher pricing. But overall the group, as well as Barclays analysts quoted by the Daily Telegraph, said the figures were "within the band of expectations."
Of greater concern will be the announcement last week by Ofcom of a probe into pricing at Royal Mail, which since the collapse of Whistl now has no national carrier rival. According to the Daily Mail this could result in curbs on its price raising powers, which would significantly inhibit its ability to increase profits from last year's £569m.
Royal Mail shares were down 0.3 per cent in morning trading to 510 pence.
Royal Mail remains top dog as new share sell-off looms
5 June
Aggressive competition in the UK mail and parcels market looks like it is starting to ease, paving the way for improved financial performance at market leader Royal Mail.
A de jure monopoly for 350 years, the UK mail industry was opened up to full competition in 2006. Nimble competitors Yodel, Hermes, UK Mail and Whistl now vie toe-to-toe with Royal Mail on its traditional mail patch – as well as in the parcels market – but without the legacy cost base. Yet reports of the death of the red post box are greatly exaggerated.
City Link's high profile collapse over Christmas 2014 and recent cut-backs to services at mail and parcels rival Whistl have boosted Royal Mail's share price, which, before George Osborne's announcement that the government would sell its remaining stake in the company, was trading at its highest level since May 2014.
Having joined the stock market at 330p in October 2013's IPO (initial public offering), shareholders who bought Royal Mail shares at flotation now sit on a handsome profit.
There are other catalysts on the horizon too: tough prior year earnings comparisons are falling out, margins are increasing and value is being unlocked from the balance sheet.
Comparisons for revenue and profit were tough as the business exited public ownership. Stamp prices were increased dramatically in the years running up to Royal Mail's privatisation, with a 14p hike in 2012 to 60p for a first class letter and 50p for second class mail.
If margins can be brought up to industry averages, Royal Mail can increase operating margins around 300 basis points from its current 4.6 per cent. Every 100 basis points of margin expansion is worth an additional £100 million in pre-tax profit, calculates Berenberg analyst Matthew O'Keeffe.
The balance sheet is another strength. Royal Mail unlocked around £111 million of cash from surplus assets in London at the end of 2014. O'Keeffe reckons other London properties could be worth as much as £1 billion, close to a quarter of the business's market capitalisation.
'We believe that the eventual transformation of Royal Mail (in both operational and financial terms) is likely to release tremendous value that is only modestly reflected in current estimates or valuations,' writes O'Keeffe.
A key challenge for the business is managing the decline in its mail division, where volumes are forecast to drop between 4 per cent and 5 per cent in the period to 2023. Delivering growth in structurally challenged markets is not without precedent, as investors in tobacco and some of the better quality media companies can attest. Royal Mail's market leadership and its exposure to the growing parcels market mean it is well placed to deliver.
Royal Mail: government sells shares at £5 a pop, raising £750m
9 June
The government has sold half of its 30 per cent stake in Royal Mail, raising another £750m for the treasury.The Department for Business, Innovation and Skills placed 15 per cent of the company's shares with City institutions overnight, selling them at 500p a share – a significant premium to its share price when it was privatised in 2013. The sale was conducted by Bank of America Merrill Lynch and JP Morgan, with Goldman Sachs also involved.The government said it made the overnight sale following independent financial advice, which suggested that Wednesday was a good opportunity to sell down its stake, thanks to "current favourable market conditions". It says the proceeds will be used to pay down the national debt, reports The Guardian.Up to 1 per cent of the shares of the government's remaining holding will be given to Royal Mail staff. The government awarded 10 per cent of the shares to employees as part of the controversial flotation in 2013.In his annual Mansion House speech in the City of London, Chancellor George Osborne said: "We want to help the Royal Mail attract more investment and serve its customers, and use the money we raise in return to pay down the national debt."Business Secretary Sajid Javid said the £750m fee "represents good value for taxpayers", adding: "That money can be used to reduce public debt, which is how we will deliver lasting economic security for working people."But shadow business secretary Chuka Umunna MP said: "It's disgraceful the government is rushing to dump its stake in Royal Mail to City speculators without giving ordinary investors a look-in."
And the postal workers' union CWU told Sky News the unexpected sale showed the Conservatives were "only interested in privatisation dogma and making the rich richer".
Royal Mail shares drop as Osborne reveals new sell-off
4 June
Shares in the Royal Mail fell today after the government announced plans to sell off its remaining 30 per cent stake in the company.
Chancellor George Osborne revealed that the shares, currently worth £1.5bn, would be sold at some point this year to help pay off the UK deficit.
"It is the right thing to do for the Royal Mail, the businesses and families who depend on it – and crucially for the taxpayer," he told the House of Commons during a debate about the Queen's Speech. Shares in the Royal Mail subsequently fell almost 2.3 per cent to 515p in lunchtime trading, reports City AM.
Osborne assured his fellow MPs that the new Tory government "will only sell our stake when we can be sure we are getting value for money".
Nevertheless, the sell-off is likely to "prove hugely controversial", says the Daily Telegraph.
It comes just over a year and a half after the company was listed in a historic privatisation in October 2013. The share price leapt by 38 per cent from its initial price of 330p on the first day of trading and later peaked at 615p, prompting anger from opposition MPs.
The Treasury is yet to make a decision on whether its shares will be sold privately to investors or to the public.
The move comes as part of Osborne's efforts to shave £4.5bn off the UK's debts, with government departments expected to find a further £3bn of savings this financial year. The NHS, education and foreign aid have been ring-fenced from the cuts, which will be detailed in the Chancellor's new Budget on 8 July.
Royal Mail: Myners report clears government over sell-off
18 December
A report commissioned by Vince Cable from Lord Myners, the former Labour city minister, has broadly backed the way the Royal Mail sell-off was handled despite finding that the new company was undervalued by £180m and calling for greater transparency.
Myners said the privatisation was handled with "considerable professionalism" and represented "significant value" for the taxpayer.
As for the initial price of shares in Royal Mail, The Guardian recalls that opponents of the sell-off, including some MPs, have claimed it was set as much as £1bn too low.
Myners's figure of a £180m undervaluation is comparatively modest, therefore. He told the BBC that "if any money had been left on the table it was pretty small".
The extra £180m could have been earned if the share price had been set 30p higher, says Myners in his report. But he adds that doing so would have involved "substantial" risk.
However, Myners did say lessons could be learnt for future privatisations. He called for greater transparency and suggested using digital auctions which would "make the sale process much more flexible".
Royal Mail's share price leapt by 38 per cent from its initial price of 330p on the first day of trading in October 2013. They later peaked at 615p, prompting anger from MPs and others. The price yesterday was 394p.
In a report that broadly exonerates the government, the former minister writes: "I regard the Royal Mail privatisation to have been a complex exercise executed with considerable professionalism. Many previous governments attempted to sell but failed.
"The sale was done against a backdrop of global economic uncertainty and a threat of industrial action, which go a long way towards explaining the cautious approach taken throughout the process.
"We found no evidence to challenge the general assertion that an IPO price greater than 350-360p could have been achieved and we accept that a decision to revise the range would have come with added uncertainty and risk. The right decisions were made."
Royal Mail shares dive as profits fall by a fifth
19 November
Royal Mail shares fell by almost six per cent when trading began this morning after the company announced a 21 per cent fall in half-year profits.
Competition from online sellers offering same-day delivery and other courier services continues to put pressure on the recently privatised mail service.
Royal Mail bosses said they had halved the company's expected growth rate for UK package deliveries to just one or two per cent after a push from e-retailers such as Amazon to offer parcel delivery options of their own.
Pension costs also contributed to the £279 million fall in operating costs, Sky News reports.
Overall letter volume fell by three per cent, but profits from letter delivery increased by one per cent due to increased stamp charges.
In spite of the fall in profits, chief executive Moya Greene said: "I am pleased with our overall performance. We have delivered two per cent revenue growth together with margin expansion, in line with our expectations."
She added that Royal Mail was would work with e-retailers "to be more flexible" and that Royal Mail may accept different types of parcels it had previously declined to deliver.
Greene said that the postal service would introduce later acceptance times and weekend collection to help retailers to deliver goods more quickly.
Michael Hewson of CMC Markets told The Guardian that deliveries are becoming an increasingly difficult market: "The explosion in on-line retailing, click and collect delivery and the use of mobile apps this year is likely to see fierce competition between logistics providers with UK Mail, UPS and Fedex likely to provide plenty of competition, while the recent tie-up between Amazon and Connect Group to provide a 24-hour service for parcel delivery to selected local locations, like underground stations, newsagents and shopping centres, could make a significant dent in Royal Mail's revenue, particularly since Amazon is Royal Mail's largest parcel customer."
Royal Mail shares fell from 477p to 449.45p in the first hour of trading, before recovering slightly to 455.5p by 9.30am.
When the company was privatised just over a year ago shares were sold at 330p each. They peaked at 604.5p in January this year.
Royal Mail shares plummet after parcel revenue warning
22 July
Royal Mail shares have plummeted to their lowest level since the company was privatised in October, following warnings that the parcels revenue for the year would be lower than expected.
The company warned that price changes and competition from its rivals have hit its parcels business, with revenue down one per cent in the three months to 29 June compared to the same period in 2013.
The company said it was still likely to meet expectations for its overall annual performance, with revenues for the overall group climbing two per cent in the last quarter.
Nevertheless, stock dropped by as much as four per cent to 445.1p this morning – its lowest price since Royal Mail was floated in October. Shares were initially sold at 330p but immediately surged to 450p at the start of trading.
The sharp rise was, at the time, dismissed as "froth and speculation" by Business Secretary Vince Cable. He has since accepted demands by the National Audit Office for a review into the government's listing process.
The stock has been steadily declining since a peak of more than 600p in February.
Royal Mail said it had also been hit by the impact of Amazon's move to scrap free delivery on orders below £10 – although the company said it is "fighting back" with measures such as a new Sunday delivery service for online shoppers.
"It appears that the honeymoon period is over for Royal Mail as the realities of its competitive environment intensify," Richard Hunter, head of equities at Hargreaves Lansdown stockbrokers, tells The Guardian.
The Daily Telegraph says small investors "are still in the money after the controversial float, but their potential profits are slowly being whittled away".
A report from the Government's Business, Innovation and Skills Select Committee, published earlier this month, found that taxpayers may have lost out on about £1bn from the undervaluing of Royal Mail.

Continue reading for free
We hope you're enjoying The Week's refreshingly open-minded journalism.
Subscribed to The Week? Register your account with the same email as your subscription.