Star Wars: Rogue One – Felicity Jones 'to return for sequel', Screen Rant says
Entertainment website reports the Rebellion is continuing - but fans should be a little sceptical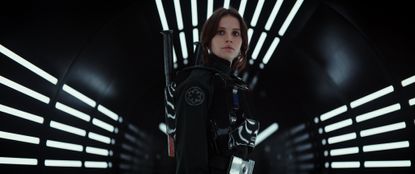 (Image credit: Youtube)
Sign up to our 10 Things You Need to Know Today newsletter
A free daily digest of the biggest news stories of the day - and the best features from our website
Thank you for signing up to TheWeek. You will receive a verification email shortly.
There was a problem. Please refresh the page and try again.
Rogue One: Han Solo will not be in Star Wars spin-off
1 August
Han Solo will not feature in Rogue One: A Star Wars Story, director Gareth Edwards confirmed.
Fanbase rumour had it that a young Solo played by Alden Ehrenreich would have a small cameo in the film, but Edwards told Extra TV: "I'm not sure if I'm allowed to do this, but I think I should - Han Solo's not in the movie. I can put it to bed."
Subscribe to The Week
Escape your echo chamber. Get the facts behind the news, plus analysis from multiple perspectives.
SUBSCRIBE & SAVE
Sign up for The Week's Free Newsletters
From our morning news briefing to a weekly Good News Newsletter, get the best of The Week delivered directly to your inbox.
From our morning news briefing to a weekly Good News Newsletter, get the best of The Week delivered directly to your inbox.
Ehrenreich's appearance at last month's Star Wars Celebration had been seen as proof he would appear in Rogue One. But it appears that was a general photo opportunity for the 26-year-old actor.
Keen nerds have pointed out it would have been tricky for Solo to appear in a film which focuses on the Rebels' theft of the Death Star plans.
But fans can console themselves with the growing speculation that Ehrenreich and Solo will feature in a trilogy of films that'll follow the character through his early days.
Meanwhile, Extra TV has debunked the theory that Star Wars prequel star Hayden Christensen might return as Darth Vader in Rogue One. LucasFilm president Kathleen Kennedy told the channel he would not be in the film.
Rogue One, the first stand-alone Star Wars Anthology film, will be released on 16 December.
After Star Wars: Rogue One, are Boba Fett, Leia and Yoda films on way?
22 July
Rogue One: A Star Wars Story looks set to be an interesting departure from the sci-fi series' usual fare, offering a bleak view of a galaxy at war and the reality of life under the totalitarian rule of the evil Galactic Empire.
The desolate war movie comes out in December – after which, Disney has swash and buckle back on the agenda, with the next spin-off film starring Alden Ehrenreich as a young Han Solo.
But what will come after that?
Star Wars: The Force Awakens director JJ Abrams this week suggested a Knights of Ren film could be a possibility, tracing the origins of Kylo Ren's shadowy gang of malevolent accomplices.
As for other options, a Yoda movie could have legs, says The Guardian. "But only if Disney works out how to reconcile CGI Zebedee Yoda from the prequels (and numerous mobile-phone telly ads) with the wise and honourable, inspired puppet-based version essayed by Frank Oz in the original trilogy. And that's some ask."
There could also be a young Princess Leia adventure featuring "a twentysomething version of the spunky space princess, long before she became too embroiled in galactic politics to get busy with a good old blaster".
Disney has also allowed rumours of a Boba Fett spin-off to circulate in the past, possibly as a way of assessing the level of interest fans have in a whole film centred on the inexplicably popular minor character from the original trilogy.
Star Wars watchers have also speculated about an Obi-Wan Kenobi film.
Regardless, the key to their success will be to ensure the new films don't get "too bogged down" in Star Wars lore and end up boring their audiences like the three prequel films did, the Guardian adds.
Instead they should "focus on giving us rollicking space adventures of the kind we saw in The Force Awakens, and which Lucas was once the master of, a long time ago in a galaxy far, far away … also known as the 70s and 80s".
Star Wars: Rogue One director says Darth Vader will be 'huge presence'
21 July
Darth Vader has so much "gravitational pull" the director of the first Star Wars spin-off had to be careful how much he featured in the new film.
Speaking at the Star Wars Celebration event in London last week, Rogue One: A Star Wars Story director Gareth Edwards said the villain will loom large over the entire picture.
"He's got such a gravitational pull, the second he shows up you just get sucked into Darth Vader," he told the crowd. "So it was a process to try and figure out how to pepper that in in a way that felt right."
Deciding how much to feature the black-clad villain was just one of a number of challenges in directing a Star Wars film, Edwards told Gizmodo, saying a delicate balance is needed between doing something new and respecting the series' past.
"Everyone is making their own movies," he said. "They'll all have their own style and voice…
"[But] it's such a fine line. If you go slightly to the left, it's not 'Star Wars.' It's some other sci-fi movie. If you go slightly to the right, you're just copying what George [Lucas] did.
"Trying to navigate this thing where it's new but feels fresh was the dance that was the process of making the film."
However, even though the villain's presence will be felt throughout the film, it is unclear how much screen time he will actually get, The Guardian says.
"Director Gareth Edwards revealed his inner fanboy leapt for joy when he got to sit in on a recording of James Earl Jones doing Vader's lines for the first time in more than a decade," the paper says. "But there's a sense the powers that be don't want to overhype the shiny chrome cyborg's involvement, so expect an expanded cameo at best."
The real villain of the piece may turn out to be Ben Mendelsohn's Imperial director Orson Krennic, who was given a great deal of stage time at Star Wars Celebration Europe. He entered the event dressed in full costume, and strode to the front of the hall accompanied by a platoon of deathtroopers.
For his part, Mendelsohn has said he has enjoyed playing the bad guy.
"You get to be bad in pretend land and that is a lot of fun," the Australian actor told ABC. "If you think about it, the bad guy tends to be about vengeance."
However, the motivations of the Empire in the Star Wars spin-off are not entirely evil, he adds, rather they are trying to do something good.
"The Empire is trying to bring peace to this troubled galaxy and in fact they've got more claim to it than the rebels when you think about it - we have the system in place."
Rogue One: A Star Wars Story, starring Felicity Jones, Diego Luna, Ben Mendelsohn, Forest Whitaker and Mads Mikkelsen, will be released on 16 December.
Rogue One character profiles offer new plot details
24 June
Key cast and character details have been revealed for the upcoming Star Wars Anthology film Rogue One – but do the profiles hint at yet-to-be-revealed plot details?
Set in the Star Wars universe before the events of Star Wars Episode IV: A New Hope, Rogue One will fill in the story of how the Rebel Alliance got the plans for Death Star, leading up to the events of the original film.
Directed by Gareth Edwards, it is said to set a darker tone than the main episodes. Character and backstory details published on the website Entertainment Weekly, along with first-look pictures, seem to confirm this.
Deathtroopers
Photos on the site reveal the new Imperial soldier classification, the deathtrooper. Clad in sinister, all-black armour, they storm a beautiful beach while hunting down the fragmented Rebel uprising. Another image shows a deathtrooper holding what appears to be a stormtrooper doll. Could this be a link to Rey, who made a similar doll for herself, or a reference to Jyn's childhood?
Jyn Erso
Felicity Jones plays a street-smart young woman captured and recruited by the Rebellion to infiltrate the Empire and secure details of the Death Star. She's pictured in stealth mode, going into deep cover. Fans probably shouldn't get too attached to her, however - Lucasfilm president Kathleen Kennedy described Jyn as an outlaw who "becomes a kind of Joan of Arc in the story." Things didn't end well for Joan.
Galen Erso
Mads Mikkelsen plays Jyn's estranged father, who has arcane scientific knowledge about the forces of the universe that both the Empire and the Rebellion are keen to get their hands on. Lucasfilm isn't revealing his image yet, or the backstory about why he left Jyn on her own.
Krennic
Ben Mendelsohn plays Director Orson Krennic, the head of security for the Death Star project. Krennic is also an arch manipulator within the Empire. His character contrasts with the cooler, icier Imperial officers such as Peter Cushing's Grand Moff Tarkin. "Krennic runs a little hotter than that, so that's kind of fun and it's a little bit different. … He is unpredictable and volatile." Lucasfilm story developer Kiri Hart says.
K-2SO
Alan Tudyk stars as droid K-2SO, who is being billed as "the antithesis of C-3PO". And unlike charming scene-stealer BB-8, this robot is tough and confident and not especially interested in Threepio's polite "human-cyborg relations".
Captain Cassian Andor
Diego Luna plays an experienced, steady-handed rebel officer brought in to guide the volatile Jyn. He's a combat veteran who knows how to execute a raid on the Empire, but might struggle to deal with the young woman's wilful ways.
Bodhi Rook
Riz Ahmed plays the squad's ace lead pilot. He is said to be hot-tempered and unpredictable, but a first-rate flyer. "He tends to be a little tense, a little volatile, but everybody in the group really relies on his technical skills," says Kennedy.
Donnie Yen's Chirrut Imwe and Jiang Wen's Baze Malbus
The former is a blind warrior who, while not a Jedi, follows the way of the Force, enabling him to become a formidable warrior. The latter is his comrade and protector, a hardened soldier who is sceptical about mystical forces and believes more in the power of weapons, but is loyal to his friend.
Vader
Very little news on Sith Lord Darth Vader yet, although he was earlier reported to appear in the film. Original voice actor James Earl Jones, who is 85, will be reprising his doom-laden words, but there's no word on which actor will be filling out his imposing black uniform. Dave Prowse, who first put on the suit, is now 80 and unlikely to return to the role.
Rogue One: A Star Wars Story opens on 16 December in the UK.
Rogue One: Work to begin on Han Solo spin-off after 'crisis' reshoots
7 June
Veteran Star Wars writer Lawrence Kasdan has revealed that work on the franchise's second spin-off film will begin shortly after the reshoots for Rogue One are finished, with filming due to start in London next January.
He also told the Atlanta Business Chronicle that the script has been written and the directors lined up.
"Chris Miller and Phil Lord are going to direct it. They're great, funny and imaginative and we've had a great time together. My son [Jon] and I wrote the script and Chris and Phil are working on it and they're about to move to London to start shooting in January. And it should be fun," he said.
The screenwriter, who was behind some of the most popular and best-regarded Star Wars scripts, including Return of the Jedi and The Force Awakens, is helping to steer the overall story of the latest trilogy.
"[Episode 8 director] Rian [Johnson] is a friend of mine," he said. "I'm getting to know Colin Trevorrow, who is going to direct Episode 9, so I feel very involved with it."
Despite the huge expectation from Star Wars fans, the writer said there was "not that much pressure"
He added: "You don't want to disappoint people. That's all. And you're hoping in the case of the series that it's an instalment that people like, because there are instalments people don't like. So, you want to rectify that."
The Han Solo spin-off is scheduled for release in May 2018, seven months before Episode 9.
Rogue One: Darth Vader horror scene watered down by Disney
3 June
Disney executives have "watered down" scenes from Rogue One: A Star Wars Story, including one where Darth Vader lays waste to an entire Rebel ground squad, according to a Reddit user who says he has had a hand in the spin-off.
Redditor KeepR1Dark made the claim after starting a new thread on which he has purportedly leaked details about the film's plot, characters and casting. He says he decided to answer questions on Rogue One to make Disney back down from the changes it has reportedly ordered.
The user also confirms one of the biggest rumours, saying that Darth Vader does appear in the hotly anticipated film.
"In a night scene Vader absolutely lays waste to a Rebel ground Squad," KeepR1Dark writes. "Unfortunately this is one of the scenes we have to water down. We made it like something from the old slasher/horror films. Rebel soldiers who joked about a boogie man with magical powers and then minutes later are absolutely wasted."
In addition, there will be an appearance from "a huge A lister who has one line but I don't want to spoil it because we're keeping that and it's such an awesome 'what the hell' moment".
Some have speculated this could be Obi Wan Kenobi.
Later in the thread, another Redditor asks whether Disney's claim that the reshoots were simply intended to "take the film from good to great" was merely a smokescreen?
"Yes," KeepR1Dark replies. "They want a movie that kids can watch too because that will net the most money. [Director] Gareth [Edwards] is livid."
Reddit moderators have attempted to verify KeepR1Dark's identity but have so far failed to get the assurances they demand. Consequently, they have posted a note warning caution about the claims. However, Reddit has yet to mark the thread as "fake", leaving open the possibility that KeepR1Dark's assertions may be authentic.
Rogue One: 'Crisis' reshoots will lighten tone of Star Wars spin-off
1 June
Rogue One: A Star Wars Story is reportedly "in crisis", with Disney ordering expensive reshoots of the franchise's first spin-off.
The film, directed by Godzilla's Gareth Edwards and due out at the end of the year, is undergoing a major overhaul as executives were unhappy with the first cut, film website Page Six reports.
"The execs at Disney are not happy with the movie," a Hollywood source told the site. "Rogue One will have to go back into four weeks of expensive reshoots in July."
The new film is set between Star Wars episodes 3 and 4 – Revenge of the Sith and A New Hope - and is expected to feature appearance from Darth Vader and possibly a young Han Solo.
The plot centres on a group of rebel spies who go on a dangerous mission to steal the plans for the Death Star.
Edwards is "well-known as a risk-taking director", says Page Six, but has been ordered to make major changes, despite his attempts to keep studio interference to a minimum.
"Disney won't take a back seat and is demanding changes, as the movie isn't testing well," said the source.
A source close to the company added: "The film-making team and the studio always anticipated additional shooting and second unit work to make the film the absolute best it can be and the actors were aware there would be additional shooting.
"Coming off The Force Awakens, there's an incredibly high bar for this movie and we have a responsibility to the franchise and to the fans to deliver the best possible movie we can."
So what exactly does Disney want to change?
According to the Hollywood Reporter, the reshoots are an effort to lighten the tone of the film.
"The move is happening after execs screened the movie and felt it was tonally off with what a 'classic' Star Wars movie should feel like," the site says. "The goal of the reshoots will be to lighten the mood, bring some levity into the story and restore a sense of fun to the adventure."
The report adds: "While Edwards' first cut was a solid showing, it didn't measure up... 'Anything less than extraordinary won't do,' says a studio insider."
Film and technology site io9 says it is unlikely the film is "in crisis", as some publications, including the New York Post, have suggested and that such reshoots are not uncommon.
In fact, The Force Awakens "did reshoots mere weeks before release", the site says. "Because of that, many believe the Post report was erroneously mixing standard reshoots up with something grander."
Rogue One: A Star Wars Story is due for release on 16 December.
Continue reading for free
We hope you're enjoying The Week's refreshingly open-minded journalism.
Subscribed to The Week? Register your account with the same email as your subscription.