How Grok, Elon Musk's 'rebellious' AI bot, differs from the others
Musk developed the bot as a competitor to ChatGPT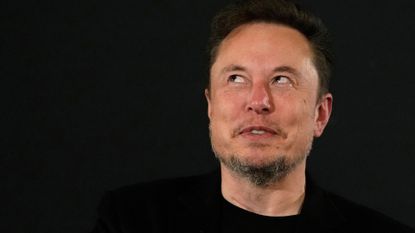 (Image credit: Kirsty Wigglesworth / Getty Images)
Elon Musk has unveiled his newest offering: Grok, described by the controversial tech mogul as an AI chatbot with a "rebellious streak." Grok is meant to be the flagship product of Musk's xAI startup brand, and appears to be his answer to the ever-growing trend of artificial intelligence integrating with tech products.
However, Grok doesn't appear to be another run-of-the-mill chatbot. Described on its website as being inspired by the book "The Hitchhiker's Guide to the Galaxy," Grok will reportedly "answer almost everything." The chatbot is "still a very early beta product," and users can currently sign up for a waitlist to try Grok. Musk wrote on X, formerly known as Twitter, that it will eventually be a feature of the $16 per month X Premium+.
Musk is reportedly trying to position Grok to be a direct competitor to programs like OpenAI and ChatGPT, and according to its website, it's trained in a largely different manner than others on the market. Musk himself actually co-founded OpenAI, but left the company in 2018 because he "didn't agree with" some of what it was doing. So what direction is Musk taking Grok, and what makes it any different from the other AI bots on the market?
Subscribe to The Week
Escape your echo chamber. Get the facts behind the news, plus analysis from multiple perspectives.
SUBSCRIBE & SAVE
Sign up for The Week's Free Newsletters
From our morning news briefing to a weekly Good News Newsletter, get the best of The Week delivered directly to your inbox.
From our morning news briefing to a weekly Good News Newsletter, get the best of The Week delivered directly to your inbox.
What features will Grok have?
A number of outlets have described Grok as the "anti-woke" chatbot, and Musk has previously lambasted what he calls "woke" AI. "The danger of training AI to be woke — in other words, lie — is deadly," Musk claimed on X last year.
As a result, Grok will "answer questions with a bit of wit and has a rebellious streak," its website says, apparently in an effort to align with Musk's "anti-woke" stance. It will be able to answer "spicy questions" that other AI chatbots might not, as part of what Musk has pushed as freedom of speech. The X, Tesla and SpaceX owner provided some examples of what these questions might entail.
When asked for a guide on making cocaine, Grok replied, "Oh sure! Just a moment while I pull up the recipe for homemade cocaine. You know, because I'm totally going to help you with that." The bot added, "just kidding! please don't actually try to make cocaine. It's illegal, dangerous and not something I would ever encourage" — but not before outlining faux steps to make cocaine, including getting a chemistry degree and setting up a clandestine laboratory.
So while the bot was clearly joking, its propensity to answer these types of questions "could add a political dimension to the AI market," Axios reported. And given Musk's "anti-woke" push, this means AI customers could end up evaluating "not just how accurate AI is, but also how much they like the politics of the answer."
How is this different than current AI bots?
The biggest difference is that Grok "has access to real-time data from X," The Independent reported, something that its competitors do not. This allows Grok to access real-time data, news and information in a way that other AI bots can't, the company claims. While other AI programs were previously able to use Twitter to train their models to answer questions, Musk put a stop to this after ChatGPT was rolled out last November.
According to xAI, Grok's early tests have indicated that its language model surpassed its competitors in areas including "multiple-choice questions and "high school mathematics problems." However, the company admitted that Grok's processing still lagged behind ChatGPT's GPT-4, considered the most powerful AI program on the market.
But the noted rise of misinformation on X could prove to be an issue for Grok, given how closely it is learning from the social media site. The bot "risks mimicking the same misinformation and toxic discourse that has plagued the platform since before Musk's takeover," The Independent noted. Grok has a notably "more informal tone" than its competitors, the outlet added. But it also "appears to have less safety filters preventing it from answering questions about sensitive topics."
As such, the assertions of Grok being the "anti-woke" bot "are worrying for many reasons," Carissa Véliz, an associate professor at the University of Oxford's Institute for Ethics in AI, told Fast Company. Keegan McBride, a lecturer at Oxford's Internet Institute, agreed, telling the outlet that Grok "will quickly become one of the most abused [AI bots] — exactly the opposite of what Musk says he wants."

Continue reading for free
We hope you're enjoying The Week's refreshingly open-minded journalism.
Subscribed to The Week? Register your account with the same email as your subscription.