Chelsea Manning to be released early by Barack Obama
US army whistleblower will leave prison in May, after seven years behind bars for passing confidential documents to WikiLeaks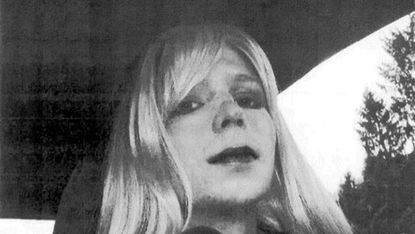 (Image credit: AP2013)
Sign up to our 10 Things You Need to Know Today newsletter
A free daily digest of the biggest news stories of the day - and the best features from our website
Thank you for signing up to TheWeek. You will receive a verification email shortly.
There was a problem. Please refresh the page and try again.
Bradley Manning: 'overzealous' prosecution backfired on US
22 August 2013
Bradley Manning, the soldier jailed for 35 years for passing thousands of classified documents to WikiLeaks, will ask President Obama to pardon him, The Guardian says.
Manning was given a 35-year jail term yesterday by a military judge, but told he would be eligible for parole after serving one-third of the sentence. The 25-year-old, who will be given a dishonourable discharge from the army, will send a "personal plea" to the US president next week, the paper says.
Subscribe to The Week
Escape your echo chamber. Get the facts behind the news, plus analysis from multiple perspectives.
SUBSCRIBE & SAVE
Sign up for The Week's Free Newsletters
From our morning news briefing to a weekly Good News Newsletter, get the best of The Week delivered directly to your inbox.
From our morning news briefing to a weekly Good News Newsletter, get the best of The Week delivered directly to your inbox.
Commentators said the sentence imposed on Manning was harsh, despite the fact it was considerably lower than the 60-year term sought by prosecutors. The soldier's legal team said that taking into account the time he has already served, he will be eligible for parole in around seven years. That means he could be released under parole as soon as 2021.
But not everyone thinks Manning will get bail. Gary Myers, a lawyer who has represented several high-profile military defendants, told the Washington Times that the young soldier was unlikely to be granted bail "because of the very serious nature of the offence."
"This man is going to leave prison in his 40s with his youth spent in jail, and I think that is appropriate," Myers said.Ben Wizner, director of the American Civil Liberties Union's Speech, Privacy and Technology Project, told the Washington Post the sentence was a "sad day" for both Manning and Americans who "depend on brave whistleblowers and a free press for a fully informed public debate".
"When a soldier who shared information with the press and public is punished far more harshly than others who tortured prisoners and killed civilians, something is seriously wrong with our justice system," said Wizner referring to the jail terms given to military personnel convicted of torturing prisoners at Iraq's Abu Ghraib prison.
The Washington Post says the hefty sentence imposed on Manning "is likely to hearten national security officials" rattled by subsequent leaks by Edward Snowden. It believes the jail term may encourage the US to bring charges against WikiLeaks founder Julian Assange, "the man who was instrumental in the publication of the documents".
But writing in Time magazine, Denver Nicks takes a different view. He suggests the sentence imposed on Manning by judge Denise Lind is proof the military's "overzealous" prosecution of the whistleblower backfired.
Nicks points out that the judge has imposed a jail term that is only ten years more than Manning offered to serve in a plea deal as the trial began. "When compared with the hysteria that characterised the official response to Manning's leaks three years ago, a sentence of 35 years with a chance at parole and perhaps credit for time served begins to look rather tame," writes Nicks.
It could be argued that the military went in hard against Manning, he says, because it wanted to deter other service personnel from leaking secrets. If that was its aim, it has failed. Edward Snowden, whose NSA leaks have spurred a fierce national debate about the ballooning surveillance state, has called Manning a "classic whistleblower" and apparently studied Manning's mistakes so as not to repeat them, writes Nicks.
Bradley Manning gets 35 years but could be up for parole in eight
21 August 2013
Bradley Manning, the soldier who passed more than 700,000 classified documents to WikiLeaks, has been sentenced to 35 years in jail.
He will become eligible for parole once he has served a third of his sentence, the Washington Post reports. Because the three-and-a-half years he has already spent incarcerated count towards the sentence, it means he could get parole eight years from now.
The 25-year-old had faced up to 90 years after he was convicted last month of multiple charges, including violations of the Espionage Act, for copying and disseminating the documents while serving as an intelligence analyst at a forward operating base in Iraq.
The sentence imposed on Manning by army colonel Denise Lind is substantially less than the 60-year term demanded by the prosecution. During the sentencing hearing, military prosecutor Captain Joe Morrow said the court needed to "send a message to any soldier contemplating stealing classified information".
However, 35 years was seen as unduly harsh by many observers. As The Guardian reports, it is easily the heaviest sentence ever handed down to a US government leaker
Under military law, Col Lind was not obliged to explain her sentence.
Manning will be dishonourably discharged from the US Army but will serve his sentence in a military prison. He will be 'credited' with 1,293 days for the time he has been imprisoned prior to the sentence.
It is thought the sentence will be subject to an immediate appeal by Manning's lawyers, while Amnesty International has quickly called on President Obama to commute it.
"Bradley Manning should be shown clemency in recognition of his motives for acting as he did, the treatment he endured in his early pre-trial detention, and the due process shortcomings during his trial," AI's Widney Brown said. "The president doesn't need to wait for this sentence to be appealed to commute it; he can and should do so right now."
Glenn Greenwald, the journalist who has published a series of stories in The Guardian based on leaked documents from another whistleblower, Edward Snowden, called Manning's sentence "sick, sad and pathetic".
Julian Assange: Manning's apology 'extracted by force'
15 August 2013
Julian Assange says Bradley Manning's apology to the military court that has convicted him of charges including espionage was "extracted by force".
Manning, the 25-year-old soldier who triggered the biggest intelligence breach in US history by passing thousands of classified documents to Wikileaks, surprised many yesterday by expressing his profound regret at a sentencing hearing in Fort Meade, Maryland.
The slight, bespectacled soldier apologised for hurting America and said he had mistakenly believed he could change the world for the better.
"How on earth could I… think I could have changed the world?" he said. "When I made these decisions I believed I was going to help people, not hurt people."
"I want to go forward," he added. "I understand I must pay the price."
In a statement posted on the Wikileaks website, Assange said Manning's apology is "a statement extorted from him under the overbearing weight of the United States military justice system".
Assange continued: "It took three years and millions of dollars to extract two minutes of tactical remorse from this brave soldier. Bradley Manning's apology was extracted by force, but in a just court the US government would be apologizing to Bradley Manning. He remains a symbol of courage and humanitarian resistance."
Manning told the hearing his actions were influenced by the fact he was "dealing with a lot of issues, issues that are ongoing." He was referring to his sexuality and gender identity which were discussed by an army psychologist at yesterday's hearing.
The psychologist revealed that Manning had emailed him a photograph of himself wearing a blond wig and lipstick. The picture was accompanied by a letter headed "My problem", explaining how the 25-year-old had hoped a military career would "get rid of" his identity issues.
Manning's apology will disappoint the "thousands of supporters around the world, who believe he undertook a courageous act of whistleblowing because his conscience demanded it," The Guardian says.
The BBC's Tara McKelvey says Manning – who has been convicted of 20 charges including espionage, theft and violating computer regulations – appears to see himself as a confused junior soldier who was way out of his depth. He read his carefully-prepared statement hastily and wore an anxious expression throughout the hearing.
While Manning has been acquitted of the most serious charge he faced – aiding the enemy – he still faces up to 90 years in jail when he is sentenced next week.
Bradley Manning verdict sparks attacks on Obama
31 July 2013
Bradley Manning, the US army private who admitted leaking hundreds of thousands of diplomatic cables and other secret documents onto the internet, was yesterday found guilty of espionage, theft and computer fraud.
While he may still spend the rest of his life behind bars, the 25-year-old was acquitted of the more serious charge of 'aiding the enemy' by the military court-martial which has considered his case for the past eight weeks.
The LA Times says Manning could receive a 136-year sentence even though judge Colonel Denise Lind agreed with the defence that he did not understand the full danger his leaks posed to national security.
The verdict will still "invigorate the Obama administration's crackdown on unauthorised leaks", says the newspaper. So Manning's sentence, when it is finally delivered, will be "crucial" for "other future government leakers".
Elizabeth Goitein, of the Brennan Center for Justice, told the LA Times that despite the 'aiding the enemy' acquittal, this was a historic verdict. Manning is only the second person ever convicted under the Espionage Act for leaking to the media, and the other defendant was pardoned.
"Despite the lack of any evidence that he intended any harm to the United States, Manning faces decades in prison. That's a very scary precedent," she added.
For The Week online, Charles Laurence agrees. Manning is the victim of a "bullying, over-reaching American government which has lost its moral compass". He points out that Obama's administration has so far mounted seven prosecutions of 'whistleblowers' involving espionage charges "compared to the three mounted by all previousadministrations since George Washington".
Laurence writes: "Leaking government information is now espionage. It could hardly be clearer that today's Washington is very afraid of the speed and power of the internet and the modern media, and is determined to do anything it must to pull the curtains on its own doings."
The Washington Post says Manning's conviction "makes it increasingly likely that the US will prosecute WikiLeaksfounder Julian Assange as a co-conspirator". (They will have to catch him first: Assange remains in the Ecuadorian embassy in London, where he sought asylum more than a year ago.)
The Post also quotes Daniel Ellsberg, whose 1971 leak of classified material about the Vietnam war is seen as a historic precedent for modern whistleblowing. Ellsberg is less worried than Laurence, seeing the failure to convict Manning of 'aiding the enemy' as American democracy dodging a bullet.
However, an editorial in the New York Times says the trial has uncovered "a national-security apparatus that has metastasized into a vast and largely unchecked exercise of government secrecy and the overzealous prosecution of those who breach it".
While "Americans accept that material must be classified in the interest of national security", says the paper, some of the information Manning leaked "real value for the public", whose acceptance of secrecy is "severely tested when the government classifies more than 92 million documents in a year".
The government should "satisfy itself with a more moderate sentence" for Manning, who has already been held "without trial for three years -- nine months of which amounted to punitive and abusive solitary confinement" -- and then "do something about its addiction to secrecy".
Back in the UK, The Guardian brings word from Assange, at one time a contributor to the paper before he lost confidence in its journalism, from his diplomatic sanctuary.
Assange told AP that Manning was a "hero" whose disclosures had helped spark the Arab Spring. "This was never a fair trial," he said. "WikiLeaks will not rest until he is free."
Bradley Manning verdict today: six questions answered
30 July 2013
At an army base in Maryland today, Private Bradley Manning will almost certainly be found guilty of passing hundreds of thousands of US state secrets to WikiLeaks. The 25-year-old, who has admitted several of the charges, could spend the rest of his life in prison.
Manning's trial is a military one. The court-martial which began in early June, more than three years after he was first arrested. He was identified as the source of WikiLeaks's vast archive of diplomatic cables and other material after confessing online to hacker Adrian Lamo.
When will we hear the verdict?
The military judge, Colonel Denise Lind, has already reached her verdict after closing arguments last week painted Manning as either a self-promoting traitor or a well-intentioned naïf, says the New York Times. She will announce it at 1pm US time, 6pm GMT.
Why is there no jury?
Manning has chosen to put his fate in the hands of one judge, rather than the military equivalent of a jury, a panel of his peers. This is a "big legal gamble", says The Guardian - and we will have to wait for the verdict to find out if it paid off.
How long might he spend in jail?
Manning faces 22 charges. He has pleaded guilty to a less serious version of ten of these - and could face up to 20 years in jail for that. But he is also accused of 'aiding the enemy'. If he's convicted on that basis, Manning could face life without parole.
What is the 'aiding the enemy' charge?
'Aiding the enemy' has been used in the past against US combatants who gave information when captured. Manning is not alleged to have passed data directly to al-Qaeda. But the prosecution has argued he knew the cables would help the terrorist organisation.
Is there a precedent for this?
The prosecution has cited an 1863 civil war case, says the Washington Post, when Union soldier Henry Vanderwater was convicted of aiding the enemy by giving a command roster to a newspaper, which published it. The defence has argued that that case involved coded messages disguised as advertisements in the newspaper.
What could the wider impact of the verdict be?
US civil rights campaigners worry that a conviction could discourage legitimate whistleblowers in the future. For the Washington Post, Brian Fung argues that this is an important test case, the first time under the Obama administration that a judge has ruled on a case under the Espionage Act. "The outcome of Manning's case will affect how leakers are treated in the future, and could even affect the legal status of future journalists," says Fung.
Bradley Manning: I wanted to spark debate about cost of war
1 March 2013
Bradley Manning, the US army private accused of the biggest leak of classified material in America's history, pleaded guilty to 10 out of 22 charges yesterday, saying he was attempting to spark a national debate about the "true costs of war".
In a pre-trial hearing at a military court in Fort Meade, Maryland, Manning said he believed the leaked material would lead to questions about "foreign policy in relation to Iraq and Afghanistan".
His admission of guilt was "highly unusual", The Guardian notes, as it was not part of a plea bargain with prosecutors. Although the 10 charges he admitted carry up to 20 years in prison. Manning, 25, may still be prosecuted on the most serious charge, aiding the enemy, which he denies but which could bring a life sentence.
The Washington Post reports Manning spoke "calmly and quietly" as he explained his motivation for the leak, which included videos of airstrikes in Iraq and Afghanistan that killed civilians, logs of military incident reports, and 250,000 diplomatic cables. He downloaded the information in what The Guardian describes as a "good housekeeping" measure but decided to take the files back with him when he went on leave from his post in Iraq to stay with his aunt in Maryland in January 2010.
"The more I read the cables, the more I came to the conclusion that this type of information should become public," he said in a lengthy statement to the court. "I believed the public release of these cables would not damage the United States. However, I did believe the release of the cables might be embarrassing."
Manning first tried to interest journalists from The New York Times and Washington Post in the documents before deciding to release them to Wikileaks. He uploaded the information to Julian Assange's anti-privacy site using an internet connection in a shop as the broadband in his aunt's house was down. He told the court he took "full responsibility" for his actions. His full trial is scheduled to begin on 3 June.
Continue reading for free
We hope you're enjoying The Week's refreshingly open-minded journalism.
Subscribed to The Week? Register your account with the same email as your subscription.
Sign up to our 10 Things You Need to Know Today newsletter
A free daily digest of the biggest news stories of the day - and the best features from our website