Chef Nobu Matsuhisa and sake master Fumio Hazu: 30 years at the top
The famed restaurateur on simplicity, living in the moment and his long collaboration with the owner of Hokusetsu Sake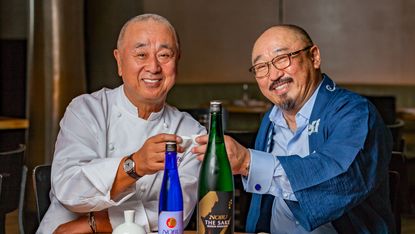 (Image credit: Copyright:)
Like Heston, Nigella and Jamie, Nobu Matsuhisa is one of a handful of celebrity chefs known by just one name.
Part of that recognition is due to his longevity – Nobu opened his first restaurant in California in January 1987; and part of it is due to his reach – he now runs 49 restaurants over 5 continents, in 44 cities and 24 countries.
Throughout his thirty-something-year career, one constant has been his collaboration with sake master Fumio Hazu. And to celebrate their long friendship, the pair recently got together for two exclusive suppers at Nobu Shoreditch and Nobu Berkeley Street, which featured a tasting menu by Nobu with a selection of sakes from Fumio's 140-year-old Hokusetsu Brewery in Japan.
Subscribe to The Week
Escape your echo chamber. Get the facts behind the news, plus analysis from multiple perspectives.
SUBSCRIBE & SAVE
Sign up for The Week's Free Newsletters
From our morning news briefing to a weekly Good News Newsletter, get the best of The Week delivered directly to your inbox.
From our morning news briefing to a weekly Good News Newsletter, get the best of The Week delivered directly to your inbox.
After the event, The Week Portfolio caught up with Nobu to discuss the partnership what he has learnt from 30 years at the top.
How did your collaboration with Fumio Hazu first come about 30 years ago?
It was actually a happy coincidence – back in 1987 one of my friends introduced me to Hokusetsu sake when he brought me a bottle to Matsuhisa Beverly Hills. I was immediately taken by the quality and purity of this particular sake.
It was like nothing I'd tried before, as perfect served cold as served warm, which is the sign of a truly good sake. I wanted to meet with Hazu and when we did, we immediately got on.
It was a meeting of minds – we share the same philosophy and passion for high-quality product and are always trying to take things to that next level. I took the opportunity to ask for an exclusive deal, as I knew that customers of Nobu restaurants around the world know their sake well and would be equally excited by the exquisite quality of this sake.
To this day, no other kind of sake is poured in Nobu restaurants around the world and we're the only restaurant in the world to serve this rare selection of sakes from Hokusetsu Brewery. It's a real bonus that Hazu and I have become really good friends over the years; I'm truly proud to introduce his sakes to the world via our 49 restaurants and it's been great having him join me at our Oma-Sake dinners these past couple of months, where we specially paired each course to different Hokusetsu sake in bespoke tasting menus, in New York, Tokyo, Hong Kong, Greece, Australia, and most recently at Nobu Shoreditch and Nobu Berkeley Street.
You paired Fumio's sakes with dishes of your own during this dinner series. Sake obviously matches well with Japanese food, but which other cuisines does it match with?
I think of sake as the drink of Japan, just at the drink of Scotland is scotch, America's is bourbon, and France's is wine – it's quite simply a culture drink.Sake is made out of good quality rice, and rice is integrally linked with the Asian culture. However, in the last 25 years, the quality of sake has really developed. Some of today's sakes are closer to wines, and it is these sakes which I think pair nicely with Western food and have led to more Western chefs pairing sake with their native food – namely oysters, cheese, cured meats and calamari.
It all comes down to the acidity and lightness of the sake in question: more acidic varieties work well with oily foods like tempura or baked fish; less acidic ones can be matched with foods that have a soft texture; crisper versions sit well alongside more assertive flavours like light spice and pepper; and sakes with earthier notes can be a great accompaniment to meat and poultry.
Some of your dishes, such as your black cod, have become world famous in their own right. Are you happy about the popularity of your signature menu items or do they come to stifle your ability to innovate?
I am humbled by the fact that some of our dishes like the miso black cod have remained a staple over the years – guest experience is really important to me, and they love it, especially our most loyal customers. Apart from these signature dishes though, I'm keen to always keep the rest of menu moving and evolving so we have two sides to the menu – Nobu 'classics' and Nobu 'now'.
We also change our menus from city to city, based on what's in season and can be sought out locally, for example we work with Dover sole and locally-sourced langoustines at our London restaurants. As I travel almost ten months a year, I'm always learning of new techniques and ingredients which continue to inspire new dishes.
You have spoken in the past about the fact that people like "simple food". Is that true of you too?
I try to keep everything as uncomplicated as possible, from my food to my spare time – I owe this to my Japanese roots. I grew up on simple food and love tasting the flavours of the original product, showcasing its freshness – not working the ingredients too hard or using complicated techniques. It's good to keep things refined, healthy and let quality sing.
Simple food brings a smile to my face, and my customers' faces – and begs to be shared with loved ones. Even in my own time, when I go home, I like to hide away and relax with a book, play a bit of golf, enjoy my wife's cooking. I love taking a hot spring bath before bed and sleeping eight hours straight – life really is all about the simple pleasures!
If you could no longer pair Japanese flavours with Peruvian ones, which other culinary traditions would you be interested in exploring?
I'm always open to exploring new flavours, but the ones that immediately come to mind are Italian and Chinese cuisine as I'm most familiar with them.
And finally, last year, after World of Nobu came out, you said that you won't be publishing any more cookbooks. What will you be working on instead in the years to come and what continues to excite and inspire you?
I generally like to live in the moment as you never know what is around the next bend, but what I do know is that cooking is my whole life and I love seeing customers at Nobu restaurants all over the world eating, drinking, smiling and laughing.
I'd love to continue bringing people joy through simple cooking that comes from the heart, as well as being there to support my staff and see them grow. I'm a strong believer that those who keep working hard to increase the quality of their offering, and let things grow organically, will naturally have opportunities come to them.
In the immediate future, we do have a couple of exciting openings in the pipeline for this year, in Barcelona, Mexico and Chicago, and I'm also looking forward to seeing the results of our very special 'Tastemakers' dinner at Nobu Berkeley Street in March. With guest experience being at the core of what we do around the world, this will be an intimate event where members of the public can sample and choose the dishes which make it on to our April Omakase menu; if it's a success, we'll look to roll it out as a concept across our other London restaurants which is exciting.
For more, visit noburestaurants.com

Continue reading for free
We hope you're enjoying The Week's refreshingly open-minded journalism.
Subscribed to The Week? Register your account with the same email as your subscription.