Five famous 'curses' and why people believe them
From vengeful Ancient Egyptian kings to reality TV stars' marriage break-ups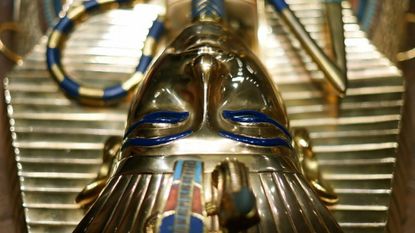 Bizarre or downright spooky occurrences that appear to reveal inexplicable correlations between seemingly unrelated events have fascinated people for centuries.
These so-called curses are a curious facet of popular culture and have been applied to everything from Strictly Come Dancing to Ancient Egyptian monarchs.
"Most people these days surely don't believe in supernatural curses," write psychology academics Ken Drinkwater and Neil Dagnall in an article on The Conversation. "But their prevalence in the media suggests that they still have a hold on psyches, and that a good amount of people still pay credence to them."
Subscribe to The Week
Escape your echo chamber. Get the facts behind the news, plus analysis from multiple perspectives.
SUBSCRIBE & SAVE
Sign up for The Week's Free Newsletters
From our morning news briefing to a weekly Good News Newsletter, get the best of The Week delivered directly to your inbox.
From our morning news briefing to a weekly Good News Newsletter, get the best of The Week delivered directly to your inbox.
Indeed, even while science indicates that these famous curses are nothing more than coincidence, many still believe that something bigger is at play. Here are five of the most famous curses from history and why we might believe them:
The Kennedy Curse
Arguably the most famous pop culture curse of them all, the Kennedy Curse is alleged to have plagued the famous American family for decades.
Since the 1940s, a wildly disproportionate number of Kennedys have been killed or died prematurely and, as HowStuffWorks notes, the "number of Kennedy family tragedies have led some to believe there must be a curse on the whole bunch".
The curse began in 1944, when John F. Kennedy's brother, Joseph Jr, died in a plane crash while fighting in the Second World War. Their sister Kathleen was killed in a plane crash four years later.
In 1963, while serving as America's 35th president, J.F.K. was assassinated at the age of 46. His younger brother, New York Senator Robert Kennedy, was also assassinated, in 1968.
The following year Senator Ted Kennedy, the youngest of the Kennedy brothers, was involved in a car crash in which his passenger, Mary Jo Kopechne, died.
And the curse didn't end in the 1960s.
Robert Kennedy's son David died aged 28 of a drug overdose in 1984. Another of the senator's sons, Michael, died in a skiing accident in 1997. He was 39.
In 1999, J.F.K.'s son John Jr died aged 38 when the plane he was piloting crashed into the Atlantic Ocean off the coast of Martha's Vineyard. His wife and sister-in-law were also killed.
More recently, Ted Kennedy's daughter Kara Kennedy died of a heart attack while exercising aged 51 in 2011.
And in August this year, Saoirse Roisin Kennedy Hill, the 22-year-old granddaughter of Robert Kennedy, was found dead of a suspected drug overdose.
Tutankhamun
According to History.com, historical records state that the stone guarding the tomb of Ancient Egyptian pharaoh Tutankhamun had read "Death Shall Come on Swift Wings to Him Who Disturbs the Peace of the King".
The site continues: "Indeed, after Egyptologists Howard Carter and Lord Carnarvon opened his tomb in 1922, strange deaths occurred to many involved in the project."
Within just four months of opening the tomb, Lord Carnarvon died from an infected mosquito bite, with his dog dying mysteriously shortly after. Woolf Joel, a South African millionaire, was murdered a few months after his visit to the tomb, while A.C. Mace, a member of Carter's archaeological team, was killed by arsenic poisoning.
Although rumours of a curse began to surface after the death of financier George Jay Gould I - who died prematurely of a fever six months after visiting the tomb - History.com notes that it is "still important to remember that Carter lived until 1939", dying at the age of 64.
The 27 Club
Owing to a mix of youth and the rock-star lifestyle, this one is probably slightly easier to explain. The theory states that a disproportionate number of famous musicians have died at the age of 27.
Blues musician Robert Johnson, famed for playing the guitar so well that some said he must have made a deal with the devil, appears to be the source of this curse, dying mysteriously at the age of 27 in 1938.
And where Johnson went, a number of other prodigious musicians have followed. Brian Jones, founding member of the Rolling Stones, died at 27 in 1969, while 1970 saw both Jimi Hendrix and Janis Joplin die at 27, with Jim Morrison the year after.
The curse took something of a break until Kurt Cobain's death in 1994 and Amy Winehouse's in 2011.
However, it should probably go without saying that there have been plenty of virtuoso musicians who haven't died at the age of 27.
Strictly Come Dancing
This ongoing curse centres on the theory that several celebrity contestants on the BBC reality show Strictly Come Dancing have ended up dating their dance partner, despite one or both of them being with other people at the start of the series, with most of them denying having an overlapping affair.
Earlier this year, comedian Seann Walsh and his professional dance partner Katya Jones were forced to issue an apology after photographs emerged showing them kissing during a night out. Walsh, who was in a relationship at the time, described their smooch as a "drunken mistake", while Jones insisted it was not a reflection of her marriage to fellow Strictly dancer Neil.
Previously, boxer Joe Calzaghe broke up with his girlfriend of five years during the first week of Strictly training in 2009, and later dated his dance partner Kristina Rihanoff for four years. Rihanoff then ended up with rugby star Ben Cohen after they partnered up for the 2013 show.
That same year Countdown mathematician Rachel Riley split from her husband a few months after competing in the dance contest, and later dated her dance partner Pasha Kovalev.
The Bermuda Triangle
According to legend, this small patch of the Atlantic Ocean north of the Caribbean has supposedly caused the demise of countless ships and planes that have passed through it.
Situated between Bermuda to the north, Puerto Rico to the south and Florida to the west, an average of four planes and 20 boats are said to vanish in the zone every year, says The Sun, leaving no trace behind.
The first reported incident in the region happened in 1945, when five torpedo bombers carrying 14 men disappeared while flying over the Triangle. "Not only were they never found, but the search airplane sent to find them also went missing, as did the 13 men it was carrying," History.com says.
As the Daily Mail says: "From sub-sea pyramids to hexagonal clouds and alien bases, scientists and conspiracy theorist alike have drummed up every imaginable scenario over the years to explain the mysterious disappearances in the Bermuda Triangle."
More recently, one scientist has suggested that rogue waves could be to blame.
So why do we believe them?
One reason curses are so famous - if not actually widely believed - could be that humans seek to rationalise events or perceived patterns that are inherently indecipherable using logic.
"From a scientific perspective, curses have rational explanations," Drinkwater and Dagnall write in The Conversation. According to them, the endorsement of curses may "stem from the desire to make sense of the world; ascribe meaning to chaos.
"Why do people sometimes see faces in clouds or Jesus in their toast? We have a tendency to find meaningful patterns in meaningless noise: which some call apophenia and others patternicity," they add.
"In the case of curses, this can cause people to see links between random events and wrongly attribute misfortune and bad luck to a magical hex rather than factors such as chance and human error."
This is a sentiment frequently echoed by experts. "In the absence of perceived control, people become susceptible to detecting patterns in an effort to regain some sense of organisation," says experimental psychologist Bruce Hood in Psychology Today.
Anthropologist Stewart Guthrie adds in the piece by Lawrence R. Samuel: "Perceptually, the world is chronically ambiguous and requires an interpretation."

Continue reading for free
We hope you're enjoying The Week's refreshingly open-minded journalism.
Subscribed to The Week? Register your account with the same email as your subscription.