Are left-handed people genetically smarter?
Variants in newly identified gene show differences in brain structure which could result in better verbal skills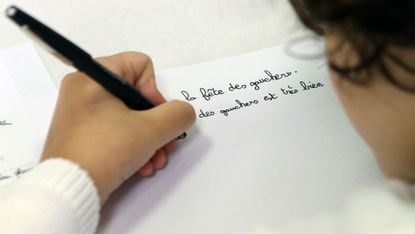 (Image credit: Diarmid Courreges/AFP/Getty Images)
Scientists have identified the genetic difference associated with left-handedness, which might lead to left-handed people having better verbal skills than the right-handed majority, but also a higher likelihood of developing schizophrenia.
Studies on twins have already revealed genetics - the DNA inherited from parents - has some role to play in which hand is dominant, but now a new DNA study of 400,000 people, conducted by the University of Oxford and published in the journal Brain, is the first to identify which genetic variants separate lefties from righties.
"Being left-handed has often led to a raw deal," says BBC health and science correspondent James Gallagher.
Subscribe to The Week
Escape your echo chamber. Get the facts behind the news, plus analysis from multiple perspectives.
SUBSCRIBE & SAVE
Sign up for The Week's Free Newsletters
From our morning news briefing to a weekly Good News Newsletter, get the best of The Week delivered directly to your inbox.
From our morning news briefing to a weekly Good News Newsletter, get the best of The Week delivered directly to your inbox.
"In many cultures being left handed is seen as being unlucky or malicious and that is reflected in language," said Professor Dominic Furniss, a hand surgeon at Oxford's Nuffield Department of Orthopaedics, Rheumatology, and Musculoskeletal Science. and author on the report. In French, "gauche" can mean "left" or "clumsy". In English, "right" also means "to be right".
In fact, the trait, found in 10% of the human population, results in differences in brain structure that could suggest a potential correlation between left-handedness and superior verbal skills, said Akira Wiberg from Oxford University who worked on the study.
"This raises the intriguing possibility for future research that left-handers might have an advantage when it comes to performing verbal tasks," he said, although he stressed "it must be remembered that these differences were only seen as averages over very large numbers of people and not all left-handers will be similar".
Douaud told CNN, the research indicated that in left-handed people, "the left and right sides of the brain communicate in a more coordinated way", meaning there is a higher synchronisation of the natural oscillations of your brain particularly in the regions dedicated to language.
"One of the most remarkable features of human motor control is that 90% of the population has had a preference for using their right hand over the left since at least the Paleolithic period, and this skew in distribution of handedness is a uniquely human trait," write the authors in Brain.
They go on to say that "it is widely believed that the lateralisation of language in the left hemisphere accounts for the evolution of right-handedness in the majority of humans".
The research also seems to support well-established associations between left-handedness and several neurodevelopmental disorders; in particular, the likelihood of developing schizophrenia or Parkinson's disease.
"It has long been known that there are slightly more left-handers among patients with schizophrenia than the general population. By contrast, there are slightly fewer left-handers with Parkinson's disease than the general population", says Furniss.
The new research, Furniss said, "suggests that these diseases, along with handedness, are the product of fundamental differences in brain development, some of which is driven by genes."
Yet this is far from the full story says the BBC.
"The best guess is handedness is 25% genetic and 75% down to the environment (anything that's not in the genes). Yet this study has found only the first 1% of that genetic component and only in a British population," writes Gallagher.
"So, much more work is needed to understand the genetic component of handedness in people across the globe, never mind what the huge environmental effects are, and then piece together how those elements result in people being either left or right handed," he adds.

Continue reading for free
We hope you're enjoying The Week's refreshingly open-minded journalism.
Subscribed to The Week? Register your account with the same email as your subscription.