Canada election 2019: who will win on Monday?
PM Justin Trudeau faces uphill battle to secure a second term in office as polling day looms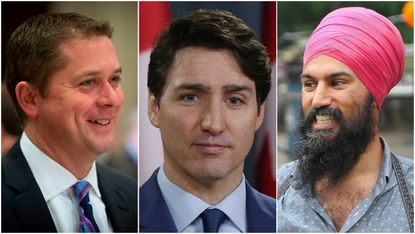 (Image credit: Getty Images)
Canada's Prime Minister Justin Trudeau is making a last-ditch bid to secure a second term by winning over voters before they head to the polls next week.
Following a bruising six-week campaign period that has been "light on policy and heavy on personality", says CNBC, opinion polls show the Liberal PM neck-and-neck with his Conservative rival Andrew Scheer.
Trudeau swept to power in 2015 on a wave of youthful optimism but has seen his popularity fade in the wake of a blackface scandal and a surge in right-wing sentiment.
Subscribe to The Week
Escape your echo chamber. Get the facts behind the news, plus analysis from multiple perspectives.
SUBSCRIBE & SAVE
Sign up for The Week's Free Newsletters
From our morning news briefing to a weekly Good News Newsletter, get the best of The Week delivered directly to your inbox.
From our morning news briefing to a weekly Good News Newsletter, get the best of The Week delivered directly to your inbox.
Six parties will take part in the election, on Monday, which looks set to expose growing racial tensions within a country that has traditionally been viewed as an icon of multiculturalism and racial harmony.
"Most notably, the small far-right People's Party of Canada (PPC) of former cabinet minister Maxime Bernier wants to slash immigration level" and has frequently "cited concerns about whether immigrants are aligning with 'Canadian Values'", says Reuters.
Along with the left-wing New Democratic Party (NDP), the Green Party and federal party Bloc Quebecois, the PPC is gaining ground on the Liberals and Conservatives, leaving both of the main parties unlikely to secure a majority. The growing chasm between left and right in Canada - along with Trudeau's blackface scandal - "has led some observers to predict there will be lasting social problems after the election", the news agency adds.
Balpreet Singh, legal counsel for the World Sikh Organization of Canada, said: "I think this is a turning point for Canada. Race is finally an issue here and how we deal with it as a country at the political level, at the social level is going to determine a lot of things going forward."
So who are Canadians likely to choose to be their next leader?
What has happened to Justin Trudeau?
Canada's electoral system is similar to that in the UK, with federal elections consisting of 338 separate parliamentary contests. The party with a majority of seats is subsequently invited to form a federal government.
Polls suggest Trudeau could struggle to secure a majority in the upcoming election, after a series of troubling developments that have seen his approval rating plummet over the past year.
Having already faltered in the opinion polls after breaking a number of key campaign promises, his reputation was severely damaged when questions were raised over his role in efforts to prevent corruption charges being brought against Canadian construction firm SNC-Lavalin Group.
A poll by the non-partisan Angus Reid Institute in September found that Trudeau was viewed negatively by 63% of Canadians.
Trudeau subsequently told reporters that he remained the best option for Canadians who want a progressive government, according to the BBC. But as commentators have pointed out, he can no longer campaign as an outsider on a promise of change.
Who is Andrew Scheer?
Described by The Atlantic as "younger, dorkier, and less foppish" than Trudeau, the Conservative leader has faced criticism in the past for his negative comments about gay marriage and abortion.
But Scheer has seized the opportunity presented by faltering faith in the Liberal government, running what the sitting PM has called "one of the dirtiest, nastiest campaigns based on disinformation that we have ever seen in this country".
Indeed, during a televised debate earlier this month, Scheer openly described Trudeau as a "phony and a fraud" who does not deserve to govern. The attack came weeks after the opposition politician told reporters: "[Trudeau] has lied. He has looked Canadians in the eye and said things he knew was not true. We made the case that he has lost the moral authority to govern."
However, Scheer has also failed to win over voters, and was viewed unfavourably by 52% in the September poll.
"I have not seen such a confused mess ahead of an election in a long time," said Darrell Bricker, chief executive of polling firm Ipsos Public Affairs.
"As long as the current mood persists to election day, what the structure of the next government looks like is anyone's guess."
Who will win?
With the election just days away, the likely outcome remains unclear.
Trudeau's current majority is so large that it will take an enormous Conservative surge to deliver control of the Commons to the opposition. In order to gain a majority, Scheer needs to secure an extra 75 seats.
But according to the CBC, the Conservatives currently hold significant leads in rural Alberta, Saskatchewan and Manitoba, three provinces that alone could deliver around 55 seats to Scheer.
And a Nanos Research poll published this week puts Scheer on 33%, with Trudeau narrowly behind on 32%.
Haaretz reports that the "likeliest outcome Monday is a minority government led by either the Liberals or Conservatives", meaning that "whoever wins will only be able to govern with the support of smaller parties".
Many pundits consider the most likely candidate for a minority government coalition partner to be the NDP under Singh, who is currently polling at 19% and has indicated he would be open to forming a government with Trudeau.
However, Canadian elections are often upended by an unpredictable wildcard: the people of Quebec, Canada's predominantly French-speaking province.
The Quebecois can be the make-or-break factor in a candidate's bid to form a government, voting in large waves which can dictate the trajectory of an election.
In 2008, for example, almost the entire region plumped for left-wing nationalist party Bloc Quebecois, which promotes sovereignty and even independence for the region. This effectively condemned Conservative PM Stephen Harper to a minority government, severely weakening his standing in the House of Commons.
On the flip side, 2015's election saw Quebec vote overwhelmingly for the Liberal Party and Trudeau - a Quebec native.

Continue reading for free
We hope you're enjoying The Week's refreshingly open-minded journalism.
Subscribed to The Week? Register your account with the same email as your subscription.