Best films released in 2020
The year's must-watch movies include Parasite, Enola Holmes, Uncut Gems and more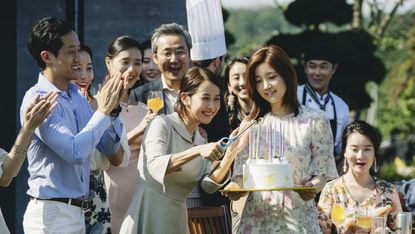 It's been a very tough year for the film industry. Cinemas have been unable to open their doors due to the Covid-19 pandemic and production has been delayed on a number of major movies.
One of the year's most anticipated films, James Bond: No Time To Die, has been delayed again and now won't be released until April 2021.
Despite film releases being delayed and cinemas struggling, an opening appeared for streaming sites such as Netflix, Amazon Prime and Disney+ to step into the gap.
Subscribe to The Week
Escape your echo chamber. Get the facts behind the news, plus analysis from multiple perspectives.
SUBSCRIBE & SAVE
Sign up for The Week's Free Newsletters
From our morning news briefing to a weekly Good News Newsletter, get the best of The Week delivered directly to your inbox.
From our morning news briefing to a weekly Good News Newsletter, get the best of The Week delivered directly to your inbox.
Here's our pick of the best films released in 2020.
I'm Your Woman
In this "atmospheric" underworld drama, set in the early 1970s, Rachel Brosnahan (best known for TV's The Marvelous Mrs. Maisel) plays Jean – the pampered wife of a mobster (Bill Heck), said Kevin Maher in The Times. In the opening scene, he hands her a crying baby, saying he has "sourced" it elsewhere. He then disappears, and Jean is told that for her own safety, she must go on the run with his former associate Cal (Arinzé Kene) – a quietly competent African American – for protection. In her old life, everything from cooking to killing was done for Jean; now she must live by her wits, while looking after the baby and dealing with the racist attitudes she and Cal encounter along the way. The result is a "meditative" character study, interspersed with jolts of violence as Jean bounces between safe houses and dodges her husband's enemies. Watch on Amazon Prime Video.
Falling
He has combined big-screen success with an esoteric career as a poet, painter, photographer and publisher. Now Viggo Mortensen has made a fine directorial debut with this sombre film about dementia and a "fragile father-son bond", said Tim Robey in The Daily Telegraph. He plays John Peterson, a 60-ish pilot who brings his 80-year-old father Willis (Lance Henriksen) to live with him, his husband and their foster daughter. John's sister Sarah (Laura Linney) visits with her children, and all have to endure "torrents of foul-mouthed abuse" – much of it virulently homophobic – from Willis, whose early-stage dementia is fast undermining his sense of reality. Meanwhile, we see in flashbacks to the 1960s that Willis was never an easy man: an unfaithful husband and an ambivalent – perhaps occasionally violent – father. In cinemas and available online via modernfilms.com/falling.
The Godfather, Coda: The Death of Michael Corleone
Francis Ford Coppola has returned to the cutting room at the age of 81 to re-edit The Godfather Part III – and redeem a film that was a critical flop on its release in 1990, said Robbie Collin in The Daily Telegraph. The first two parts of his "great American triptych" have an enduring "grandeur and tragic epic force", and Coppola always intended the third – shot "on a breakneck deadline" – as an "epilogue", not a substantial new chapter. Its new title – Coda – reflects this, and the director has also clarified the plot. Most notably, we're now plunged straight into the efforts of Michael Corleone (Al Pacino) to legitimise the family business, with a $600m deal with the Vatican that only leads him into "still-murkier vales". Watch on Apple, Google and Amazon.
Possessor
With echoes of his father David's visceral early films, Brandon Cronenberg's second feature is both an "ingenious" satire of corporate power, and "an ultra-violent sci-fi-horror freak-out that will probably have you hiding your face in your hands", said Peter Bradshaw in The Guardian. In the near future, a secret corporation delivers assassinations by temporarily transplanting the minds of its agents into unwitting hosts. Andrea Riseborough gives a brilliantly nervy performance as Tasya Vos, a senior agent whose work has alienated her from her family and is steadily eroding her sanity. Things spiral out of control when she is asked to invade the body of Colin (Christopher Abbott), a former coke dealer, to kill his fiancée Ava (Tuppence Middleton) and Ava's tech billionaire father, John Parse (Sean Bean). Watch on Apple, Sky and Amazon.
Happiest Season
The first ever "mainstream LGBT+ Christmas film", Clea DuVall's new "festive romcom" is a "relishable piece of Yuletide joy", said Clarisse Loughrey in The Independent. Kristen Stewart and Mackenzie Davis star as twentysomething couple Abby and Harper, who go to spend Christmas with Harper's parents in a small conservative town. On the way, Harper reveals that she hasn't yet come out to her family, and can't now because her father (Victor Garber) is running for mayor on a family-values ticket, and it might risk scandal. Abby agrees to play the role of a straight friend – but the challenge proves tougher than she'd bargained for. Watch on Apple, Google, Sky and Amazon.
12 classic Christmas films on Netflix and Amazon Prime Video
Relic
Nothing is quite what it seems in Natalie Erika James's genuinely frightening directorial debut, said Josh Winning in the Radio Times. When elderly Edna (Robyn Nevin) goes missing, her daughter, Kay (Emily Mortimer), travels to her isolated house in the Australian countryside to look for her, along with her own daughter, Sam (Bella Heathcote). Edna, who is in the early stages of dementia, soon turns up; but her behaviour becomes increasingly odd – and Kay and Sam start to suspect that there is another presence in the house. Twisting the genre's tropes until they snap, Relic is "as visually arresting as horror gets"; but it also has a disarming tenderness. It could be "the scariest horror film to ever make you cry". Watch on Curzon Home Cinema and BFI Player.
Shirley
Set in the late 1940s, Josephine Decker's latest film is about the great Gothic novelist Shirley Jackson, said Clarisse Loughrey in The Independent. More ambitious than a conventional biopic, it is a portrait not of "her life, but of her genius", in which the film-maker feels free to imagine what sort of woman might have written her books. Played by Elisabeth Moss, this Shirley is depressed and struggling with her 1951 novel Hangsaman when a young couple, Rose and Fred Nemser, move in with her and her husband – a professor at the local college where Fred has just got a job. The two women initially find each other repellent, but are then drawn together by the "small cruelties" of their menfolk. Their relationship becomes both sexual and spiritual, until their identities begin startlingly to intertwine. Watch on Curzon Home Cinema.
Borat Subsequent Moviefilm
Fourteen years after Borat's first cinematic outing, Sacha Baron Cohen's "monstrous creation, the clueless reporter from Kazakhstan", is back for a second film, said Peter Bradshaw in The Guardian. Once more, Baron Cohen executes "situationist stunts" and "gross-out hoaxes" that skewer Americans' conservative attitudes and their painfully polite tolerance of (or sympathy with) Borat's "antediluvian" views. But this time, "the shock of the new" is gone, and with it, some of the power and hilarity of the 2006 original. It doesn't help that most people now recognise Borat, so he largely appears in disguise, delegating many pranks to a new character, Borat's 15-year-old daughter Tutar (Maria Bakalova) – brought along in a horse box as a diplomatic gift for "Vice Premier Mikhail Pence". Watch on Amazon Prime Video.
His House
By weaving the story of refugees fleeing war into the frame of a haunted house film, this "compelling" debut feature by British writer-director Remi Weekes gives a fresh twist to an "overfamiliar" genre, said Benjamin Lee in The Guardian. Husband and wife Bol (Sope Dirisu) and Rial (Wunmi Mosaku) are asylum seekers from Sudan, recently arrived in the UK after losing their daughter in a dinghy voyage across the Mediterranean. Having spent some time in a detention centre, they are given a grimy council house in an unspecified part of England. But their relief turns to anxiety as their environs prove disorientating and hostile ("Go back to f***ing Africa," shouts a local black youth). Still worse, "they start to believe they're not alone" in their new home. Watch on Netflix.
Enola Holmes
Adapted from Nancy Springer's novels, this light-hearted Arthur Conan Doyle pastiche is "zippy" family entertainment, said Robbie Collin in The Daily Telegraph. What makes it of more than passing interest, however, is that it is the film that confirms Millie Bobby Brown as a star. The British-born actor has been on one-to-watch lists since she was cast, aged 11, in the TV sci-fi drama Stranger Things. Now, at 16, she has been tasked with carrying an entire movie – and with her "pinpoint comic timing and infectious perk", she doesn't just pull it off, she makes it look "elementary". Watch on Netflix.
Rocks
"Rare and joyful" are the times when you stumble across a film as good as this, said Beth Webb in Empire. A loving ode to the power of friendship, set in east London, this small gem of a movie was written in collaboration with its young cast and local teenagers, giving it an authenticity more polished films lack. Bukky Bakray stars as Shola, a 15-year-old British-Nigerian girl who is nicknamed Rocks after protecting her best friend from bullies. Then her mentally ill mother walks out, leaving her to care for her seven-year-old brother Emmanuel, and she needs all the support her friends can give her. Boosted by an astonishing central performance, Rocks will be remembered as "one of the great British films of this time" Watch on Netflix.
Parasite
South Korean auteur Bong Joon-ho returned to the big screen with his tour-de-force Parasite, which received widespread acclaim on its UK release in February. Described by Mark Kermode in the Observer as a "gasp-inducing masterpiece", Parasite has been a huge box-office success and won four Oscars at the 92nd Academy Awards - for Best Picture, Best Director, Best Original Screenplay, and Best International Feature Film. Watch on Amazon Prime Video.
Uncut Gems
In a superb and career-best performance, Adam Sandler plays Howard Ratner - a New York City hustler, gambler and jeweler. This sparkler is one of the "most exciting" films of the year, says The Guardian's Peter Bradshaw. Watch on Netflix.
The Personal History of David Copperfield
Director Armando Iannucci gives Dickens a "radical, rollicking twist", says the BFI, as Dev Patel takes the lead of Copperfield in this "inspired and fast-paced adaptation of a literary classic". Rent or buy on Amazon Prime.
Jojo Rabbit
Based on Christine Leunens's 2008 book Caging Skies, this comedy-drama film is written and directed by Taika Waititi. IMDb says the World War II satire follows a lonely German boy named Jojo whose world view is turned upside down when he discovers his single mother is hiding a young Jewish girl in their attic. Rent or buy on Amazon Prime.
A Beautiful Day in the Neighbourhood
Tom Hanks portrays Mister Rogers in a timely story of kindness triumphing over cynicism, based on the true tale of a real-life friendship between Fred Rogers and journalist Tom Junod. Empire's Ian Freer reports: "It could easily be twee twaddle, but A Beautiful Day In The Neighborhood is a nuanced, formally playful delight, a perfectly pitched and played ode to goodness. All hail Marielle Heller." Rent or buy on Amazon Prime.
Misbehaviour
Keira Knightley, Gugu Mbatha-Raw and Keeley Hawes star in this British comedy-drama film directed by Philippa Lowthorpe. A plan is hatched to disrupt the 1970 Miss World beauty competition in London and in a matter of hours the Western ideal of beauty is turned on its head. Rent or buy on Amazon Prime.
The Lighthouse
A hypnotic and hallucinatory tale of two lighthouse keepers on a remote and mysterious New England island in the 1890s. Robert Pattinson shines in this "sublime maritime nightmare", reports The Guardian. Watch on YouTube.
Dark Waters
Dark Waters tells the shocking and heroic story of an attorney (Mark Ruffalo) who risks his career and family to uncover a dark secret hidden by one of the world's largest corporations and to bring justice to a community dangerously exposed for decades to deadly chemicals. Watch on YouTube.
Onward
Set in a suburban fantasy world, Disney and Pixar's Onward introduces two teenage elf brothers who embark on an extraordinary quest to discover if there is still a little magic left out there. Watch on Disney+.
The Assistant
The Assistant follows the life of Jane (Ozark's Julia Garner), a recent college graduate and aspiring film producer, who has recently landed her dream job as a junior assistant to a powerful entertainment mogul. As Jane follows her daily routine, she grows increasingly aware of the abuse that insidiously colours every aspect of her work day. Watch on YouTube.
The Gentlemen
After a foray into unusual subject matter in his more recent films with rather questionable results (see Aladdin and King Arthur), veteran filmmaker Guy Ritchie headed back into his trademark territory of the British criminal underworld with The Gentlemen. Released on New Year's Day, the film's premise revolves around a "very British drug lord" who "tries to sell off his highly profitable empire to a dynasty of Oklahoma billionaires". It already sounded intriguing, but the anticipation ramped up after a glimpse of the cast list. Matthew McConaughey, Charlie Hunnam, Michelle Dockery, Henry Golding, Colin Farrell and Hugh Grant all star.
Like a Boss
"Tiffany Haddish. Rose Byrne. Two comedic stars at the top of their game," Stylist says in its rundown of must-see feminist movies for 2020. "One riotous comedy that you're going to want to see with all your girlfriends." Like a Boss is a comedy about two best friends who run their own cosmetics company, but when business takes a downturn, the offer of a buyout from a giant of the industry threatens to destroy their relationship.
A look at the films that are coming out this year and the UK release dates.
Tenet
John David Washington is the new Protagonist in Christopher Nolan's original sci-fi action spectacle Tenet. Armed with only one word - Tenet - and fighting for the survival of the entire world, the Protagonist journeys through a twilight world of international espionage on a mission that will unfold in something beyond real time. Not time travel. Inversion.
The New Mutants
Described by Radio Times as a "creepy twist on the original comics", The New Mutants is set to follow a "group of five young mutants just discovering their powers who are being kept in a strange facility, where their own abilities create terrifying challenges they have to escape". Game of Thrones star Maisie Williams takes on the lead role, playing wolf mutant Rahne Sinclair/Wolfsbane, while Anya Taylor-Joy plays Illyana Rasputin/Magik, who has the ability to teleport via portals.
What's coming up in 2020?
Dune - 18 December
After the roaring success of his previous foray into classic sci-fi remakes with Blade Runner 2049, director Denis Villeneuve is heading back into the genre to bring us a fresh adaptation of Dune, based on Frank Herbert's epic 1965 novel of the same name. Wired reports that Timothee Chalamet will star as the lead character Paul Atreides, the "young nobleman who must travel to the planet Dune, home to the most valuable commodity known to man, to lead the fight against his family's enemies".

Continue reading for free
We hope you're enjoying The Week's refreshingly open-minded journalism.
Subscribed to The Week? Register your account with the same email as your subscription.