Coronavirus: are false positive Covid-19 tests skewing infection rate figures?
Mass testing combined with a low level of genuine cases can lead to misleading results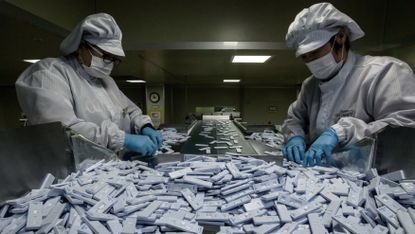 (Image credit: Ed Jones/Getty)
As concern grows about new outbreaks of Covid-19 across several European countries, scientists - and hopeful holidaymakers - are poring over coronavirus test data.
But even though the tests used by the NHS and other European health services are considered highly reliable by international standards, "it's surprisingly hard to determine how accurate a coronavirus test is", says Maureen Ferran, associate professor of biology at New York's Rochester Institute of Technology, in an article on The Conversation.
When overall infection rates are low, as they are still in the UK and most of the rest of Europe, the risk of false positives - that is, people who don't have the disease being told that they do - can be significant.
Subscribe to The Week
Escape your echo chamber. Get the facts behind the news, plus analysis from multiple perspectives.
SUBSCRIBE & SAVE
Sign up for The Week's Free Newsletters
From our morning news briefing to a weekly Good News Newsletter, get the best of The Week delivered directly to your inbox.
From our morning news briefing to a weekly Good News Newsletter, get the best of The Week delivered directly to your inbox.
"If only 5% of a population have the coronavirus, a test with 95% specificity would result in a 50% chance of a false positive," Ferran says.
What about false negative results?
False negatives - when people are told they don't have the disease but actually do - can be even more serious, since the people in question may be released from hospital or quarantine while still infectious.
However, "the impact of false negatives is greatest when the absolute risk of infection is high", according to a government research paper published in June. As the proportion of the population with the virus decreases, it becomes less likely that a faulty test will coincide with someone who should test positive.
As a precaution, though, someone showing Covid-19 symptoms is likely to be treated as infectious even if they test negative.
Why does the false positive rate rise as infections fall?
Even though overall test accuracy should be consistent over time, the probability that an individual test gives the correct answer will depend on the infection rate at the time.
Imagine, says The Spectator, a population in which 0.1% of the population has Covid-19, and a test which gives true positive results 80% of the time and true negative results 99.9% of the time.
"In this scenario, 10,000 random people go for a Covid-19 test," the magazine explains. "With the infection level at 0.1%, just ten people will have Sars-CoV-2 and 9,990 will not.
"Of the ten who turn up with an infection, 80% will test positive, meaning eight people will be correctly identified while two walk away with a false negative.
"And of the 9,990 not infected, all but ten will be correctly diagnosed as negative: hence the success rate of 99.9%. But ten will be told they have Covid-19, when in fact they don't."
The result is 18 positive tests, "eight from people who genuinely had the virus and ten who did not" - so fewer than half of the positive diagnoses are correct.
What are the numbers now?
According to Ferran, a research centre in Geneva found that five Covid-19 tests widely used in Europe provided accurate results for 100% of people who did have the virus and 96% of people who did not. That would mean 4% of people who did not have Covid-19 would receive a false positive.
After reviewing data from British testing centres, the government research paper released last month estimated that the UK's false positive rate has a 50% chance of sitting somewhere between 0.8% and 4%.
However, the authors go on to say that, given the data from the end of May, the rate "cannot exceed 1.6%" and is "likely to be much lower".
The researchers use 0.4% as the false positive rate, which means that on a day when more than 100,000 tests were carried out, more than 400 false positives would be expected.
Over the past week, the UK has been carrying out, on average, about 130,000 tests per day, which have returned about 675 positive results per day.
What are the implications?
False positive results have both personal and national consequences.
The example above would lead to "400 people being isolated when they are well, and much wasted effort in contact tracing", the government research explains.
It also has implications for how we interpret the data. "Going off current testing practices and results, Covid-19 might never be shown to disappear," says The Spectator.
On the other hand, some people who are infected with the virus are never tested, so there are unknowns on both sides of the equation.

Continue reading for free
We hope you're enjoying The Week's refreshingly open-minded journalism.
Subscribed to The Week? Register your account with the same email as your subscription.