10 things you need to know today: August 11, 2020
Putin claims Russia has the first approved coronavirus vaccine, Lebanon's cabinet resigns as blast protests continue, and more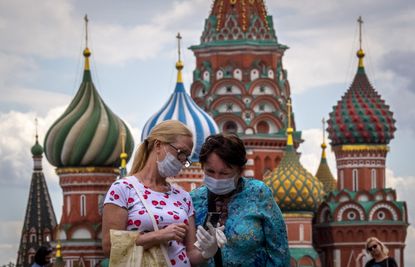 (Image credit: YURI KADOBNOV/AFP via Getty Images)
1. Putin says Russia has registered world's 1st coronavirus vaccine
Russian President Vladimir Putin said Tuesday that Russia has developed the first approved vaccine against COVID-19, according to reports by local news agencies. Putin said his daughter was among the people who had been vaccinated with it. "As far as I know, a vaccine against a new coronavirus infection has been registered this morning, for the first time in the world," Putin said at a government meeting, according to a RIA Novosti report. Medical experts expressed concerns that the Kremlin aggressively and dangerously rushed the vaccine approval process, putting global prestige over public health. The World Health Organization reported in July that there were 26 vaccine candidates undergoing clinical evaluation, including one in Russia being developed by the Gamaleya Scientific Research Institute of Epidemiology and Microbiology.
2. Lebanon's cabinet resigns as protests continue
Lebanese Prime Minister Hassan Diab on Monday announced the resignation of his entire cabinet as protests over a deadly, massive explosion raged for a third day in Beirut. Anti-government protesters hurled rocks outside parliament, and security forces responded with tear gas. Demonstrators blamed deeply entrenched corruption for the government's failure to do anything to prevent the disaster, even though officials were warned that more than 2,700 tons of highly explosive ammonium nitrate was being stored in a warehouse at Beirut's port. "Today we follow the will of the people in their demand to hold accountable those responsible for the disaster … and their desire for real change," Diab said in a speech announcing the resignation. The detonation at the warehouse killed at least 163 people and injured more than 6,000 others.
Subscribe to The Week
Escape your echo chamber. Get the facts behind the news, plus analysis from multiple perspectives.
SUBSCRIBE & SAVE
Sign up for The Week's Free Newsletters
From our morning news briefing to a weekly Good News Newsletter, get the best of The Week delivered directly to your inbox.
From our morning news briefing to a weekly Good News Newsletter, get the best of The Week delivered directly to your inbox.
3. Trump whisked out of briefing after shots fired outside White House
President Trump was rushed out of his Monday evening press conference when shots were fired outside the White House. The Secret Service later said a shot was fired by a uniformed Secret Service officer at a suspect, and that the White House was never in danger. It was not immediately clear whether the suspect, who was taken to a hospital, was armed, or what threat he posed. Trump returned to the briefing room about 10 minutes after he was whisked into the Oval Office. He resumed his comments on the coronavirus crisis after briefly addressing what had happened outside. Trump was not immediately aware of the details of the incident. "It seems to be very well under control," he said.
4. Trump might block return of citizens suspected of COVID-19 infection
President Trump is considering temporary measures to block American citizens and permanent residents who could be infected with the coronavirus from returning to the United States, The New York Times reported Monday. Draft immigration regulations obtained by the Times would let border officials deny entry to citizens and legal residents if an official "reasonably believes that the individual either may have been exposed to or is infected with the communicable disease." The drafts also say that any order blocking them from returning must "include appropriate protections to ensure that no Constitutional rights are infringed." President Trump has imposed sweeping bans on entry by foreigners from coronavirus hot spots to curb the spread of COVID-19, but U.S. citizens and permanent residents have been exempt. Federal agencies have been asked to provide feedback on the proposal by Tuesday.
5. Biden reportedly poised to reveal running mate selection
Joe Biden, the presumptive Democratic presidential nominee, has finished interviewing his potential running mates and his advisers are preparing for an announcement on his choice mid-week, The New York Times reported Monday, citing people briefed on the process. Biden could reveal his vice-presidential pick as soon as Tuesday. His team reportedly has prepared rollout plans for several of the leading finalists. The strongest contenders include Sen. Kamala Harris (D-Calif.), former national security adviser Susan Rice, Sen. Elizabeth Warren (D-Mass.), and Gov. Gretchen Whitmer (D-Mich.). Biden also has considered Sen. Tammy Duckworth (D-Ill.), Gov. Michelle Lujan Grisham (D-N.M.), and Reps. Karen Bass (D-Calif.), and Val Demings (D-Fla.). A spokesman for Biden's campaign declined to comment to the Times.
6. Trump says he'll give his convention speech from White House or Gettysburg
President Trump said Monday he has narrowed his options for the site of his presidential nomination acceptance speech, which would normally be given at the site of the Republican convention but is being relocated because of the coronavirus pandemic. The two finalists are the White House and the Gettysburg Battlefield, though both locations could cause legal issues as they are federal property and not meant to be used for political campaigning. Some Republicans were wary of Trump's idea to use the White House, citing the Hatch Act, which limits political work while on the job in an official federal capacity. Trump, as president, is exempt from the law, but White House staffers who would theoretically work the event aren't.
7. Chicago police arrest 100 after police shooting triggers night of looting
Chicago police arrested more than 100 people after crowds vented anger over a police shooting by smashing store windows, looting, and injuring 13 officers, Chicago Police Superintendent David Brown said Monday. The violence erupted after officers responded to a call reporting a man with a gun. When they arrived, a suspect ran away and fired at officers as he fled. "This wasn't an organized protest. It was an incident of pure criminality," Brown said. "Criminals took to streets with confidence that there would be no consequences for their actions." The city raised bridges over the Chicago River to prevent people from going downtown. Mayor Lori Lightfoot said the violent outburst "had nothing to do with protected First Amendment expression … This is straight up felony criminal conduct."
8. EPA expected to announce rollback on methane regulations
The Trump administration plans to lift Obama-era controls on methane, a greenhouse gas that contributes to global warming, The New York Times reported Monday. The Environmental Protection Agency is expected to issue a new rule by Friday that will no longer require oil and gas companies to install systems that can find and fix methane leaks from wells, pipelines, and storage facilities, the Times reported, citing a person familiar with the matter. The EPA says the change, which has been in development for more than a year, will fix a crippling regulation that hurts the oil and gas industries. Methane makes up almost 10 percent of greenhouse gas emissions in the U.S., and during its first 20 years in the atmosphere it has 80 times the heat-trapping power of carbon dioxide, the most harmful greenhouse gas, according to the Times.
9. Gas explosion near Baltimore kills 1
A gas explosion blew out windows and blasted doors off their hinges in three two-story rowhomes in Northwest Baltimore on Monday, killing one woman and injuring at least six other people. A city councilman reported seeing bricks embedded in the door of a car parked across the street. Neighbors rushed to look for survivors. More than 200 emergency responders soon joined in the search and pulled at least one man and woman from the rubble about two hours later. Witnesses said they heard children calling for help after the explosion. People miles away said it felt like a bomb had gone off. "This is a horrendous situation," Baltimore fire chief Niles Ford said.
The Baltimore Sun CBS News Baltimore
10. Seattle police chief announces retirement, budget slashed
Seattle Police Chief Carmen Best announced her retirement Monday night after the City Council voted to slash the $400-million police budget by nearly $4 million. The budget rebalancing came in response to the coronavirus economic crisis and calls by anti-racial-injustice protesters to shift money from policing to community programs. Seattle City Council President M. Lorena González noted that city 911 calls only involve criminal activity 56 percent of the time, so it makes sense to redirect resources to other services. "What we can do is allow our police to focus on what they are trained to do and fund service providers addressing the more complex issues of housing, substance use disorder, youth violence prevention, affordable healthcare, and more," she said.

Continue reading for free
We hope you're enjoying The Week's refreshingly open-minded journalism.
Subscribed to The Week? Register your account with the same email as your subscription.