Is Dry January a challenge worth taking?
An estimated 15% of all UK adults gave up alcohol in January last year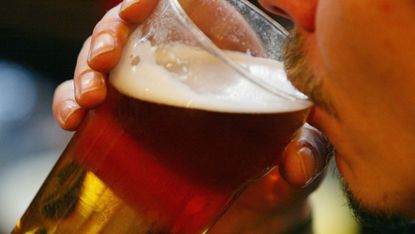 (Image credit: Getty Images)
After the revelry and indulgence of the festive season, Dry January has become a well-established event on the national calendar.
Last year, more Brits than ever decided to take a month off drinking after Christmas and New Year. According to Alcohol Change UK, an estimated one in seven (15%) of all UK adults – some 7.9 million people – gave up alcohol in January 2022, a 22% increase on the estimated 6.5 million who did so the previous year.
The surge in temporary teetotalism was prompted partly by the end of Covid-19 restrictions, the alcohol charity found. One in six alcohol drinkers (17%) reported feeling concerned about the amount they had been drinking since the removal of Covid restrictions the summer before, while 28% said they found themselves drinking more in 2021 compared to 2020 when the country was in the midst of national lockdowns.
Subscribe to The Week
Escape your echo chamber. Get the facts behind the news, plus analysis from multiple perspectives.
SUBSCRIBE & SAVE
Sign up for The Week's Free Newsletters
From our morning news briefing to a weekly Good News Newsletter, get the best of The Week delivered directly to your inbox.
From our morning news briefing to a weekly Good News Newsletter, get the best of The Week delivered directly to your inbox.
Many who take on the challenge report feeling brighter, having more energy and sleeping better – the financial savings don't hurt either. So if you're thinking about giving Dry January a go, here's what you need to know.
How it started
In the UK, the official name "Dry January" has been around for only a few years – Alcohol Concern, now Alcohol Change UK, registered it as a trademark in mid-2014. The following January, the government ran an ad campaign endorsing the event. Other charities hold similar fundraising events, such as Cancer Research UK's Dryathlon in January and Macmillan's Go Sober for October.
The idea of cleansing after a boozy Christmas goes back much further, however. In 1942, Finland instigated a programme called Raitis Tammikuu (Sober January) to help aid the war effort against the Soviet Union.
Is it really worth it?
Seven out of ten people who take the month-long challenge report better sleep, with 86% saving money too, according to Alcohol Change UK. Almost two-thirds of participants also see a general improvement in health.
A study by researchers at University College London, published in the BMJ in 2018, examined 94 moderate drinkers over the course of a month as they cut their alcohol consumption. After 30 days, the subjects' insulin resistance improved, along with "weight, BP, and cancer-related growth factors".
"We found striking benefits from a month of abstinence, in these otherwise healthy volunteers," says the study's lead researcher, Dr Gautam Mehta, reported Healthista. "The change in insulin resistance in particular was large, around 25%.
"Our participants also felt a lot better, in terms of sleep and concentration. It allowed them to reset their relationship with alcohol. Six months later, the proportion drinking at harmful levels had decreased by over 50%."
But Ian Hamilton, a lecturer in mental health and addiction at the University of York, told The Guardian at the time that those who enjoy success with Dry January do not accurately represent problem drinkers.
"The millions of people who sign up to it are the millions of people who probably don't have that great a problem with alcohol so they find it relatively easy," he said. Hamilton added that it is inadvisable for dependent drinkers to give up alcohol abruptly, since it could result in side-effects ranging from headaches to convulsions.
"I think anyone drinking several glasses of wine after work each day should seek support before they abstain completely from alcohol," he said.
Nevertheless, Alcohol Change UK stands by the event, citing evidence of its long-term success, including a University of Sussex study, which supported the University College London findings that former Dry January participants drink less even six months after completing the challenge.
How hard is it?
How challenging you will find a month of sobriety depends on your current alcohol consumption and drinking habits. Baroness Karren Brady, writing in The Sun in 2017, was "shocked" by how hard she found the 31 days. "Even though I class myself as a moderate drinker, now that I've stopped," she said, "I can't stop thinking about it." The only way she found to make it work was cancelling all social engagements until 1 February.
But many who can stick out the first ten days are likely to feel a remarkable difference. By Day Ten, moods are likely to lift "and you will start feeling less sluggish and more energised", according to Red magazine. Alcohol also suppresses our immune systems, so giving it a break in the colder months can help to fight off any nasty colds and viruses doing the rounds.
For those of us who aren't sure whether we need to give up alcohol – or if we're ready to take on the full 31-day challenge – keeping a drinking log can be a good first step towards reducing alcohol intake.
Jeanette Hu, a San Francisco-based therapist, told the i news site that the "first step in changing any behaviour is to gain awareness of this behaviour". Keeping a drinking log, she explained, "can help you gain insight into your drinking patterns [and] stop some habitual drinkers from picking up a drink by default. It also lets you see your progress and motivates you to keep up with the good work."
Banishing the booze
Before taking on the task, participants are encouraged to sign up to Alcohol Change UK, where they can choose to receive a daily support email or download a free app to help track the calories and money they are saving, as well as monitor their year-round drinking habits.
Advice includes hiding the bottles in your house to make them harder to reach, using the money you save on alcohol to buy an unrelated treat, assembling a support group or taking up a new hobby.
For those missing the taste of a freshly poured pint, there are plenty of alternative drinks available. In 2021, Heineken announced it had "solved the conundrum of how to serve a non-alcoholic beer from kegs", meaning alcohol-free draught beer was sold on a mass scale in UK pubs for the first time in 2022, The Times reported. The major brewer described the news as a "seminal moment for the British beer and pub industry".
Other alcohol-free drinks have also become more prominent, from spirits to wine and even the fizzy stuff.
BBC Good Food's wine expert Henry Jeffreys says Leitz Eins Zwei Zero Riesling isn't far from the real deal and "actually made me want another glass". Nosecco is his other top tip, a sweet alcohol-free take on prosecco. "Give this to people ice cold and I'm not sure anyone would guess that it isn't supermarket own-label prosecco."
These booze-free wines come with both a health and flavour warning, however: they are "much sweeter" and have a higher sugar content than conventional plonk. Everleaf, Seedlip and Senser Power are some of the leading brands in the way of alcohol-free spirits, while the bottled beers market is flooded with tasteful craft options.

Continue reading for free
We hope you're enjoying The Week's refreshingly open-minded journalism.
Subscribed to The Week? Register your account with the same email as your subscription.