Suicide Squad reviews range from 'cringe-worthy' to 'a hoot'
DCs supervillains get little love from critics, but will fans flock to the dark, scrappy anti-hero film?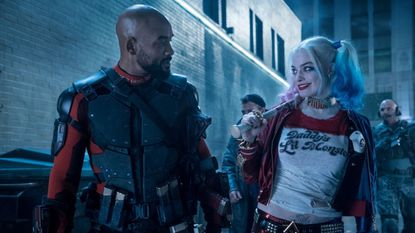 Critics have not been kind to DC Comics' anti-superhero film Suicide Squad, but will it matter to the fans?
Writer-director David Ayer's blockbuster has been promoted as an antidote to Warner Bros' widely unloved Batman v Superman: Dawn of Justice and stars the likes of Will Smith, Viola Davis, Jared Leto and Margot Robbie.
The plot focuses on Taskforce-X, aka the Suicide Squad, a secret government-sponsored team of supervillain convicts recruited to carry out high-risk black-ops missions in return for reduced sentences.
Subscribe to The Week
Escape your echo chamber. Get the facts behind the news, plus analysis from multiple perspectives.
SUBSCRIBE & SAVE
Sign up for The Week's Free Newsletters
From our morning news briefing to a weekly Good News Newsletter, get the best of The Week delivered directly to your inbox.
From our morning news briefing to a weekly Good News Newsletter, get the best of The Week delivered directly to your inbox.
Fans were reassured it would "squirt some fun back into the enterprise", says Robbie Collin in the Daily Telegraph. Instead, "the film feels like Ayer is trying to fight his way out from underneath an enormous, suffocating parachute".
Despite expensive reshoots, we end up with "eardrum-puncturingly bad dialogue" and "covert pornography and scrappy CGI", continues the critic, and compared with the low-profile, odd-ball and fun Guardians of the Galaxy, it "makes you cringe so hard your teeth come loose".
It's a slog, he concludes, "even on its own crushingly puerile terms".
Suicide Squad "assembles an all-star team of supervillains and then doesn't know what to do with them", says Todd McCarthy in the Hollywood Reporter, who calls the film a "puzzlingly confused undertaking that never becomes as cool as it thinks it is"
It starts with promise but "disengages as it loses its creative bearings", he adds, and the "part smart-ass genre sendup, part grimy noir" wants to be as dirty as Deadpool but is constrained by its PG-13 rating.
"Blame it on Batman, but the DC universe has gotten awfully dark in recent years, especially compared with the candy-coloured competition over at Marvel," says Peter Debruge in Variety. The "increasingly unpleasant" comic-book sphere plunges audiences right back into the "coal-black world" of Dawn of Justice.
Debruge found the idea of a director of Ayer's calibre taking an "intense spandex-clad, super-powered spin on The Dirty Dozen" enticing, he says. But while on paper this could have been "the antidote to an increasingly codified strain of comic-book movies", in the end "it's just another high-attitude version of the same".
Still, the critic believes that despite the "nonsensical story and not-nearly-impudent-enough tone", Suicide Squad stands to become one of the summer's biggest hits.
Dan Jolin in Empire steps in to defend the film, saying that Ayer, the unlikely saviour of a comic-book blockbuster series, for the most part "pulls it off with gritty-flashy aplomb".
If Marvel has the best superheroes, he adds, DC has the coolest villains and "they're finally placed front, centre and in the firing line". On that front at least, "it's a real hoot".
Jolin singles out Leto's The Joker as essential to the success of the film, saying it's not just his "purring style and elegant, slo-mo cackle that really hooks you", it's "the Joker in love" - something we've never seen before and which, he believes, will leave audiences wanting more.
Suicide Squad director apologises for Marvel F-bomb
02 August
Suicide Squad director David Ayer has apologised after he echoed an audience member's cry of "F*** Marvel" at the DC Comics film's New York premiere.
"Sorry about getting caught up in the moment," he wrote on Twitter. "Someone said it. I echoed."
The expletive, which had taken place during Ayer's introductory remarks, was captured on video and posted online.
Ayer is no stranger to controversy after rewriting history in the Second World War thriller U-571 to depict US forces capturing a German Enigma machine in place of the UK military. The row led to Tony Blair and Bill Clinton denouncing the plot.
Despite his expletive, the premiere was a great success, with cast members including Will Smith, Jared Leto, Margot Robbie, Jai Courtney and Cara Delevingne in attendance.
Introducing the film, Smith said: "I've made a lot of movies and some of them you can't even count as movies. David Ayer said something that was really interesting: he said it's not a movie of good versus evil; it's a movie of bad versus evil."
He also praised Suicide Squad for its diversity, saying: "What I love about working with this group, as you see up on this stage, it's a rainbow. It's all races, creeds and colours. It's the diversity that this country is supposed to be about."
Suicide Squad is released on 5 August in the US and UK and on 4 August in Australia.
Suicide Squad: Flash joins film in last-minute addition
29 July
DC superhero Flash has been added to the Suicide Squad roster, thanks to a bout of last-minute filming.
The character, played by Ezra Millerwill be inserted into the hotly anticipated movie, which is released in the US and UK on 5 August.
According to Hollywood Reporter, the scene was either shot in extensive re-shoots in April, or was filmed even more recently.
The scene will not be one of the end-credit teaser sequences familiar from the Marvel and DC Extended Universe films, says the Reporter. It has been cut into the action of the film.
The decision to film the sequence shows how Warner, which owns the DC Extended Universe, is looking to grow its universe of heroes in the same manner as Marvel, with its Avengers movies.
It also shows that The Flash is "integral" to the films "as a character who can tie many threads together," says the magazine.
The Suicide Squad movie has attracted enormous interest before its release, says the Reporter, which anticipates the film should take an "enormous" $125m (£95m) or "significantly higher" in the US in its opening weekend.
That should mean the film will easily beat the previous record for an August opening weekend, which is currently held by Marvel and Disney's Guardians of the Galaxy and was set in 2014.
But the big question, according to the Reporter, is whether Suicide Squad can beat Fox's Deadpool, which took $132.4m (£100m) in the US on its opening weekend in February.
Part of the reason for the excitement around Suicide Squad, directed by David Ayer, is a stellar ensemble cast, including Will Smith, who remains one of the biggest movie stars in the world.
Other actors appearing include: Jared Leto, Margot Robbie, Joel Kinnaman, Viola Davis, Jai Courtney, Jay Hernandez, Adewale Akinnuoye-Agbaje, Ike Barinholtz, Scott Eastwood and Cara Delevingne.

Continue reading for free
We hope you're enjoying The Week's refreshingly open-minded journalism.
Subscribed to The Week? Register your account with the same email as your subscription.