Vauxhall's new boss says hard Brexit is an 'opportunity for UK suppliers'
Carlos Tavares says firm may try to source more parts in Britain if country leaves EU without a trade deal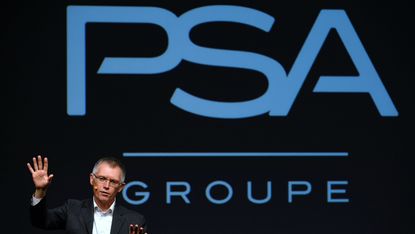 A hard Brexit would be an opportunity for Vauxhall's suppliers to provide more car parts from within the UK, the car firm's new chairman has said.
Carlos Tavares, the chairman of PSA Group, which yesterday confirmed the £1.13bn buyout of General Motors' European arm, said the UK leaving the EU without any sort of trade deal would be a "nice opportunity to be able to source the UK from inside the UK".
However, he hinted that the government would need to take action to build up suppliers first.
Subscribe to The Week
Escape your echo chamber. Get the facts behind the news, plus analysis from multiple perspectives.
SUBSCRIBE & SAVE
Sign up for The Week's Free Newsletters
From our morning news briefing to a weekly Good News Newsletter, get the best of The Week delivered directly to your inbox.
From our morning news briefing to a weekly Good News Newsletter, get the best of The Week delivered directly to your inbox.
He said: "This is something that the UK government completely understands. If it is a hard Brexit, then the supplier base needs to be developed. It is important that we source parts from the UK so that the cost structure will be more in pounds."
The government is facing calls to guarantee that Brexit will not harm Vauxhall, with Labour urging Theresa May to give the same guarantees that Nissan received when it enlarged its Sunderland productions last year, reports The Guardian.
Speaking in the House of Commons, shadow business secretary Rebecca Long-Bailey asked: "Has PSA been offered the same deal [as Nissan]? If so, would it not make sense for the government to set out its strategy for this sector as a whole rather than enlightening businesses one crisis at a time?"
Wallasey MP Angela Eagle, whose constituency includes workers from Vauxhall's Ellesmere Port plant, also warned Brexit could cost UK carmakers.
"Moving from an America-owned inward investor to a French and German-owned inward investor might not be brilliant because there is always a chance they might want to consolidate within the EU," she said.
"We have a big domestic market which nobody ought to sneeze at, but the government are going to have to work very hard to convince car manufacturers that the help they will get with producing compensates for some of the costs and uncertainties of losing membership of the single market."
Business Secretary Greg Clark promised the government will hold PSA to its pledge to "safeguard the plants, honour their commitments and look to increase the performance and the sales of cars" and their pledge to ensure "no pensioner, current or prospective, will be worse off in any way".
PSA says it will honour current GM commitments to produce the Vauxhall Astra at Ellesmere Port until 2021 and the Vivaro at its Luton site until 2025.
However, The Guardian says the company will need to decide as early as next year where to manufacture the Astra after 2021, meaning the Merseyside plant will have to compete with rivals in Germany and France in the middle of the Brexit negotiations.
Meanwhile, the Daily Telegraph reports that "selling" Vauxhall and Opel to PSA may cost General Motors nearly £3.5bn.
PSA will pay nearly £2bn for GM's European arm, but GM will have to pay back €3bn (£2.6bn) to cover a pension black hole. It will also retain the "bulk" of historic pensions liabilities in the UK and Germany, which are believed to be costing it more than £2.6bn, says the paper.
Fresh Vauxhall job fears as €2.2bn Peugeot buyout confirmed
6 March
There are renewed fears fears for thousands of Vauxhall jobs this morning following PSA Group's confirmation of a €2.2bn (£1.9bn) buyout deal.
The French carmaker, which owns the Peugeot, Citroen and DS brands, is buying all of the European operations of US giant General Motors, which includes Vauxhall in the UK and Opel on the continent.
Talks leading to the deal had prompted concern over 4,500 jobs at Vauxhall's two plants at Ellesmere Port and Luton, where its head office is also based.
"PSA said it would return Opel and its Vauxhall brand to profit, and expected to make savings of £1.47bn per year by 2026, with most of the cuts made by 2020," says the BBC.
The combined entity, which will be the second-largest carmaker in Europe, would have 24 plants right across Europe, some of which are expected to close. Brexit is putting particular focus on those two plants in the UK.
PSA has said it will honour all existing production and labour agreements, which guarantees production of the Vauxhall Astra at Ellesmere Port until 2021 and the Vivaro in Luton until 2025.
However, union bosses last month said they were still seeking to clarify if job guarantees extending to 2020 remained in place.
Of some comfort for workers is the acknowledgement of "the long-standing success of both the Ellesmere Port and Luton plants, two of the most efficient car factories in Europe", says Sky News.
Business Secretary Greg Clark has previously cited assurances from PSA chief executive Carlos Tavares that he recognises the value of the Vauxhall brand, which is the second-largest in the UK.
There are further questions about pensions in Vauxhall's pension scheme, as the Financial Times reports General Motors will retain "most of Opel's pension deficit, estimated by analysts at as much as $10bn (£8.1bn)".
Vauxhall's deficit is estimated at around £1bn and without the backing of the UK company, it would need guarantees from General Motors in the US over its funding.
Vauxhall's UK production guaranteed until at least 2021
24 February
Both the unions and the government have been told that production of Vauxhall's Astra and Vivaro models will be guaranteed until at least 2021 should a takeover by Peugeot go ahead.
Unite boss Len McCluskey held a meeting today with PSA Group chief executive Carlos Tavares. PSA owns Peugeot and Citroen and is in discussions to buy the European arm of General Motors, which includes Vauxhall in the UK.
McCluskey said: "It was a relatively positive first meeting in which Tavares gave assurances that current production commitments would be met should the takeover with PSA go ahead."
"The comments suggest production of the current Vauxhall Astra at Ellesmere Port will be guaranteed until 2021, while the Vivaro van in Luton would be guaranteed until 2025," says The Guardian.
Specific guarantees on jobs at the plants and the Vauxhall head office in Luton, which collectively employ 4,600 people, only extend to 2020 – and Unite is "seeking to clarify" whether this assurance remains in place.
Speaking to the BBC, McCluskey added that despite cutting costs at Peugeot since taking over what was a loss-making business in 2014, Tavares "hasn't shut a single plant".
Another key issue is the pension scheme, which the BBC says had a deficit of £840m at the end of 2014 and is now likely to be in the red to the tune of £1bn.
Greg Clark, the Business Secretary who also held talks with Tavares today, said that the Peugeot boss had confirmed "members of the Vauxhall pension fund will be no worse off".
Experts are warning that this could still mean that Peugeot will only buy the operating assets of Vauxhall, leaving the pension scheme behind. As a consequence, the government would also need guarantees from General Motors.
Clark was positive about jobs, adding: "We discussed how PSA's approach is to increase market share and expand production, rather than close plants."
Vauxhall is being sold as part of General Motors's European operations, which also include Opel on the continent. They have been loss-making since 1999.
Peugeot boss fails to ease Vauxhall workers' fears
23 February
Vauxhall's 4,500 workers in the UK will not have taken much comfort from Peugeot boss Carlos Tavares's comments today, says The Guardian.
Speaking after the announcement of Peugeot parent company PSA's annual results, the chief executive said its proposed acquisition of General Motors' (GM) European arm would bring "speedy" savings.
The buyout will create the second-largest carmaker on the continent, with 24 factories spread across the EU, but there have been widespread fears that GM's plants at Luton and Ellesmere Port will be among those to be culled in a cost-cutting drive, especially ahead of Brexit.
"Vauxhall's… plants, headquarters and warehouse employ about 4,600 people, with a further 20,000 working in the carmaker's showrooms," says the Guardian.
In addition, a "further 18,000 supply chain jobs depend on the carmaker".
GM's operations in Europe have made a loss since 1999 and Tavares hinted strongly that costs would be cut, says the Daily Telegraph, telling reporters that the Vauxhall and Opel brands were "burning through €1bn (£850m) of cash a year".
He added: "The situation is not sustainable".
Tavares has a reputation for achieving results through cuts, having taken over loss-making PSA as part of a state bailout in 2014 and returning it swiftly to profit, which doubled last year to €1.7bn (£1.4bn).
He has already held discussions with Prime Minister Theresa May, as well as her counterparts in France and Germany, and promised to honour all existing labour agreements.
But this means UK workers, who previously agreed to cut their in pensions in return for jobs guarantees, are secure only up to the end of the decade.
"Tavares said he has been holding 'remarkably mature discussions' with staff, unions and politicians in countries where Vauxhall and Opel have a presence… hinting that redundancies could be down the road," says the Telegraph.
He did, however, offer a more optimistic view for staff at "iconic" Vauxhall, saying that many customers in the UK, where it is the second-largest car brand, are put off buying French cars.

Continue reading for free
We hope you're enjoying The Week's refreshingly open-minded journalism.
Subscribed to The Week? Register your account with the same email as your subscription.