Venezuela's Nicolas Maduro claims election victory
Violence follows widely disputed poll giving ruling socialist party virtually unlimited powers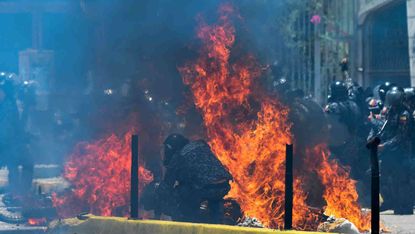 (Image credit: Juan Barreto/AFP/Getty Images)
Sign up to our 10 Things You Need to Know Today newsletter
A free daily digest of the biggest news stories of the day - and the best features from our website
Thank you for signing up to TheWeek. You will receive a verification email shortly.
There was a problem. Please refresh the page and try again.
Venezuelan President Nicolas Maduro's ruling socialist party has gained virtually unlimited powers after a reported eight million people voted in favour of creating a National Constituent Assembly.
Yesterday's election result paves the way for the United Socialist Party of Venezuela (PSUV) to replace the National Assembly with a new parliament comprising 545 members nominated by his administration, CNN reports.
The move has been widely condemned as a "power grab" by Maduro, who has been locked in a stalemate with the opposition-controlled National Assembly.
Subscribe to The Week
Escape your echo chamber. Get the facts behind the news, plus analysis from multiple perspectives.
SUBSCRIBE & SAVE
Sign up for The Week's Free Newsletters
From our morning news briefing to a weekly Good News Newsletter, get the best of The Week delivered directly to your inbox.
From our morning news briefing to a weekly Good News Newsletter, get the best of The Week delivered directly to your inbox.
Diosdado Cabello, vice president of the PSUV, said there had been a "record" turnout and called Sunday's vote "a moral and ethical victory over the right", reports The Independent.
However, the result was mocked by angry opposition members, who claimed two to three million people voted, contrary to the National Electoral Council's figures.
"We do not recognise this fraudulent process," Henrique Capriles of Primero Justicia (Justice First) told Al Jazeera.
They also urged further protests in defiance of government warnings of prison sentences of up to ten years for anyone arrested while demonstrating.
Despite the government crackdown, violence flared over the weekend and as many as 15 people are said to have been killed in demonstrations yesterday. "News broke early that one of the candidates in the election, lawyer Jose Felix Pineda, had been shot dead in his home on Saturday and that opposition leader Ricardo Campos died Sunday morning," CNN reports.
In addition, says ABC News, "in what could be the spread of more aggressive tactics, a bomb exploded in Caracas and injured seven police officers". Footage of the blast filmed by the news agency Agence France-Presse shows at least two police officers struggling to put out flames after their uniforms caught fire.
Venezuela's chief prosecutor confirmed it is investigating at least seven deaths, although a government spokesman said no one had died in election-related violence.
"President Maduro will no doubt claim a resounding victory," writes Will Grant for the BBC. "But with the opposition boycotting the vote and with the security forces controlling the cities in riot gear it was always going to be an uncontested election."
US orders embassy families out of Venezuela
28 July
Washington has ordered family members of staff working at its embassy in Venezuela to leave the country ahead of a controversial vote which critics claim could "end democracy" in the oil-rich nation.
"As well as ordering relatives to leave, the US State Department on Thursday also authorised the voluntary departure of any US government employee at its compound-like hilltop embassy in Caracas," Reuters says.
Sunday's vote could see the creation of a new Constituent Assembly to give embattled President Nicolas Maduro the power to rewrite Venezuela's constitution, effectively shutting down the opposition-led legislature.
The government has ordered a crackdown on protests that could "disturb or affect" the ballot, the BBC reports. Demonstrators face prison terms of between five and ten years.
Nevertheless, adds the broadcaster, "the opposition has vowed to go ahead with a mass protest on Friday".
More than 100 people have been killed in anti-government protests since April.
Venezuela: A country in crisis
15 May
Clashes between opposition protesters and pro-government supporters have become a daily occurrence in Venezuela.
The latest wave of civil unrest has led to at least 42 deaths over the past six weeks, according to Reuters.
Beatings and arbitrary arrests are widespread, while shops, hospitals and schools are being looted amid a national scarcity of food and medicine.
What are the triggers for all this?
Venezuela is a country in economic crisis. Only $10bn (£7.6bn) in financial reserves remain, says CNN, and Venezuela owes approximately $6bn (£4.6bn) this year alone. The country is rapidly running out of money.
Venezuela's over-reliance on income from the sale of its rich oil supply has drastically reduced its wealth in recent years as the global price of oil has declined.
Society has suffered as a consequence and generous social welfare programmes have had to be curtailed.
A lack of available funds also means that imports are down. Along with a lack of domestic production, this has led to a dire shortage of basic food and medicine supplies.
People have taken to picking through rubbish for scraps of food, says CNN. Last year the news network reported that children were fainting in classrooms due to malnourishment.
Who's in charge?
Nicolas Maduro has been President of Venezuela since 2013. The former trade union negotiator served as foreign minister under the socialist Hugo Chavez's presidency. One of Maduro's first actions as President was to expel US diplomats and label the domestic opposition who want to divide the country "fascists", The Guardian reports.
What are the key events this year?
Back in March, in a move labelled a 'state coup' by opposition forces, Venezuela's Supreme Court transferred the legislative powers of the opposition-controlled National Assembly to itself.
The pro-government judges accused the opposition-led assembly of being in contempt of court by blocking the economic policies of Venezuela's President and leader of the United Socialist Party, Nicolas Maduro.
Now in control of all three branches of government (the administration, judiciary and legislature), Maduro has been accused of creating a dictatorship in order to shore up his power in the face of increasing unpopularity among voters.
Hundreds of thousands of people took to the streets to protest against the Supreme Court's decision, which has also met with international condemnation.
The backlash led to the court reversing its ruling on 1 April, just three days after its initial power grab. Maduro, eager to quash the uprising, urged the court to backtrack to "maintain institutional stability". It proved to be wishful thinking.
How about the last few weeks?
Despite the Supreme Court's backtracking, protests have intensified over the past six weeks.
Opposition forces have encouraged the nation to "take advantage" of the backlash by organising democratic resistance, says The Guardian.
They are demanding state elections this year and the release of all political prisoners, including the opposition leader Leopoldo Lopez, who was imprisoned in 2015 for supposedly stoking similar mass protests in 2014.
With his rule under threat, Maduro's response has been to tighten his grip on power.
On 7 April he banned the main opposition leader Henrique Capriles from running for office for the next 15 years. Today Capriles claimed he has been stopped from leaving the country. The President has proposed setting up a new additional assembly, tasked with rewriting the constitution.
Both moves have had the unintended consequence of emboldening the opposition. Speaking to Al Jazeera, Capriles dismissed the prospect of a new constitutional body as "fraud". He alleged that "half of the people who are going to write the constitution are chosen by [Maduro]".
Repressive handling of the protesters is another reason behind the escalation of violence. Scores of people have been arrested and trials are now taking place before military, rather than civilian, courts, reports Al Jazeera.
Maduro, who put troops onto the streets in early April, has also "supplied guns to sympathetic civil militias and called for [simultaneous rallies] of his supporters", adds The Guardian.
Such a heavy-handed response has only added fuel to the fire, leading to the "mother of all protests" last month and ongoing clashes.
How have other countries reacted?
Peru has called for Venezuela to be expelled from the region's Organisation of American States (OAS).
While commentators agree that expulsion is unlikely, key regional players – including neighbouring countries Colombia and Brazil – have denounced the government-sponsored violence, with at least 14 nations now demanding fresh presidential elections, reports The Guardian.
The United States, with whom Venezuela has a fraught history, has also been vocal in its condemnation of Maduro's "rupture" of democracy.
It recently called for a meeting of the United Nations Security Council to discuss the deepening crisis, which Maduro has used as evidence of a right-wing international conspiracy to topple him from power.
Continue reading for free
We hope you're enjoying The Week's refreshingly open-minded journalism.
Subscribed to The Week? Register your account with the same email as your subscription.
Sign up to our 10 Things You Need to Know Today newsletter
A free daily digest of the biggest news stories of the day - and the best features from our website