Is Australia's far-right creeping into the mainstream?
In Depth: How One Nation became the face of Australian Islamophobia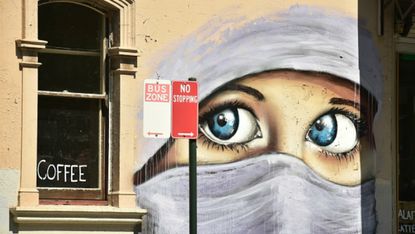 (Image credit: Peter Parks/AFP/Getty)
Sign up to our 10 Things You Need to Know Today newsletter
A free daily digest of the biggest news stories of the day - and the best features from our website
Thank you for signing up to TheWeek. You will receive a verification email shortly.
There was a problem. Please refresh the page and try again.
Australia's nationalist movement was thrown into the international spotlight last week when a far-right senator wore a burka in parliament and called for a ban on the Islamic garment.
Pauline Hanson, leader of the One Nation party, entered the Senate in a floor-length black gown and face veil to gasps from stunned colleagues, who were vocal in their condemnation of what one senator called an "appalling" stunt.
Hanson was unapologetic. "I would not change a thing; I am not embarrassed by what I did," she told local broadcaster Seven News, adding that wearing the burka is "not an Australian way of life".
Subscribe to The Week
Escape your echo chamber. Get the facts behind the news, plus analysis from multiple perspectives.
SUBSCRIBE & SAVE
Sign up for The Week's Free Newsletters
From our morning news briefing to a weekly Good News Newsletter, get the best of The Week delivered directly to your inbox.
From our morning news briefing to a weekly Good News Newsletter, get the best of The Week delivered directly to your inbox.
It was the latest publicity coup by Australia's emboldened far-right, which has seen an astonishing resurgence in popularity after teetering on the verge of extinction a few years ago.
Founded and fuelled on the virulent anti-Asian immigration sentiment of the 1990s, One Nation has followed the trend of Marine Le Pen's Front National and Ukip by training their sights on a new target – Muslims.
As with France's Front National, it has proven a winning strategy for One Nation. "After almost two decades in the political wilderness, Hanson is back and more powerful than ever," says Quartz.
"Swamped by Asians"
In the early 1990s, Australia plunged into a deep recession – at its peak, unemployment rose to almost 11 per cent.
With "traditional" working class manufacturing jobs moving overseas, often to Asian countries, Asian newcomers – who, in 1986, outstripped Britons as the largest group immigrating to Australia – were a visible target for angry and frustrated white Australians.
"People started wearing printed yellow T-shirts, the word 'full' emblazoned across a map of Australia," Alice Pung, an Asian-Australian who grew up in the 1990s, wrote in the New York Times.
Enter Pauline Hanson. The nationalist politician cut her teeth on the Asian immigration panic of the 1990s. Her maiden speech to parliament in 1996 included broadsides aimed at everything from subsidies for Aboriginal communities to multiculturalism. The most controversial and memorable portion of her speech took aim at Asian immigrants.
"I believe we are in danger of being swamped by Asians," she said, a phrase now embedded in Australian political memory. "They have their own culture and religion, form ghettos and do not assimilate."
If the rhetoric employed against Asians in 1996 sounds familiar to the rhetoric used by nationalist and far-right groups to describe Muslims, that's no coincidence – it's a winning strategy.
One Nation under (one) God
When Hanson founded the One Nation party in 1997, she may have imagined she was capturing the zeitgeist. In reality, anti-Asian sentiment had already passed its peak.
A slowdown in the influx of immigrants from Asia, combined with increasing acceptance of those already in Australia, meant that anti-Asian rabble-rousing ceased to be a vote winner.
Hanson lost her seat in the 1998 federal elections, leaving Queensland senator Len Harris as the only One Nation member in either house of parliament. In the 2004 federal elections, he too lost his seat. One Nation were officially out in the cold.
Although One Nation maintained a regional presence in Hanson's native Queensland, not a single One Nation representative was elected to parliament from 2005 to 2016.
Yet, in the 2016 elections, four One Nation senators were elected to the upper house. In one fell swoop, the party had more parliamentarians than in their 19 years of existence combined. So what changed?
Hanson and her One Nation colleagues have followed the lead of far-right movements such as Le Pen's Front National by moving away from "traditional" targets – racial and sexual minorities – and focussing their ire on Muslims.
"She's doing today what she did in the 1990s," Professor Duncan McDonnell of Griffith University told Quartz. "You can basically take the word 'Asian' and replace it with 'Muslim'."
One Nation's manifesto reflects the shift, with an entire subsection devoted to the subject of "Islam".
While some policies – a ban on halal food certification, for instance – are unlikely to prove big vote winners, One Nation's call for a freeze on Muslim migration does appear to have struck a chord in a nation that has been the target of six Islamic State terror attacks over the past three years.
A poll released in September 2016 found that half of Australians were in favour of halting Muslim migration, although a second poll published a month later put the figure at one in three, Huffington Post reports.
Australia's shame
The ruling Liberal Party and previous Labor government have been accused of pandering to this populist, anti-Muslim sentiment in their attitude towards Australian refugees and migrants, the vast majority of them Muslim.
In 2013, then-prime minister Kevin Rudd announced that any refugee caught attempting to enter Australia by boat without a valid visa would not be permitted to settle in Australia.
Offshore detention centres for asylum seekers, closed in 2007 under pressure from human rights groups, were reopened in 2012. The remote island-holding centres in Nauru and Papua New Guinea, where some refugees have been held for upwards of two years, were described by Amnesty International as "Australia's Shame".
Leaked reports from inside the Nauru detention centre, published in The Guardian last year, paint a horrifying portrait of detainees, some of them children, starving and mutilating themselves, in addition to suicide attempts, medical neglect and sexual abuse by employees.
Despite widespread condemnation from global human rights groups and protests within Australia, as of 30 June 2017 more than 1,000 people were living in the offshore detention centres, according to Australian border agency statistics.
If the refugees were white Christians, writes Robert Manne in The Monthly, "it's improbable, or so it seems to me, that public opinion would have tolerated their detention behind razor wire or their transportation to the hellhole on Nauru".
Islamophobia has turned illegal immigration into a dominant political issue, he writes: "Australian politics is being moulded by resentment of the tiny handful of asylum seekers who arrive uninvited on our shore."
In December 2016, the United Nations' special rapporteur on racism Mutuma Ruteere highlighted the "alarming" role of the media in "reinforcing the negative perception of migrants, particularly Muslims and persons of African descent".
Ruteere warned that mainstream politicians were not doing enough to prevent the normalisation of the kind of rhetoric espoused by the One Nation party and urged them to step up their efforts or risk letting the fringe become the mainstream: "It's much harder to clear out the political space once it's infected by racists."
Continue reading for free
We hope you're enjoying The Week's refreshingly open-minded journalism.
Subscribed to The Week? Register your account with the same email as your subscription.
Sign up to our 10 Things You Need to Know Today newsletter
A free daily digest of the biggest news stories of the day - and the best features from our website