Fact Check: Are anti-abortion views in decline?
As Ireland prepares for a historic referendum, The Week looks at the situation in other Catholic countries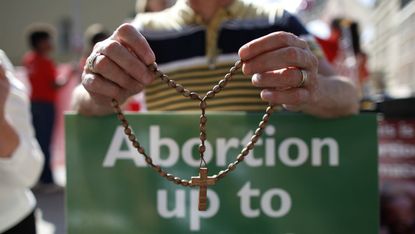 (Image credit: Peter Muhly/AFP/Getty Images)
After more than three decades of lobbying, voters in Ireland are being given an opportunity to reverse one of the strictest abortion laws in the world.
A referendum on whether to repeal the Eighth Amendment of the Irish Constitution, which prohibits terminations in almost all cases, will be held in May, the government announced this week.
Prime Minister Leo Varadkar, who has thrown his weight behind the campaign to liberalise abortion laws, said he "knows this will be a difficult decision" for the Irish people.
Subscribe to The Week
Escape your echo chamber. Get the facts behind the news, plus analysis from multiple perspectives.
SUBSCRIBE & SAVE
Sign up for The Week's Free Newsletters
From our morning news briefing to a weekly Good News Newsletter, get the best of The Week delivered directly to your inbox.
From our morning news briefing to a weekly Good News Newsletter, get the best of The Week delivered directly to your inbox.
"I know it is a very personal and private issue and for most of us it is not a black-and-white issue, it is one that is grey - the balance between the rights of a pregnant woman and the foetus or unborn," Varadkar said.
As the public debate rages on ahead of the referendum, The Week examines whether anti-abortion sentiment is in decline in Ireland, and in other majority-Catholic states in Europe.
What is the current situation in Ireland?
The country has a near-total ban on abortion, even in cases of rape or incest, or when there is a fatal foetal abnormality.
However, terminations may be carried out if doctors decide that a woman's life is at risk because of medical complications, or if she is in danger of killing herself.
The latest polling in Ireland, where almost 80% of the population identify as Catholic, suggests that a significant majority would like to see the law reversed.
In a recent survey for The Irish Times by Ipsos MRBI, 56% said they would vote to repeal the Eighth Amendment, while 29% said they would vote not in favour, and 15% did not know or offered no opinion.
"When voters were asked if their view on abortion being more widely available had changed in the last year, almost a fifth (19%) said that were now more open to the idea," the newspaper reports.
Only 3% of people said they have become less open to wider availability of the procedure, while nearly three-quarters said their views hadn't changed.
Although the country as a whole remains overwhelmingly Catholic, public opinion "has become far more socially liberal" in recent years, says The Guardian's Ireland correspondent, Henry McDonald.
But others caution that pro-choice campaigners shouldn't celebrate just yet. Despite "a solid polling lead and high-profile political support, a win is still far from certain", writes Niamh Ni Mhaoileoin in the New Statesman.
What about other majority-Catholic nations?
Malta: The staunchly Catholic country is the only EU country where abortion is banned outright - even when the mother's life is at risk. Having a termination is punishable by up to three years in jail.
Malta's two main political parties are opposed to relaxing the law, with Prime Minister Joseph Muscat insisting earlier this month that the Maltese government "neither has the political mandate to open a debate on access to abortion, nor the support of the public opinion" on the issue.
However, journalists argue that it is difficult to gauge public sentiment, as abortion remains hugely taboo in the small Mediterranean nation.
"I've made repeated efforts to try and convince people to talk to us," said Euronews reporter Valerie Gauriat. "They exist, they're active on social media, but speaking openly is out of the question."
Polling conducted in 2016 found that 60% of people in Malta were opposed to legalising abortion. That figure may dismay feminist campaigners, but according to Renee Laiviera, of National Commission for the Promotion of Equality, anti-abortion sentiment is declining.
"In fact, 60% against is already showing a change," Laiviera told Euronews. "Some years ago, it was much higher."
Poland: Abortion is illegal in the Eastern European state, except in cases of rape or incest; if the mother's life is in danger; or if the foetus has a severe and irreversible disorder.
In 2016, mass protests erupted after a bill was put forward in Poland's parliament that would have banned abortion if the foetus was conceived as a result of rape or incest. The demonstrations forced the government to reconsider, and the bill was ultimately rejected.
But earlier this month, the parliament began work on a new abortion law, in the conservative government's second bid to "tighten rules that are already among Europe's toughest", Reuters says.
Meanwhile, public opinion has seen a gradual shift in favour of more liberal abortion laws in recent years, polls suggest. A survey by the Centre for Public Opinion Research in 2014 found that 65% of respondents thought abortion was "morally inappropriate". But a recent survey conducted for the newspaper Rzeczpospolita found only 11% of Poles wanted abortion laws to be restricted, while 46.5% would like to see them eased.
However, any attempts to liberalise Poland's abortion law "must contend with the entrenched power of the country's Catholic Church", which is closely allied to the ruling party, says The Guardian's Alex Cocotas.
"Liberalising access to abortion, which no major party in Poland currently supports, will require a political party willing to broach a different taboo in Polish society: the Church's political power," Cocotas adds.
Spain: Liberal abortion laws, broadened by the socialist government in 2010, give Spanish women the right to have an abortion within the first 14 weeks of pregnancy, or up to 22 weeks in cases of foetal deformities.
In 2014, the conservative government – closely tied to the Catholic Church - was forced to abandon plans to restrict access to abortion, after tens of thousands of people took to the streets in protest.
The proposed law would have made abortion illegal except in the case of rape or when there is a risk to the health of the mother, and would have been "amongst the most draconian anywhere in the world", Channel 4 News presenter Cathy Newman reported at the time.
The plan was deeply unpopular even among the Catholic population. A poll published in El Pais newspaper in 2014 showed that 80% of Spaniards were against it, including 50% of those identifying as Catholic.
The government's planned changes had "more to do with politics and ideology than social realities today in Spain", said Francisca Garcia, of the Association of Accredited Clinics for the Interruption of Pregnancy – the umbrella group that represents 98% of the country's abortion clinics.
What is the general trend?
The evidence indicates that anti-abortion sentiment is waning in Europe's Catholic nations, although the pace of change seems slow in Malta.
In Poland and Spain, the public is increasingly at odds with conservative politicians, and appears unwilling to accept Church or government interference in reproductive rights. Whether a similar response will be witnessed in Ireland remains to be seen.

Continue reading for free
We hope you're enjoying The Week's refreshingly open-minded journalism.
Subscribed to The Week? Register your account with the same email as your subscription.