EU budget: How does the EU spend its money?
How much does Britain contribute to the EU, what does it gets back, and how will the EU fill its post-Brexit funding shortfall?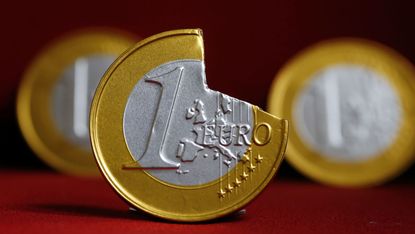 (Image credit: Thomas Coex/AFP/Getty Images)
The EU will today set out proposals for its new seven-year budget. All eyes will be on Brussels as it looks to fill a post-Brexit fudning shortfall left by the UK as it prepares to leave the bloc and grapples with a wave of anti-EU populist sentiment sweeping across the continent.
Claims and counterclaims about money played a key role in Britain's decision to leave the EU. Vote Leave's infamous claim that the UK was sending £350m to the EU every week, and that this could instead be spent on the NHS, was roundly criticised as inaccurate and misleading. But there is no doubt that the EU's opaque funding structure has led to confusion about how it actually spends its money.
How much does the EU get?
Subscribe to The Week
Escape your echo chamber. Get the facts behind the news, plus analysis from multiple perspectives.
SUBSCRIBE & SAVE
Sign up for The Week's Free Newsletters
From our morning news briefing to a weekly Good News Newsletter, get the best of The Week delivered directly to your inbox.
From our morning news briefing to a weekly Good News Newsletter, get the best of The Week delivered directly to your inbox.
Every seven years, EU leaders agree a long-term plan for the bloc's budget, setting out how big it will be and how the money should be spent.
The last round of budget negotiations took place in 2012, for the period 2014-2020 - and for the first time in the organisation's history, leaders decided to cut the amount it receives and spends.
What does it currently spend it on?
According to the BBC, in 2014, the first year of the current budget, the EU spent a total of €138.44bn (£122.1bn). Of that, almost 80% went to two key areas: agriculture and fisheries, and development projects in poor areas.
How much is spent on agriculture?
€43bn (£37.9bn) is currently spent on direct payments to farmers. Anyone in the EU who has land used for agriculture can receive a payment, under a scheme "aimed at ensuring the economic viability of the EU's eight million farmers [that accounts] for almost half of their income", says the BBC.
The UK received about 7% of the total agriculture and fisheries payments, ranking sixth among EU member states.
The huge spending on farming is increasingly coming under fire. Traditionally, cash payments were linked to production, says Politico, "leading to embarrassing overproduction. Now, we're stuck in a system where banks, and even the Queen of England, receive gigantic amounts of taxpayer money simply because they happen to own agricultural land — regardless of what they produce, or if they produce anything at all."
And how much money goes to regional development?
The second biggest area of expenditure is developing poorer countries and regions. In 2014, the EU spent €31bn (£27.3n) on regional development, for projects such business start-ups, roads and railways, renewable energy projects, education and health programmes, and charities.
By far the biggest recipient of all development payments was Poland, followed by Hungary, Greece, Italy and Spain.
What else is the money spent on?
Most of the rest of the EU budget is spent on improving EU growth through investment in research, innovation and education - through the Horizon 2020 and Erasmus+ schemes - and on the EU's foreign policy and international aid programme.
The EU employs a total of 55,000 people, and spends about €8bn (£7.1bn), or 6% of the total, on administering its various institutions. European Parliament administrative costs, including interpretation and translation services for 24 official languages, came to €1.7bn (£1.5bn) last year. The rest went to the European Council, the European Court of Justice, Court of Auditors and the EU foreign affairs and diplomatic service.
How much does the UK contribute and get back?
National contributions are dictated by the size of the individual countries' economy but work out at about 1% of GDP. According to the Office for National Statistics, the UK's gross contribution to EU institutions was £19.1bn in 2015, with Britain getting back £9.2bn.
This figure is often quoted by Eurospectics as proof the UK's membership for the EU is not value for money.
During the referendum, the chair of Vote Leave, Gisela Stuart, claimed: "For every £2 we send to Brussels, we get £1 back, and it comes back with a tag on it on what we have to spend it on."
This is "broadly correct", although the oft-cited £350m-a-week figure fails to take into account the UK's rebate and the money it receives back, according to Robert Ackrill, a professor of European economics and policy at Nottingham Trent University.
Such a focus on these numbers "also fails to put into context the small scale of EU budget transfers, when compared with UK national expenditure", says Ackrill.
How will the EU fill the funding shortfall after Britain leaves?
As talks begin about the next seven-year budget, due to come into effect in 2021, it is clear that the EU is facing a huge funding shortfall of up to €15 billion a year when Britain leaves the bloc.
The European Commission has vowed that it will not rely on debt to finance EU spending, "meaning that every euro has to be found from existing or new revenue streams", says the Daily Telegraph.
This week the EU's Budget Commissioner Guenther Oettinger said this means the EU will have to cut spending "moderately but notably at almost all our programs," to deal with the gap that net contributor Britain leaves after its departure.
Complicating matters is a pledge by the Commission to find another €10 billion (£8.85 billion) a year for EU programmes on defence, migration and the EU's border agency, meaning that despite Brexit, the total amount of money spent on the next budget could be even higher than the current one.
Among suggestions to bring down spending are: a push to renegotiate or end a number of costly national rebates (Britain's being the largest); an EU-wide tax on plastics bags and packaging to fight pollution and boost its finances; and raising revenues through visa-fees from a new border system for non-EU nationals.
A recent report by Bloomberg suggests the EU may also seek to make Britain pay for its financial services sector to have access to European markets after Brexit, as well as continuing to contribute to EU funding programmes such as Erasmus+ and Horizon 2020.
Yet despite a general consensus the EU needs to be more cost efficient, European Commission chief Jean-Claude Juncker appears to be heading in the other direction. Last month he called on the remaining 27 EU countries to contribute more to foot the bill.
Junker wants to lift the cap on national contributions which has traditionally stood at 1% of gross national income, a calculation that includes GDP. However, this could face stiff opposition from the EU's richer "net contributor" states with Austria already vowing not to pay a penny more to Brussels.
At a time of rampant Euroscepticism, "Brussels should be slimming down and reforming its budget, not hiking up the price tag", says Politico. "And yet the Commission's solution to limit spending cuts appears to be to ask citizens to pay more."

Continue reading for free
We hope you're enjoying The Week's refreshingly open-minded journalism.
Subscribed to The Week? Register your account with the same email as your subscription.