Aurora hunters: on the trail of the Northern Lights
You may travel north in search of the Northern Lights, but this is no guarantee that you will actually see them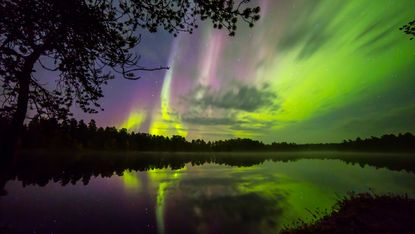 On a mission to spot the Northern Lights - nature's own theatre - The Week Portfolio journeyed to a tiny town 150 miles into the Arctic Circle where reindeer massively outnumber the 350 human inhabitants.
Hauntingly quiet, the wintry kingdom of Saariselkä is almost as far north as one can holiday in the world. Covered at all times with a thick blanket of snow, this remote Finnish outpost is also home to two magical beings: Santa Claus and the Aurora Borealis. You can drop in to see one, but the other is a fickle mistress.
Aurora Borealis comes from the Greek words "Aurora" meaning "sunrise" and "Boreas" meaning "wind". For thousands of years, the lights remained mystical, explained through ancient tales, from celestial battles between fire-breathing dragons to walrus spirits playing football with skulls.
Subscribe to The Week
Escape your echo chamber. Get the facts behind the news, plus analysis from multiple perspectives.
SUBSCRIBE & SAVE
Sign up for The Week's Free Newsletters
From our morning news briefing to a weekly Good News Newsletter, get the best of The Week delivered directly to your inbox.
From our morning news briefing to a weekly Good News Newsletter, get the best of The Week delivered directly to your inbox.
The particularly imaginative Makah Indians believed the lights were fires in the north created by a tribe of dwarves who used it to boil whale blubber. Aristotle made the first scientific account in the fourth century BC, likening them to flames of burning gas. Today we know that they are a vivid demonstration of the Earth's magnetic field interacting with charged particles from the sun. But we still can't predict with any certainty when the celestial ballet will burst across the sky.
Photo: Marku Inkilä
"You may see the lights, you may not", I am told with typical Finnish stoicism. We are huddled around a fire with two Aurora hunters on the edge of Lake Inari. A long way from any light pollution, the 3000 sq km frozen lake is the perfect setting for a dazzling show. Wrapped in snowsuits, we cluster together like patient penguins with cups of warm Glögi, a sweet cordial made from lingonberries and cranberries.
Our eyes search the darkness for any splashes of colour and while we wait, our guide Ivo Hefner tells us about the Finnish concept of jokamiehenoikeus – "everyman's right". This Nordic law allows you to not only camp freely but also to pick wild mushrooms, blueberries, cloudberries and lingonberries in the woods. We learn that foraged berries make the best Glögi, but it's impossible to keep as the Finnish are such fans, they drink it as soon as they make it. Cordial it is then.
We pass around fire-toasted pastries and watch and wait. Two hours in and there is still no sign. A couple of people have downloaded My Aurora, one of many location based iPhone apps that tells you how likely you are to see the lights and the best spots at any given time. This can change by the minute, so it is impossible to predict with any surety when they may make an entrance, something which is looking less likely as time passes. Full of Glögi and pastries, we reluctantly decide to call it a night and head back to Saariselkä.
On the way we stop at Nellim, a small village close to the Russian border in the heart of Sámi land. In scenes reminiscent of a Grimm fairytale, we trundle down an eerily silent snowy track, pulling up outside a deserted wooden Skolt Orthodox church, built entirely from Lappish logs. We tiptoe round, peering inside at the beautiful union of ornate luxury and simple wooden structures. Suddenly one of our group members shouts that he has seen something. We bolt over to the minibus and look up to the sky, where vivid green lights are moving fast inside the clouds, darting across the sky like actors behind a curtain. A tiny hole appears and lets out a pop of neon as a small aurora bursts through for mere seconds. We stand, breathless and entranced.
This is the only time I see the northern lights in Finland and strangely, I don't mind one bit. In a world where we know where everything will be, and at what time, it feels oddly reassuring that we cannot predict the arrival of the Aurora Borealis. Instead, those looking for it must seek it out together, talking to each other as they stare up at the night sky rather than their phones.
Photo: Marku Inkilä
We head back to the Northern Lights Village in Saariselkä, sleepy but excited. This unique destination is the brainchild of Markku Inkilä, a self-proclaimed Aurora nut who was actually born under the Northern Lights. A cluster of 80 sleek north-facing cabins with laser-heated domed glass roofs sits in the very heart of the Auroral Zone, deep in a pine forest and completely separated from the lights of the nearby town.
This snowy playground is the perfect base from which to explore Lapland's untamed wilderness. A family friendly resort, it has an excellent sledding hill for kids as well as a snowmobile track and a reindeer paddock.
Photo: Inari-Saariselkä Tourism
The on-site restaurant has a roaring fire at all times and fresh, local food including fish, game, Lappish potatoes and lingonberries, or bread and cheese with cloudberry jam.
With more than 20 years experience in "wilderness programs", Northern Lights Village has a fantastic array of excursions on offer including husky safaris, cross-country skiing, snowshoe hiking, reindeer sledge riding and of course, Aurora chasing with some of the best guides in the country.
There are remote Aurora Camp excursions along the Russian border, minibus hunts and snowmobile adventures. In March and April, you can even participate in ice-fishing and salmon fishing competitions or visit reindeer races all over Northern Lapland.
On average the Aurora Borealis is visible 200 times a year in northern Finland, so there's a high chance you may spot them here, but either way you will leave brimming with Arctic enthusiasm after the trip of a lifetime.
The Week Portfolio travelled with the Northern Lights holiday specialists, The Aurora Zone (01670 785 012; www.theaurorazone.com) on the three-night Saariselkä – Autumn Lights Tailor Made itinerary. With departures from 27 August until 30 November 2018, prices start from £1,215 pp (two sharing) including flights from London, transfers, half-board Aurora Cabin accommodation and cold weather clothing. Guided activities extra.

Continue reading for free
We hope you're enjoying The Week's refreshingly open-minded journalism.
Subscribed to The Week? Register your account with the same email as your subscription.